The Pittsburgh Steelers are one of the classiest organizations in the NFL. Led by the Rooney family, this franchise has always shown leadership and stability at the top. The Steelers have a system in place that goes back years and they never seem to deviate from their plan.
There are many franchises in the NFL that panic when things go wrong and make wholesale changes. You won't see that happen in Pittsburgh, as the Steelers face those situations by steadying the ship and staying the course.
When Mike Tomlin was hired as the team's head coach, he was a relative unknown. Now, Tomlin is looked at as a veteran HC and is highly respected within league circles.
General manager Kevin Colbert is as steady as they come and he has one of the better scouting staffs in the league. They do an excellent job of finding players who fit both their offensive and defensive schemes. Colbert's relationship with Tomlin is excellent and that is one of the reasons why the Steelers are so consistent. Other NFL clubs should be so lucky.
Quarterback
It's hard to believe that Ben Roethlisberger is already in his 11th season as an NFL quarterback. The once brash young signal-caller is now a savvy vet who is as tough as they come.
There were reports early on that Roethlisberger didn't buy into offensive coordinator Todd Haley's system, but the two have worked very well together. Now in their third year together, Roethlisberger has more freedom within the system than he has in the past. This started about midway through the 2013 season when the Steelers started going to a fast-paced, no-huddle attack. This will carry over to 2014 and the Steelers offense will be that much better because of it. It gives them the opportunity to control the game at their own pace.
Running back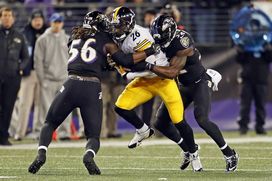 Look for Le'Veon Bell to emerge as one of the league's top backs in 2014.
The Steelers have always been noted for their strong running game and things are no different now. The lead back is second-year man Le'Veon Bell. Bell ran for 860 yards as a rookie and hauled in 45 receptions. With a year of NFL experience under his belt, I expect him to become a 1,000+ yard rusher in 2014.
During the off-season, the Steelers added LeGarrette Blount to be the number two back. Blount has been productive at every stop during his five-year career, yet for some reason he doesn't last long with each team. Blount may have his faults, but he is an explosive inside runner who gets a lot of yards after contact.
The third round of the draft brought the Steelers Dri Archer from Kent State. With his speed, Archer can be a dynamic ball-carrier. He can also be used as a slot receiver. Archer is an excellent open field runner and Haley will try to find ways to utilize his unique talents.
Receivers and tight ends
The Steelers lost two key members of the receiving unit this off-season, as Emmanuel Sanders signed with Denver and Jerricho Cotchery landed in Carolina. Between them they caught 113 passes in 2013.
While most of the league has been going with big jumbo receivers, the Steelers are still happy with smaller guys who are both quick and fast. The lead receiver is Antonio Brown, who has far outplayed his sixth-round draft status. This is Brown's fifth year in the league and he has already gone to two Pro Bowls.
Opposite Brown will most likely be last year's third-round pick Markus Wheaton. Wheaton missed some time due to injury last year but is ready to break out. The fourth round of the draft brought the Steelers Martavis Bryant from Clemson. He is different from the other Steeler receivers in that he stands 6-4 and has speed. Coming from Clemson's spread offense, Bryant still needs time to develop his route running, but he has a lot of upside.
Former Saint Lance Moore was signed as a free agent. He fits the Steeler mold and should be the third receiver while Bryant develops. Moore caught only 37 passes a year ago, but from 2010 through 2012 he averaged better than 60 receptions a year.
At tight end, the Steelers have one of the most reliable "move" tight ends in the league. Heath Miller has been making plays for the Steelers for ten years now. The "Y" tight end is Matt Spaeth, who is an excellent blocker.
Offensive line
The big addition to the Steelers' offensive line is new coach Mike Munchak. While he struggled as head coach of the Titans, no one has ever questioned his ability to coach the offensive line, as Munchak is one of the best in the league.
The Steelers have spent a lot of high draft choices on the O-Line in recent history. Maurkice Pouncey and David DeCastro were first-round picks. Marcus Gilbert and Mike Adams were second-round picks. All but Adams have lived up to their draft status. It will be Munchak's job to improve Adams' play.
Going into training camp, Pouncey is the center flanked by DeCastro and Ramon Foster at the guard spots. At right tackle is Gilbert, who has shown improvement every year. On paper, the left tackle is 2012 seventh-round pick Kelvin Beachum. Beachum was drafted to play guard, but is a more consistent player and more technically sound than Mike Adams. The Steelers would love to see Munchak work his magic and get Adams to play to his potential. The Beachum vs. Adams battle will be one of the more interesting showdowns in training camp.
Defensive line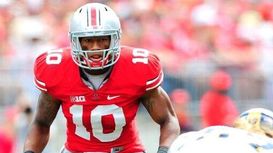 US PRESSWIREInside linebacker Ryan Shazier will give the Pittsburgh defense a jolt of athleticism.
The defensive line has gone through a transformation over the last few years. The long time core group on the line is now gone and has been replaced by younger, more athletic types.
Casey Hampton was a fixture at nose for years. Last year, Steve McClendon replaced Hampton and didn't play nearly as well. McClendon spent the off-season getting bigger and stronger and the hope is that he will be more effective this year. Behind McClendon could be this year's sixth-round pick in Dan McCullers or one of Al Lapuaho or Hebron Fangupo. McClendon is a huge man who can be tough to move, but he is a marginal athlete and will never be able to rush the passer.
At the end spots, former first-round pick Cam Heyward had his best season in 2013. The Steelers are hoping he picks up where he left off last year. In the second round of this year's draft, the Steelers selected Notre Dame's Stephon Tuitt. Tuitt is a huge man at about 6'6" – 320 and is very athletic. He can defend the run and rush the passer equally well.
The backup could be free agent Cam Thomas, who was with San Diego. Thomas can also play the nose if he has to. Other depth comes in the form of Nick Williams and Brian Arnfelt.
Linebackers
Linebacker play has always been very important in the Steelers' defensive scheme. In the first round of this year's draft, Pittsburgh took Ohio State's Ryan Shazier to play one of the inside linebacker spots. Shazier has more speed and athleticism than the Steelers have ever had at that position. He runs in the 4.4 range and has excellent instincts. I expect him to be very productive as a rookie.
The other inside linebacker is veteran Lawrence Simmons, who has been a very consistent player for the Steelers. Like Shazier, Simmons has speed and range.
Last year's first-round pick in Jarvis Jones did not play as well as expected and ended up starting only eight games as a rookie. With a year in the system and an off-season to improve his strength, Jones should come on strong in 2014. He was a natural pass rusher in college, but the Steelers did not see that trait last year.
Jason Worilds is the other outside 'backer. He played very well during the second half of 2013 and because of that, Pittsburgh let LaMarr Woodley leave. An interesting rookie who will provide depth both inside and outside is Jordan Zumwalt from UCLA. Zumwalt is a high motor type. The Steelers also signed Arthur Moats away from the Bills to provide depth.
Secondary
The Steelers need to improve their secondary play in 2014, as the organization gave up far too many big plays a year ago. In free agency, Pittsburgh signed Mike Mitchell away from the Panthers. The speedster from Ohio University is just starting to come into his own as a player. The other safety is long time All-Pro Troy Polamalu. Polamalu is not what he used to be, but he can still control a game with his physical play.
The backups at safety are steady veteran Will Allen and second-year man Shamarko Thomas. Thomas is looked at as the eventual replacement for Polamalu.
The corners will be long-time starter Ike Taylor, who is in the last year of his contract, and Cortez Allen, who was a bit inconsistent in his first year as a starter. The backups will be veteran William Gay, who will also be the nickel back, and rookie Shaquille Richardson. Richardson has size and speed and could turn into a fifth-round steal.
Outlook
The Steelers finished 8-8 last year for the second consecutive season and that didn't sit well with the Black & Yellow fan base. The good news is that Pittsburgh won six of their last eight games and that has the Steelers brass thinking they are heading in the right direction.
The Steelers open up against Cleveland at home but then go on the road for two weeks to division rival Baltimore and Carolina. They close out the first month with a home game against Tampa Bay. After the first four games, we should know exactly what direction the Steelers are headed.
My feeling is that Pittsburgh is an above .500 club (9-7 or 10-6) who will not win the division, but will challenge for a wild card spot.
Follow Greg on Twitter: @greggabe
NFP's Introduction to Scouting Class is now registering for our Winter sessions! Save $200 if you register before December 20th! REGISTER NOW!