NFP's Introduction to Scouting Class is now registering for our next session! Early bird pricing in effect until February 15th! Save $100 and REGISTER NOW!
There weren't a whole lot of people who expected much from the 2013 San Diego Chargers, as the Bolts were coming off a 7-9 season and had hired a new head coach in Mike McCoy and a new general manager in Tom Telesco. When the team was 5-7 through 12 games, very few were surprised.
But then the Chargers flipped the script by winning their last four games and earning a wild card playoff spot. Not only did San Diego qualify for the postseason, they beat Cincinnati in a wild card game before losing to eventual AFC Champion Denver. In that game, the Chargers gave the Broncos all they could handle.
Coming off the success of 2013, much more is expected this season. Does San Diego have enough to overtake Denver? Let's take a look.
Quarterback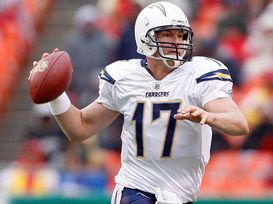 Rives bounced back in a big way last season. But can he maintain?
In Philip Rivers, the Chargers have a very good NFL quarterback. He isn't one of the four true "franchise" quarterbacks (Drew Brees, Peyton Manning, Tom Brady and Aaron Rodgers), but Rivers is in the group at the next level. If there is a problem, it's that I feel Rivers has already played his best football. With this being his 12th season in the NFL, I don't see him getting any better than he already is. Still, his play is good enough to lead the Chargers to the playoffs. I just don't see him as a Super Bowl-type quarterback.
Behind Rivers the Chargers brought in former Rams backup Kellen Clemons. While Clemens isn't quite good enough to be an NFL starter, he is a quality backup who can win some games if Rivers gets injured. Second-year man Brad Sorenson is still developing and not yet ready to assume the backup role.
Running back
Ryan Mathews is a quality starting back. This being his fifth season, he still has some good years left. He has the size and power to run inside and the burst to turn the corner. Mathews is also a reliable receiver.
In Danny Woodhead, who just recently received a two-year contract extension, the Chargers have a quality backup with a style that is complementary to Mathews'. During free agency, the Chargers signed Donald Brown away from the Colts. Brown has talent, but has never lived up to his first-round draft status.
Receivers and tight ends
Being injured at the combine and not running well during pre-draft workouts hurt Keenan Allen's draft status. That turned into a huge win for the Chargers. Allen, who was a first-round talent, fell to the third round, but he played like a first-rounder. He finished his rookie season with 71 receptions for over 1,000 yards and eight touchdowns. The sky is the limit as to how good he can become. Most receivers begin to break out during their second year. The good news for San Diego is that's already happened with Allen.
Opposite Allen should be fourth-year man Vincent Brown, who needs to have a good season if he expects to stay a Charger. The slot receiver will be Eddie Royal, who is coming off his best season since his time in Denver.
It will be interesting to see how well Malcom Floyd comes back from a neck injury. If he is back in top form, he brings quality depth to the position. A rookie to keep an eye on is seventh-round pick Tevin Reese from Baylor. The speedster has looked good early in camp.
The tight end is old reliable Antonio Gates, who seems like he has been around forever. While Gates isn't what he was five or six years ago, he is still a quality receiver. The other tight end is third-year man Ladarius Green, who started to come on last year. He figures to keep improving.
Offensive line
The Chargers didn't lose any of their offensive line starters from last year and that should help the cohesiveness of this unit.
The tackles are veteran King Dunlap on the left side and D.J. Fluker on the right. Dunlap played well last year, but has a history of inconsistent play. Fluker is just beginning to scratch the surface of his potential. He could be a future Pro Bowler.
At the guard spots are Chad Rinehart, who is a tough brawler, and Jeromey Clay. Rinehart got a new contract after his play last year and Clay looked good inside after previously being a tackle. Rookie Chris Watt from Notre Dame will challenge for playing time. He is tough, strong and athletic and can play either guard or center.
The San Diego center is Nick Hardwick, now in his 11th season. He is an excellent technician and still plays at a high level.
Defensive line
The Chargers would have liked better play from their defensive line last year, but you have to factor in that Corey Liuget was playing hurt. He is healthy now and has Pro Bowl-level talent. The other end is Kendall Reyes, who came on in his second year. He should keep getting better.
At the nose will be Sean Lissemore, who surged during the second half of last year, and rookie Ryan Carrethers. If Carrethers plays as expected, the Chargers could have an ideal rotation at the nose.
The main backup at the end position will be Guy Lawrence, who played well when called upon in 2013. Don't be surprised if the Chargers look for some veteran depth during training camp.
Linebackers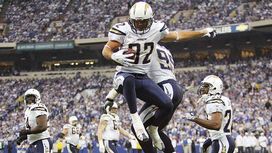 Weddle has notched 12 interceptions over the last three seasons.
If the linebacker unit can stay healthy, the Chargers have a strong group here. The leader is inside backer Donald Butler, who was re-signed in the off-season and is capable of making a lot of plays. 2013 second-round pick Manti Te'o played inured much of last year, but is now fully recovered. Now that he is healthy, Te'o should be much improved.
Outside linebacker Melvin Ingram was not fully recovered from ACL surgery a year ago. He too is now completely healthy and that means the pass rush will improve. The other outside linebacker is 12-year vet Jarrett Johnson. While he still has some gas left in the tank, I fell rookie Jeremiah Attaochu will challenge him for playing time. Attaochu is an excellent pass rusher coming off the edge.
Secondary
The Chargers need to get improved secondary play in 2014. First-round draft pick Jason Verrett should help. If Verrett had been an inch taller, he would have been a top-15 pick in the draft. He is a tenacious cover guy and will support the run.
Going into camp, the starters at corner on paper are Shareece Wright and Richard Marshall. They will be pushed by Verrett and last year's fifth-round pick Steve Williams, who missed his rookie year with an injury. The two youngsters provide much needed speed and talent to the position.
Eric Weddle is in his eighth year and is the leader of the secondary at free safety. He lines everyone up and on top of that plays excellent football. Marcus Gilchrist moved to strong safety a year ago and his play was inconsistent. The hope is that in his second year at the position, he will begin to come on strong. If not, Jahleel Addae, who is a second-year man from Central Michigan, needs to show that he is ready to contribute. Having seen him in college, I know what a big hitter he is.
Outlook
On paper, the Chargers are a better team than a year ago. This is their second year in McCoy's system and everyone should feel more comfortable.
Still, the Chargers play in the AFC West, which produced three playoff teams a year ago. Denver is still strong and Kansas City is improved. I doubt we will see three teams from this division make it back to the playoffs.
Going into the season, Denver has to be the favorite with San Diego and Kansas City fighting it out for second and maybe a wildcard berth.
Follow Greg on Twitter: @greggabe