Let's talk Texans-Eagles. Five things to watch for tonight in this Thursday night matchup on NFL Network—plus my picks for the entire Week 13 schedule.
DeSean Jackson and the deep ball: Andy Reid needs to engineer ways to get WR DeSean Jackson involved in the vertical passing game. With the Eagles, we know to expect the Hi-Lo concepts, but I wouldn't be surprised to see Reid use some seven—or even eight—man protection that allows Michael Vick to sit in the pocket and target Jackson down the field. Go back to that first play vs. Washington on Monday night. Boot action, solid pass pro, and enough time for Jackson to get on the safeties cushion in Cover 2 to make a play. Looked easy for Vick. Reid needs to give this combo more opportunities to flip the field and take shots at the end zone.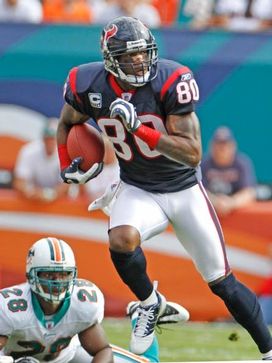 ICONDo the Eagles have an answer for Andre Johnson tonight?
Andre Johnson vs. the Eagles' secondary: The question mark tonight is Eagles' CB Asante Samuel. Does he suit up and play or do we see him on the sidelines in street clothes due to the knee injury? It was evident in the Chicago loss that this Eagles secondary isn't as aggressive without Samuel in the lineup—and it isn't going to get easier vs. the Texans' Andre Johnson. The Bears used two-man combination routes (think slant-seam, slant-flat, W post, etc) out of the 3-step game to create one-on-one matchups that require a quick read from the QB. Without Samuel, do you see a DB who can challenge Johnson at the line of scrimmage to gain leverage and turn their hips to get down the field on the deep ball? Johnson is a tough matchup for any corner in the league, and it only helps if the Eagles have their No.1 on the field.
Game planning Vick: Both the Giants and the Bears have had some success against Vick over the last two weeks. New York used pressure packages and some eight man fronts, while Chicago played their standard Cover 2. What do we see from Houston tonight? We all know that Mario Williams has to win his mathcups if the Texans are going to rush four and play coverage. But why not use man-pressure vs. Vick? Allow you corners to sit on some routes and use that safety help in the middle of the field by playing outside leverage. This Texans' secondary is average, but with a 5-6 record in December you have to take some chances. I say play aggressive tonight in Philly and go after the QB--becaue the ball has to come out quickly.
Foster's role: When we talk about complete backs in the NFL, I have to put Foster near the top of list because of how dynamic he is in the Texans' offense. I have said before, Foster has great lateral ability for a player that runs tall, but he is also a perfect fit for the off-tackle running game out of the two-back looks. Add in what he can do out of the backfield as a receiver (plus the screen and draw game) and the Texans have a solid weapon to manage the clock and the flow of the game. One way of limiting Vick is to control the ball on offense. Foster needs over 20 touches tonight for the Texans to get out of Philly with a win.
Special teams: Short weeks in the NFL equal limited game prep. Because of that, special teams suffer. Who can make that big play and create scoring position? Can Jackson or Houston's Jacoby Jones bust a return and give their offenses a short field to work with? Coverage teams—and penalties—will be huge tonight in Philly when we look at the kicking game. It is just too important this late in the season to give up return yards or to put the ball on the ground. Watch the gunners on punt coverage tonight, because if they don't get down that field these two returners can take it back for a score. Winning the special teams battle has to be a goal for both Philly and Houston.
My Week 13 picks…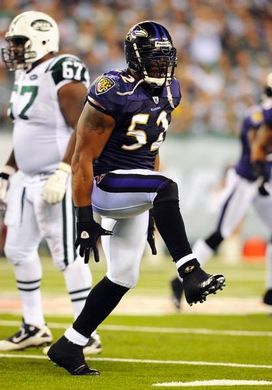 ICONLewis and the Ravens host the Steelers.
Last Week: 10-6
Overall: 76-35
Philadelphia over Houston
New Orleans over Cincinnati
Chicago over Detroit
Green Bay over San Francisco
Kansas City over Denver
Miami over Cleveland
Buffalo over Minnesota
N.Y. Giants over Washington
Jacksonville over Tennessee
San Diego over Oakland
St. Louis over Arizona
Dallas over Indianapolis
Seattle over Carolina
Atlanta over Tampa
Baltimore over Pittsburgh
Monday Night
N.Y. Jets over New England
Follow me on Twitter: MattBowen41
NFP's Introduction to Scouting Class is now registering for our Winter sessions! Save $200 if you register before December 20th! REGISTER NOW!