As I zigzag across the country this time of year in my efforts to sign a few new clients, I had the honor of pitching a few Boise State players. Whether I sign the players or not I won't know for a few days, but I did discover something magical in the process. The character, commitment, humility and DNA of the players I met with were, well, off the charts. There is definitely something very special about this program. This is also a team that will see 6-7 players drafted in the 2012 Draft, several in the first few rounds.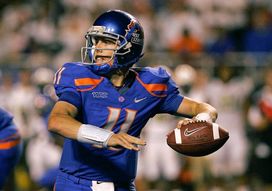 ICONKellen Moore wins nearly every time he steps on the field, yet he and his Broncos are underdogs in the BCS.
If you don't know the BSU story over the last four years, here's a snap shot: the record is an incredible 50-3 over four seasons. Their three losses were close, three points or less. In all three losses there was a missed kick that could have tied or won the game. In 2008 Boise lost by one point to TCU in the Poinsettia Bowl, and the missed FG in the game would have been all they needed for the perfect season. They followed in 2009 with a perfect season beating two top-25 teams. In 2010 it was two missed FG's against Nevada that ended their quest for a perfect season as they lost 34-31. In 2011 a last minute missed FG against TCU would have won the game and once again given them a perfect season.
Although criticized at times for having a soft schedule they have beat top ranked Oregon (twice), Oregon State, Virginia Tech, TCU, Utah, and Georgia. And if you saw their shellacking of ASU last week you can't help but wonder why they weren't playing Stanford, OSU or one of the top six ranked teams.
I don't think anybody can forget their coming out party game when the beat a talented Oklahoma in the Fiesta Bowl in 2006 in OT to cap a perfect season. This is a team that has a flair for comebacks and dramatic finishes, and entertains with explosive offense and precision execution. This is a team that, I believe could beat any team in the nation over the last four or five seasons.
I have never met head coach Chris Petersen (known as Coach Pete to the players) but I certainly admire what he and his staff have built over the years. He has given college football fans one of the most entertaining products we have ever seen. Beneath the trick plays and wide open offense there is a lot more going on than meets the eye. He has built a winning culture by developing a chemistry woven together with top talent, unselfishness and character where each and every player on the team truly loves each other. As one prospect put it to me, "we have no clicks on the team, we are all very close friends and there is not one guy I dislike." Another parent put it this way, "I sent my boy off to college where he was not only taught responsibility on the field but also taught it in the classroom and the community as well. That program molded my boy into a man."
CONTINUE READING ABOUT BOISE STATE ON PAGE 2
NFP's Introduction to Scouting Class is now registering for our Winter sessions! Save $200 if you register before December 20th! REGISTER NOW!