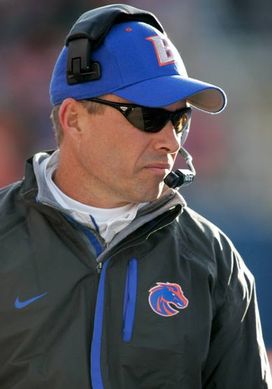 ICONCoach Pete has built a powerful program in Boise.
Having the opportunity to see how college programs are built and function by representing coaches and recruiting players for 23 years, I can tell you that this program has a heart and soul you handicap on game day. Their coaches are cunning and can outsmart the best of them. I see some similarities in the BSU program to what Jim Harbaugh built at Stanford. A current Big Ten player I am prospecting said this about BSU; "I used to think they were overrated because of their weak schedule until we watched them on tape one day last year. We realized that these guys fly around, they hit you in the face and they attack you. After watching that tape they got our respect and I am now a Boise fan."
Unfortunately, under the current bowl system we will never know how this team or any like them would fair against the best of the best. I for one would want to see this team play any top rated BCS member team. They would be the underdog in each game and college football fans would get the drama they deserve, whether they win or lose.
When I asked one offensive BSU player I met with this week about his or the teams desire for a playoff system he eloquently summed it up by saying this, "The current system is an unspoken frustration for us but Coach Pete taught us to only worry about things we have control over. He told us to show our frustration and do our talking on game day and that's how we handle it. If a playoff system does emerge, we will all know we were a catalyst for help making it happen and we will take great satisfaction in that.
Follow me on Twitter: @Jackbechta