Forecasting the future
If I were to predict which players will be broke in ten or twenty years from now, I would take a good look at the jewelry they are sporting. Two plus carat double diamond earrings, diamond encrusted watches, followed by the family who is also covered with ice (aka diamonds), are all signs that they are already spending hundreds of thousands of their yet to be earned money. The standard watch, earrings and cross can easily cost over $250,000. Yep, these are the future Warren Sapps of the 2012 draft.
A more conservative #1 pick Drew Bledsoe wore jeans and long sleeve polo.
First impressions
The walk across stage, the picture with the commissioner will forever be the frozen first impression a draftee will make on his new fan base and city. For me the one that stood out last year was Von Miller, who wore a conservative grey suit, old school glasses and wasn't afraid to show his emotions. There was no posing or no strategic public relations hidden agenda. What you saw is what you got, a stand up no non-sense guy.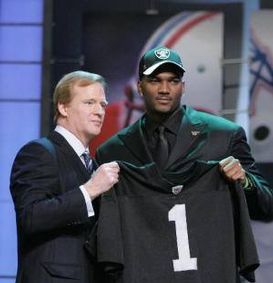 Do you think JaMarcus Russell still owns his bling?
For friends and family of draftees, here's a few ways you can help make their draft day a more positive experience.
1) Do not call them until after they are drafted. They are getting last minute calls from NFL teams so any additional calls and the pressure to return them can add to the stress. And please do not call them on draft day! On the biggest day of their life they don't need any false alarms.
2) Don't ask them when they think they will be drafted or to which team. They don't know. You are better off telling them some jokes or shooting hoops in the back yard and talking about what's on the BBQ.
3) If you were not invited to their home on draft day don't go. Many draftees and their family try to have small intimate gatherings with some drinks and food. However, every neighbor feels compelled to stop by and wish the player good luck. The problem is that they never leave because they want to be there when his name is called. I've been to clients' houses where the whole neighborhood, and I mean the entire neighborhood is in the living room, front yard and kitchen. The worst part is that when each round passes by the tension and quiet builds in the room and the player will retreat to his room by himself to avoid the negative energy.
Best of luck to my clients and the entire 2012 draft class. Don't let the draft define who you are, have fun and make it a positive experience regardless of what happens.
Follow me on Twitter: @JackBechta