Editor's note: This column originally appeared in Dan Pompei's "Sunday Blitz."
The list of great short quarterbacks is, well, a short one. I defined "short" as 6-0 or shorter. I did not include quarterbacks who played before the 1960s because the game has changed so much since then. There were many great short quarterbacks pre-1960, including hall of famers Dutch Clark, Paddy Driscoll, Benny Friedman, Arnie Herber, Sid Luckman and Ace Parker. Here are my best short quarterbacks. Who would you add to the list?
1. Fran Tarkenton, 6-0. This hall of famer was voted to nine Pro Bowls, played in three Super Bowls and is a former MVP. When he retired, he had every significant passing record. He won 124 games, which is tied for fifth most in NFL history even though he played the bulk of his career when the season was shorter than it is today. With his mobility, "The Mad Scrambler" probably would have fit in well in today's game.
2. Sonny Jurgensen, 5-11. This great former Eagle and Redskin won three passing titles on his way to the Pro Football Hall of Fame, including one at the age of 40. Some thought he was the best passer of his era.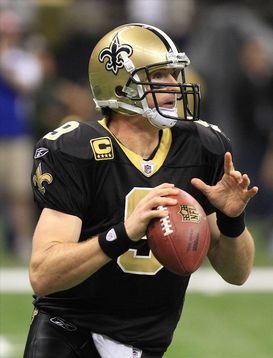 ICONDrew Brees is a six-time Pro Bowler and a former Super Bowl MVP.
3. Drew Brees, 6-0. A six-time Pro Bowler, an offensive player of the year, a Super Bowl MVP and a comebacker player of the year, Brees will be discussed as a candidate for the pro football hall of fame one day. Last year he threw for more yards than any quarterback in history. He has benefited from playing for a great coach in a great system in an ideal environment, but there is no disputing he is a great quarterback who finds ways to compensate for lack of height.
4. Len Dawson, 6-0. The MVP of Super Bowl IV and a hall of famer, Dawson was known for his accuracy and poise. He struggled early in his career with the Steelers and Browns before his career took off with the Dallas Texans, and then the Chiefs.
5. Joe Theismann, 6-0. He was NFL MVP in 1983, made it to two Pro Bowls and helped Joe Gibbs win a Super Bowl. He went 77-47 as a starter. Theismann was an athletic quarterback who could avoid pressure, but he wasn't athletic enough to avoid Lawrence Taylor on the play that ended his career.
6. Michael Vick, 6-0. We think of Michael Vick as many things, but rarely do we think of him as a short quarterback. But he is. Vick gets away with being short because he is the greatest running quarterback ever. He has been invited to four Pro Bowls and won the NFL comeback player of the year award in 2010.
7. Eddie LeBaron, 5-7. The Little General is in the Redskins ring of fame and made it to four Pro Bowls. The Redskins listed him at 5-9, but LaBaron has fessed up to being 5-7. He was unprotected by the Redskins in the expansion draft in 1960, and the Cowboys claimed him, making him their first ever quarterback. The veteran of the Korean War never had a winning season, and he threw 37 more interceptions than touchdowns in his career.
8. Billy Kilmer, 6-0. He backed up both Jurgesen and Theisman at different points, but started 124 games himself and made it to the Pro Bowl in 1972. He is in the Redskins ring of honor.
9. Doug Flutie, 5-10. Flutie was a great college player, a great Canadian player, but an uneven NFL player. He had his moments over 12 NFL seasons for four teams (five if you count the Patriots twice), winning comeback player of the year and making the Pro Bowl in 1998, and winning 70 percent of his starts for the Bills over three years. His record as an NFL starter was 37-28, but he was 0-2 in the postseason. Flutie had exceptional movement skills, and ran for 1,634 yards in his career.
10. Pat Haden, 5-11. The current Southern Cal athletic director had a nice two year stretch with the Rams in 1977-78. He made it to the Pro Bowl in 1977 after taking over for Joe Namath, and won a playoff game in 78 before losing in the NFC Championship game to the Cowboys. He couldn't stay healthy after 1978, and his career lasted only six years.
11. Bob Berry, 5-11. He started 53 games for the Vikings and Falcons, backing up another short QB, Tarkenton, in his second stint in Minnesota. Berry had a 106.5 passer rating in 1969 and was selected to the Pro Bowl when he played for the Falcons.
Follow me on Twitter: @danpompei