Since its debut in 2011, Nike's The Opening has become one of the more anticipated events in the world of college football recruiting.
The football camp for some of the top recruits in the country has surged in popularity as recruiting has become a year-round passion for a large portion of fanbases across the country.
The fourth edition of this event begins on Saturday at Nike's headquarters in Beaverton, OR, and goes through July 10, as the best players in the country square off in a variety of contests. Football fans can watch a good portion of the event on ESPN's family of networks.
There are 162 invitees to this year's event. The field was decided after players participated in various regional camps throughout the year, and invites were sent out based off of their performances in those camps as well as film review from their on-field play the previous season. So the players are picked based off of their talent as well as their potential to succeed at the next level.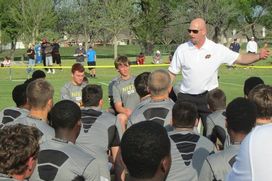 Trent Dilfer will oversee the finals of the Elite 11 quarterback competition.
These recruits get the chance to be coached by 24 current or former NFL players, including Trent Dilfer, Willie McGinest, Aeneas Williams and Jordan Palmer.
But what exactly do these players do at the weeklong event?
The showcase event is the finals of the Elite 11 quarterback competition, which features 18 signal-callers working with Dilfer, the ESPN analyst and former Super Bowl-winning quarterback, and his staff of coaches. The prep QBs go through on-field challenges and classroom work. ESPNU's coverage of the Elite 11 finals will be Tuesday, Wednesday and Thursday starting at 8 p.m. ET.
Other events include the 40-yard dash, vertical jump, shuttle and power-ball toss, which comprise the SPARQ testing. Those with the best scores then compete later in the week to see who is deemed the best athlete in the country. Players are also grouped into six teams for 7-on-7 action, which ends with a championship game on the event's final day. Meanwhile, the offensive and defensive linemen square off in challenges of their own.
Other things to watch:
* Five players are scheduled to make verbal pledges this week: Kahlil McKenzie, Isaiah Langley, Xavier Lewis, Stephen Johnson and Josh Smith. We could see more verbal commitments, though, and we could also see a few decommitments. Anything goes in recruiting.
* This event features the best players in the country, so each recruit brings a strong skill set. But the players I am most looking forward to seeing are: cornerbacks Iman Marshall and LSU commit Kevin Toliver II, UCLA pro-style quarterback commit Josh Rosen, Texas A&M dual-threat quarterback commit Kyler Murray, Georgia hybrid back commit Terry Godwin, running back Damien Harris and New Jersey Class of 2016 high-star defensive tackle Rashan Gary (he is one of just two rising juniors at the event), who will compete against Class of 2015 offensive linemen.
* One player to monitor is Torrance Gibson, who is a very good athlete and is being recruited as a dual-threat quarterback (Auburn could be the team to beat). The roster for The Opening has him listed as an athlete, though, so he may not even play any quarterback at the event. If he plays receiver, it will only cast further doubt about the position he ultimately will play at the next level.
* Also keep an eye on Ryan Brand, who is intriguing because he has sometimes gone unnoticed because of his size but should not be taken lightly. He recently committed to Air Force, which is obviously a huge coup for the Falcons.
The official roster for The Opening 2014
The 2014 Elite 11 Finals lineup
Dave Miller, the college football editor for the National Football Post, is on Twitter @Miller_Dave.
NFP's Introduction to Scouting Class is now registering for our Winter sessions! Save $200 if you register before December 20th! REGISTER NOW!