NFP's Introduction to Scouting Class is now registering for our next session! Early bird pricing in effect until February 15th! Save $100 and REGISTER NOW!
Rookies have long been a source of tremendous value for fantasy owners. However, the 2011 crop will be at a severe disadvantage entering the season due to the NFL lockout. In the past, rookies were handed a playbook and asked to attend their first NFL minicamp roughly one week after getting drafted.
This year, however, the majority of these players have yet to attend a real practice or meet with their new coaches face to face, even though draft day was almost three months ago.
We find ourselves in a unique situation this summer, but it will be interesting to see which rookies overcome these obstacles and earn spots in the starting lineup.
(Note: The quarterback position has its own section near the bottom.)
THE CREAM OF THE CROP…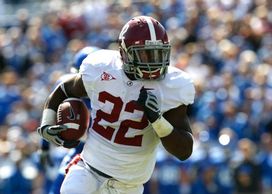 IconMark Ingram headlines the 2011 NFL rookie class.
Mark Ingram, RB, New Orleans Saints: In 2009, the Saints ranked sixth in the NFL in rushing (131.6 yds/gm) and averaged a staggering 31.9 points per game en route to winning their first title. Unfortunately, the injury bug hit the New Orleans backfield last season and limited the offense to only 94.9 rushing yards per game (28th in the NFL). Head coach Sean Payton and company recognized the problem and traded back into the first round of April's draft to land former Heisman Trophy winner Mark Ingram. Ingram is a powerful runner with deceptive speed who can also make plays in the passing game. This offense is going to score a lot of points and if he can crack the starting lineup, expect Ingram to roll up some nice fantasy numbers.
Julio Jones, WR, Atlanta Falcons: The Falcons sent five draft picks to the Browns (including two first round selections) for the right to move up 21 spots to draft the former Alabama standout. Jones gets the edge over fellow first round wideout A.J. Green for a number of reasons. For starters, he's got an experienced quarterback in Matt Ryan, will face some favorable coverage matchups thanks to the presence of Pro Bowl receiver Roddy White and plays 12 games indoors this season. The Falcons obviously love him because they were willing to mortgage their future for his services. That speaks volumes.
Jonathan Baldwin, Kansas City Chiefs: Much like Julio Jones (above), this 6-5, 230-pound beast will have the luxury of playing opposite Dwayne Bowe, meaning Baldwin won't be priority one for opposing defensive coordinators. He'll need to get better at creating separation and could have some issues with press coverage, but Baldwin is a talented deep ball threat who has the size and balance to win down the field. Think of him as a poor man's Vincent Jackson who probably won't catch an abundance of passes this season, but he will have his fair share of big-yardage receptions.
Daniel Thomas, RB, Miami Dolphins: Due to the fact that Ronnie Brown and Ricky Williams are likely headed to new cities via free agency, Thomas will have the opportunity to start at running back for the Fish come Week 1. The former Kansas State standout is a dual-threat back who rushed for just under 1,600 yards in 13 games last season. At 6-2, 228 pounds, this guy has the power to run through tackles and the quickness to make a man miss in open space. Thomas may not be the most talented of the rookie running backs and his quarterback will struggle at times, but this guy is likely headed for a ton of carries in 2011.
Delone Carter, RB, Indianapolis Colts: Circle this name twice because there's a decent chance that Carter will be 2011's breakout rookie. A powerful runner with good balance who does a nice job picking up yards after contact, Carter could find himself working with the first team this August if a couple things go his way. Veteran running back Joseph Addai is headed for free agency and 2009 first round pick Donald Brown has been an injury-riddled disappointment during his first two NFL seasons. In addition, we all know the upside that comes from playing with Peyton Manning. The beauty of Carter is that very few people are familiar with the work he produced during his collegiate days at Syracuse. He will likely be had at an excellent price.
A.J. Green, WR, Cincinnati Bengals: Green makes this list on talent alone, but his surrounding circumstances raise a few questions. For starters, if rookie quarterback Andy Dalton is under center come Week 1, Green's value will take a hit. In addition, the rookie's stock will continue to fall if Cincinnati fails to find another viable target capable of keeping some of the heat off Green early in the season. He's a polished route runner with excellent hands who does a nice job creating separation down the field. But while we expect Green to see a healthy dose of targets this season, he may struggle at times due to inconsistent quarterback play.
Mikel Leshoure, RB, Detroit Lions: The 230-pound bruiser from Illinois and second-year, dual-threat back Jahvid Best should form a pretty potent 1-2 punch this season for the surging Lions. Expect Leshoure to handle a good portion of the goal line work, meaning he could be a surprise contender for seven or more rushing touchdowns in 2011. In addition, keep in mind that Best had a lot of trouble staying healthy last season, something that could open the door to a plethora of carries for Leshoure, should history repeat itself.
CIRCLE THESE NAMES…
Ryan Williams, RB, Arizona Cardinals: A patient runner with good vision who can get up to top speed in a hurry, Williams is going to be surrounded by a lot of buzz in fantasy circles this summer. That might have something to do with the 1,655 yards he rushed for during his first season at Virginia Tech (2009), which just so happened to be an ACC freshman record. However, keep in mind that the former Hokie standout will be competing with Beanie Wells and Tim Hightower for snaps this year and could be playing on a low-scoring offense, should the Cardinals fail to pick up a quality veteran quarterback during free agency. We like Williams, but his surrounding circumstances raise some questions.
Greg Little, WR, Cleveland Browns: A former running back who knows how to make things happen after the catch, this 22-year-old enters the 2011 season with a fairly high ceiling. At 6-3, 220 pounds, Little's size and power make him difficult to bring down, as does his surprising elusiveness. The upside here is that due to a severe lack of firepower on the Cleveland offense, not only should Little step into the starting lineup early in the season, but he could also be in line to take over the No. 1 spot on the depth chart. The downside? This guy missed his entire 2010 campaign at North Carolina due to a suspension, so he hasn't played at true game speed in close to two years.
Lance Kendricks, TE, St. Louis Rams: Although the St. Louis roster is already loaded with tight ends, Kendricks is really the only TE on the squad with legitimate pass-catching ability. The former Wisconsin standout (43-663-5 in 2010) is a solid route-runner who can easily be moved into the slot in an effort to create coverage mismatches. With quarterback Sam Bradford entering his second season and former Broncos head coach Josh McDaniels now running the offense, Kendricks could turn some heads in 2011 if he can work his way into the starting lineup.
FOR YOUR CONSIDERATION…
Roy Helu, RB, Washington Redskins: The bruiser from Nebraska averaged a meaty 6.6 yards per carry last season en route to his second consecutive 1,100+-yard campaign. He's currently sitting third on the Washington depth chart behind Ryan Torain and Keiland Williams, but we all know the success head coach Mike Shanahan has had with a multitude of running backs. All he needs is a shot.
Torrey Smith, WR, Baltimore Ravens: A blazing fast vertical threat who averaged 15.7 yards per reception at Maryland last season (67-1,055-12), Smith could roll up some nice fantasy numbers playing opposite Anquan Boldin this season. Unfortunately, he'll lose some time to Derek Mason and is still a bit raw as a route runner. Smith could post some nice games, but he's likely to be inconsistent as a rookie.
Shane Vereen, RB, New England Patriots: A shifty runner who exhibits good patience, Vereen will have to battle BenJarvus Green-Ellis and Danny Woodhead for snaps this season. We like his talent and think he has a good deal of potential in the future, but Vereen's opportunities may be limited in 2011.
Kyle Rudolph, TE, Minnesota Vikings: If the former Notre Dame standout can supplant Visanthe Shiancoe as the starter in Minnesota, he could become rookie quarterback Christian Ponder's go-to-guy. At 6-6, 265 pounds, this guy is a load to bring down.
DeMarco Murray, RB, Dallas Cowboys: There has to be a reason the Cowboys used a third-round pick on Murray when they already have three other running backs on the roster. The upside is that Marion Barber's in the twilight of his career, Felix Jones is as injury prone as they come and Tashard Choice has failed to capitalize on his opportunities. The downside is that Barber, Jones and Choice are all still in line for snaps this season. Murray's chances may be limited.
SO YOU'RE SAYING THERE'S A CHANCE…
Leonard Hankerson, WR, Washington Redskins: Anthony Armstrong and Brandon Banks are currently listed as the starters, but the 'Skins didn't use a third-round selection on the former Miami standout to have him sit on the bench. Be advised the quarterback situation in Washington is shaky and somewhat unreliable.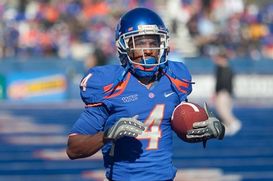 Titus Young tore it up at Boise State.
Titus Young, WR, Detroit Lions: May have some difficulty transitioning from the WAC to the NFL, but Young possesses the speed and ability to make some big plays down the field. His stock could soar if something happens to Nate Burleson.
Randall Cobb, WR, Green Bay Packers: He'll have a tough time racking up targets with Greg Jennings, Donald Driver and Jordy Nelson sitting in front of him on the depth chart, but Cobb is an explosive slot receiver who could become quite dangerous with a guy like Aaron Rodgers throwing him the football.
THE QUARTERBACKS
For those of you who are new to NFP Fantasy, we want to let you in on a little secret: We don't like rookie quarterbacks. It's nothing personal, but unless you're playing in a keeper league with a late-round draft pick to spare, there's really no reason to spend a selection on one of these guys.
Why, you ask? For two reasons, actually. For starters, over the last seven years, no rookie has finished higher than 12th in scoring among fantasy quarterbacks (Vince Young, 2006) and only three signal-callers (Young, Matt Ryan, Ben Roethlisberger) have cracked the top-20.
Not only that, but the NFL lockout has put this year's crop of rookies WAY behind the eight ball. The loss of OTAs, as well as valuable time spent working with coaches and teammates will have a serious impact on these young quarterbacks in 2011.
Here's how we feel this year's class will stack up:
1. Christian Ponder, Minnesota Vikings: He's smart and will have the luxury of leaning on Adrian Peterson and Percy Harvin. Ponder is a bit of an injury risk, but his situation is better than any of the other rookie QBs out there.
2. Jake Locker, Tennessee Titans: Has a big-time arm as well as Pro Bowl running back Chris Johnson at his disposal. If wideout Kenny Britt can avoid a major suspension, that's another big plus. Accuracy issues are a slight concern.
3. Andy Dalton, Cincinnati Bengals: Should start from day 1 and will have A.J. Green and tight end Jermaine Gresham to throw to. However, Dalton is going to struggle this season due to a combination of inexperience and a mediocre offense.
4. Cam Newton, Carolina Panthers: The most physically gifted of the bunch, Newton has his work cut out for him, especially if wide receiver Steve Smith leaves town. A lack of weapons and experience in a pro style offense will lead to a host of mistakes.
5. Colin Kaepernick, San Francisco 49ers: He's getting a lot of love from fantasy writers this summer and we're not sure why. Alex Smith is the favorite to win the job, not to mention that Kaepernick didn't exactly play against the toughest of competition while running the "pistol" offense in the WAC. Playing time is a big concern.
6. Blaine Gabbert, Jacksonville Jaguars: Just like Aaron Rodgers sat behind Brett Favre, Gabbert looks like he'll be spending plenty of time on the sidelines behind David Garrard. No reason to use a draft pick here.
IDP ROOKIES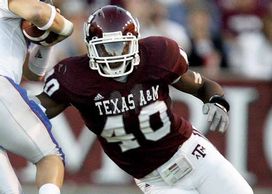 John Fox has to be excited to start working with Von Miller.
Von Miller, LB, Denver Broncos: The former Texas A&M standout will likely play Sam linebacker in John Fox's new 4-3 defense. Miller has explosive speed off the edge that will come in handy when he's asked to rush the passer.
Cam Jordan, DE, New Orleans Saints: You can bet your ass Saints defensive coordinator Gregg Williams is going to have his first round draft pick on the field early and often in 2011.
J.J. Watt, DE, Houston Texans: With Pro Bowler Mario Williams rushing from the opposite side, Watt could be in line for some favorable protection matchups.
Aldon Smith, DE, San Francisco 49ers: He was drafted to help improve the 49ers pass rush. With his third down ability, Smith could make a run at 8-10 sacks.
Adrian Clayborn, DE, Tampa Bay Buccaneers: The former Hawkeye is playing on one of the youngest and most talented defensive lines in the league. If DTs Gerald McCoy and Brian Price can elevate their games in 2011, Clayborn could quickly become a problem for opposing offenses.
Robert Quinn, DE, St. Louis Rams: He hasn't played a game in close to two years, but Quinn was drafted by defensive mastermind Steve Spagnuolo for a reason. He's got explosive speed and a long, athletic build.