NFP's Introduction to Scouting Class is now registering for our next session! Early bird pricing in effect until February 15th! Save $100 and REGISTER NOW!
Editor's note: This column originally appeared in Dan Pompei's "Sunday Blitz."
When you have the third pick in the first round and the third most desirous player in the draft is one you have no use for, you are not supposed to be in a position of strength.
But Vikings general manager Rick Spielman turned what looked like a bad hand into a good one.
The Vikings had no use for Trent Richardson because they already have Adrian Peterson. But other teams, most notably the Browns and Bucs, had plenty of use for Richardson. The Dolphins had some interest in the pick too. And other teams were sniffing as well. Because there was more than one team interested, the Vikings had leverage.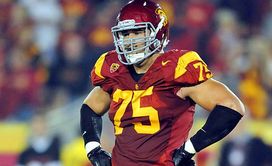 ICONThe Vikings were able to trade back, acquire more picks and still land their guy in USC's Matt Kalil.
The calls were coming all week. Trickling in at first, until a couple hours before the draft. The Vikings could have made a deal early in the week, but they waited.
The Browns made a fine proposal, offering fourth, fifth and seventh for the right to swap first rounders. And the best part about it was the Vikings had to move down only one spot. Spielman told me he assumed the Browns wanted Richardson, but he never asked. He pulled the trigger shortly before the draft.
The Browns took Richardson. Spielman still had his choice of the two top players on the Vikings' board, left tackle Matt Kalil and cornerback Maurice Claiborne.
"Both are excellent players, the highest rated at their positions," Spielman said. "They both would have filled a big need for us. Both positions are important. The argument could be made for either."
Some made the argument for Claiborne. The Vikings could have used him to neutralize Calvin Johnson, Brandon Marshall and Greg Jennings, especially given the fact that the Vikes are planning on playing more man-to-man, fire zone and three deep coverage with the new influences on their coaching staff.
But the NFC North had something to do with the Vikings wanting Kalil, too. The Vikings have to deal with Julius Peppers, Clay Matthews and Kyle Vanden Bosch twice a year.
And Spielman figured it's more difficult to find an elite left tackle than it is an elite cornerback. "You look at free agency," he said. "You see some receivers available, some corners. But rarely do you see a left tackle on the open market. The only way to get a premier left tackle is if you are in the position we were in. If we didn't take him now, when would we get the chance?"
Taking Kalil allowed the Vikings to fill two needs because it enabled them to move previous left tackle Charlie Johnson to left guard. It also enabled them to give second year quarterback Christian Ponder a better chance to succeed.
So Spielman drafted Kalil. And he kept drafting, taking 10 players to help restock his team. In 2011 the Vikings selected 10 players. Nine made the team. The Vikings are getting young in a hurry.
With extra picks in his pocket, Spielman dealt his way back into the bottom of the first round to select safety Harrison Smith. As was the case with Kalil, Smith can make the Vikings better at positions other than his own.
"Our coaches had Harrison at the Senior Bowl," he said. "We know what he was like in meeting rooms, we understand his character and his intelligence. The players in the middle of your team, you want them to be able to give direction and set the tone from an emotional standpoint. He can do that. Plus there was a dropoff at safety after him."
For a guy who was supposed to be in a bad spot, Spielman did alright.
Follow me on Twitter: @danpompei