NFP's Introduction to Scouting Class is now registering for our next session! Early bird pricing in effect until February 15th! Save $100 and REGISTER NOW!
Last summer, Texas held all the power in the Big 12.
A little over a year later, is Oklahoma in midst of a monumental power play?
On the same day that OU president David Boren told reporters that no university has been more active than his in surveying its future options regarding conference affiliation in light of Texas A&M seeking residence outside the Big 12, league commissioner Dan Beebe conducted a conference call late Friday afternoon with Big 12 presidents to discuss the possibility that Oklahoma wants to join the Pac-12, according to an Orangebloods.com report.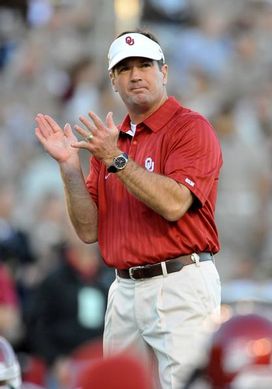 ICONAre Bob Stoops and the Sooners nearing their exit from the Big 12?
Boren, Texas president Bill Powers and Texas A&M president R. Bowen Loftin were reportedly excluded from the call, in which Beebe asked the presidents to "work on" getting the Longhorns to stay in the Big 12. Per the report, Beebe believes that Oklahoma would not get an invite from Pac-12 commissioner Larry Scott if Texas refuses to go West. However, the story cites a different source who says if Oklahoma and Oklahoma State expressed their sincere interest in joining the league that Scott would admit the schools.
Earlier on Friday, Boren said that OU would not be a wallflower in the world of conference realignment.
"At this point in time, I'll be very honest with you in saying I do not know with certainty, or perhaps even can't hazard a totally intelligent guess, as to what our final decision will be," Boren told reporters. "But we are carefully looking over all the options. There's no school more active in the Big 12 than we are right now."
Boren says multiple conferences have shown interest in the Sooners and he expects to decide whether to leave the Big 12 or not within the next three weeks.
Both the old Pac-10 and SEC offered OU a spot in their leagues last year but the Sooners decided to remain with the Big 12 despite the departures of Nebraska and Colorado. A&M's departure, however, would drop the league down to nine members.
Boren said he tried to prevent Texas A&M from leaving the Big 12 and was disappointed the school wants to join another conference, which we all know is the SEC, by next July.
Speculation has run rampant on possible replacements, with BYU emerging as a viable candidate to replace A&M. However, the league won't survive if OU bolts, which is seemingly becoming more possible with each passing day.
According to the Orangebloods.com report, Texas has been trying to hold the Big 12 together. Currently, Texas athletic director DeLoss Dodds and OU athletic director Joe Castiglione are on the five-member Big 12 expansion committee in charge of looking for a prospective Big 12 replacement for A&M. However, if the Sooners choose to leave, it's believed Texas -- like the rest of us -- would deem the Big 12 a lost cause and follow the Sooners to the Pac-12. In this scenario, Texas escapes being labeled the "bad guy" and OU would be viewed as the school that caused a major shifting of the college landscape.
We'll soon find out what the future holds for Beebe and his unsteady league, but as of now it doesn't look very promising.
Email dave.miller@nationalfootballpost.com or follow me on Twitter at Miller_Dave