NFP's Introduction to Scouting Class is now registering for our next session! Early bird pricing in effect until February 15th! Save $100 and REGISTER NOW!
Players are usually eager to enter the free agent market, but it hasn't been what they were anticipating this year. It has largely been a buyer's market where teams have exercised more fiscal restraint than in the past. Here's a look at a couple of positions that have been adversely impacted by the marketplace.
Pass Rushers (4-3 DE/3-4OLB)
Pass rushers are usually at a premium in free agency but that hasn't been the case this year. Paul Kruger's five-year, $40.5 million deal (including $20 million guaranteed) with the Cleveland Browns set the market. Cliff Avril played under his $10.605 million franchise tag last season after turning down a three-year, $30 million contract from the Detroit Lions. He needed to sign a two-year, $19.395 million deal in order to break even. Avril lost $6.395 million by turning down Detroit's offer because he only got a two-year, $13 million deal (with an additional $2.1 million in sack escalators and incentives) from the Seattle Seahawks.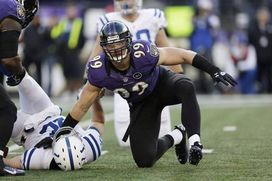 Paul Kruger was one of the few pass rushers who struck it big this offseason.
Elvis Dumervil became a free agent on March 15th because of a paperwork snafu on his renegotiated contract with the Denver Broncos that reduced his 2013 salary from $12 million to $8 million. He received $500,000 more that he was scheduled to make in 2013 from the Broncos renegotiation in the five-year, $26 million deal (includes $11 million in guarantees) he subsequently signed with the Baltimore Ravens. The contract is worth up to $35 million because it contains $9 million in base salary escalators. Kamerion Wimbley was released by the Oakland Raiders around the same time as Dumervil last year, but fared much better. He signed a five-year, $35 million contract ($13.5 million in guarantees) with the Tennessee Titans.
Chris Long should be thankful he signed a four-year, $48.2 million contract extension ($36.76 million in guarantees) with the St. Louis Rams as training camp opened last season. It's hard to imagine him getting a similar deal as an unrestricted free agent under current market conditions.
Cornerbacks
Sean Smith reportedly entered free agency seeking a contract between the Jason McCourty ($8.608 million average per year, $17 million in guarantees) and Brandon Carr/Cortland Finnegan neighborhoods ($10 million average per year, $26.5 million-$27 million in guarantees). He settled for a three-year, $16.5 million contract (with $10.915 million in guarantees and an additional $1.5 million in escalators and incentives) from the Kansas City Chiefs. His deal is at the top of this year's cornerback market with the three-year, $17 million contract ($10.5 million in guarantees and an additional $2 million in escalators and incentives) Cary Williams received from the Philadelphia Eagles. Interestingly, the Chiefs gave Stanford Routt a three-year, $18 million deal (worth up to $19.6 million through a 2014 base salary escalator) last year after the Oakland Raiders released him towards the end of the 2012 league year.
Derek Cox, Chris Houston, Keenan Lewis and Greg Toler signed multi-year deals averaging in the $5 million per year neighborhood. Dominique Rodgers-Cromartie and Aqib Talib took a different approach by signing one-year deals worth $5 million since they weren't able to find suitable long-term deals. Eric Wright's five-year, $37.5 million contract (with $14 million in guarantees that were voided because of his performance enhancing drugs suspension) may have been one of their salary benchmarks.
The average salary for starting cornerbacks was $4,761,222 in 2012, which was 49.5% greater than the 2012 average salary for starting safeties. It doesn't seem like it considering some of the dynamics in the safety market. LaRon Landry and William Moore signed long term deals averaging $6 million per year with $14 million in guarantees. Glover Quin's five-year deal with the Detroit Lions averaging $4.7 million per year is also comparable to the multi-year deals in the cornerback market.
Slot Wide Receivers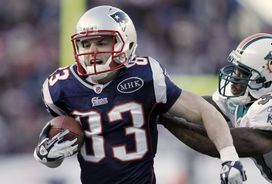 Welker may have gotten less than he was hoping for, but he gets to play for a Super Bowl contender.
The New England Patriots didn't make much of an effort to re-sign Wes Welker despite him averaging 112 catches and 1,243 receiving yards per year since joining the team in 2007. Welker was given a two-year, $10 million offer that was worth up to $16 million with incentives. In order to earn the incentives, Welker would have been required to sustain his level of play from his previous six seasons in New England, which may have had a difficult if the Patriots planned on using him the way they were before Aaron Hernandez was sidelined by an ankle injury last season. Since Welker wanted to play for a Super Bowl contender, he turned down more money from another team to sign a two-year, $12 million contract with the Denver Broncos.
The Patriots quickly replaced Welker by signing Danny Amendola to a five-year, $28.5 million deal (with $10 million in guarantees and an additional $500,000 of incentives each year for receptions). Neither one of these deals measure up to the five-year, $36.3 million contract (including $18 million in guarantees) Marques Colston received from the New Orleans Saints last year to forego free agency.
Follow me on Twitter: @corryjoel
Joel Corry is a former sports agent who helped found Premier Sports & Entertainment, a sports management firm that represents professional athletes and coaches. Prior to his tenure at Premier, Joel worked for Management Plus Enterprises, which represented Shaquille O'Neal, Hakeem Olajuwon and Ronnie Lott. You can email Joel at jccorry@gmail.com