For player and team, there has been no better match made during the 2013 NFL draft then the union that was formed Friday evening between the San Diego Chargers and Notre Dame linebacker Manti Te'o.
The Chargers have fallen on hard times in recent years. Four consecutive trips to the playoffs highlighted by an appearance in the 2007 AFC Championship game solidified the Bolts' place among the AFC's elite. But the foundation began to crack in 2010. San Diego has won just 24 regular season games over the last three seasons, failing to qualify for postseason play each time. Enough eventually became enough as head coach Norv Turner and general manager A.J. Smith were dismissed at the end of the 2012 campaign.
Notre Dame linebacker Manti Te'o was the toast of the college football world in 2012. A captain and four-year starter at the most storied program in the country, Te'o led the Fighting Irish to a perfect 12-0 regular season record. The 22-year old won the Lott Trophy, Maxwell Award, Chuck Bednarik Award, Walter Camp Award, Bronko Nagurski Award, Butkus Award, Lombardi Award and earned a trip to New York City as a Heisman Finalist, who would eventually finish second in the voting to Texas A&M's Johnny Manziel.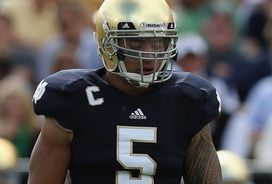 There is no better place for Manti Te'o to begin his NFL career than San Diego.
But Te'o's Cinderella collegiate story came to a fiery conclusion at roughly the same time Turner and Smith were meeting their demise in San Diego. The once-proud linebacker became a national punch line after the Lennay Kekua prank hit the headlines, which came on the heels of a disastrous performance against Alabama in the BCS Championship game in front of the entire world. Te'o was pushed around and humiliated, both on and off the field.
The San Diego Chargers needed a fresh start. Manti Te'o needed a fresh start. In their journeys, they found each other.
In Te'o, the Chargers get one of college football's top defensive prospects who will aid in the reconstruction of the organization's defense from Day 1. They get a hard worker, a team leader, a man in search of redemption.
In San Diego, Te'o gets a welcoming and forgiving community that cares as much about each other as it does their professional football franchise. He gets to avoid the national attention and scrutiny that would have followed him in a city like Boston, New York or Philadelphia. In San Diego, Te'o finally gets the opportunity to put his past behind him. He gets the chance to concentrate on football.
It's a new era for the San Diego Chargers. It's a new beginning for linebacker Manti Te'o. Both look to rebuild a once respectable image that has been tarnished as of late. Each begins that process with the help of the other, thanks to the 38th pick in the 2013 NFL draft.
Hit me up on Twitter: @JoeFortenbaugh
NFP's Introduction to Scouting Class is now registering for our Winter sessions! Save $200 if you register before December 20th! REGISTER NOW!