Prime time…

Oregon vs. Stanford (8:00 PM ET, ABC)

If you want to see what a top-tier interior offensive lineman looks like, pay close attention to Stanford's RG David DeCastro. He's not only one of the best move OG prospects I've ever seen, but he's balanced/violent with his hands in pass protection, fluid laterally and is a better power guy than given credit for. Former Florida center Maurkice Pouncey is the highest graded interior lineman I have evaluated, but when it's all said and done I think DeCastro will end up being right there in his class.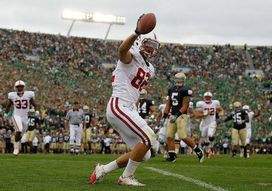 ICONFleener is one of the top tight end prospects in the nation.
Another prospect not getting nearly the kind of love he deserves is Stanford TE Coby Fleener. Fleener is a big kid at 6-6, 244 pounds who can really run for his size, go get the football and create down the seam. However, pay close attention to his ability to line up on the line and handle defensive ends at the point in the run game. He's a good move guy, but as a junior had some struggles with balance into contact in-line and creating much movement. Therefore, watch to see if he has improved in this area of his game to a point where he could be capable of playing on the line full time as a starting TE in the NFL from day one or if he needs some time.

The one guy who might be responsible for stopping Fleener is Oregon LB Josh Kaddu. The 6-3, 235-pound defender was a good athlete on tape, but was more athlete than football player at that stage. He lacked a great feel for the game, wasn't a natural pass rusher and would struggle to find the football. Therefore, just watching to see if his awareness/instincts have improved with another year of experience will be key in figuring out if he's now more than just a "plus" athlete playing the game or if he can mature into an NFL backer with some time.

Nightcap…

Arizona State vs. Washington State (10:30 PM ET, Versus)

Washington State QB Marshall Lobbestael has quietly had a very solid senior campaign. He's completing 60 percent of his passes, has thrown for over 2,220 yards with 16 touchdowns and seven picks on the year. He's coming off his worst game of the season vs. Cal, going 15 of 37. Therefore, this is a great game to not only see if he can rebound from his poor showing last week, but if he is in fact worth a potential late-round pick come April.
Follow me on twitter: @WesBunting
Check out the NFP's New Draft Page...