Primetime…
Stanford: vs. Notre Dame (8:00 PM ET, ABC)
If there is a game where Notre Dame CB Robert Blanton can play up near the line, use his length to press and simply bully an very "blah" receiving core it's this one. Blanton is a gifted size/speed athlete who has done a much better job this year transitioning out of his breaks and tracking the football. Therefore, this is the kind of game where if he wants to prove he's a legit early/mid-round pick, he needs to dominate the less than stellar competition.
Key match-up to watch…
Notre Dame ILB Manti Te'o vs. Stanford TE Coby Fleener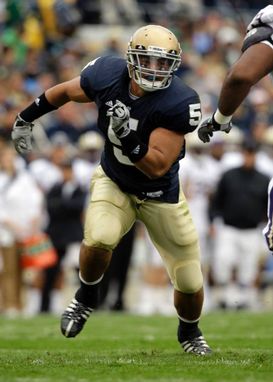 This is a great test for Te'o.
I wrote about Te'o on Monday discussing how impressed I was when he's been asked to click and close and drive on the football in front of him in coverage. He's done a much better job this year keeping his feet under him, staying compact and generating a burst on the football. However, this will be a great test for him in coverage this week to measure just how natural/fluid he is when asked to turn and run with an athlete the caliber of Fleener.
Despite his size (6-6, 245) Fleener runs very well down the field. He possesses a sudden element to his game as a route runner, but is at his best getting those long legs churning and striding under the football as a vertical threat either down the seam or working the corner route.
Therefore, especially in Tampa two situations, watch to see how much ground Te'o is able to cover vs. an NFL caliber tight end like Fleener. Obviously he's the same type of straight-line athlete. But being able to get up to speed quickly out of his transition and make the throwing window as small as possible will be key in evaluating Te'o and his prospects on 3rd down at the next level.
Follow me on twitter: @WesBunting
Check out the NFP Draft Page...