6. Chris Rainey: Florida (5-9, 174)
He's a narrow framed athlete, but has natural running ability, keeps his pad level down and can consistently make defenders miss. Needs to add girth to give himself a chance. But if he can get up to around 190-pounds and add some strength, he certainly looks like a potential change of pace back/slot guy who can fill a number of roles at the next level.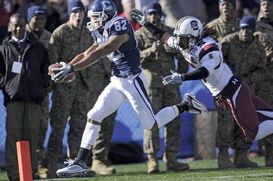 ICONMoore has impressed this post-season.
7. Kashif Moore: Connecticut (5-10, 175)
An undersized wide out with "plus" speed. Isn't overly shifty in tight areas, but is developing as a route runner. He's got the top end seed to be a homerun threat every time he touches the football and has a lot of upside to his game inside.

8. Eric Page: Toledo (5-10, 180)
Showcases good short area quickness and the ability to set up routes. Would like to see him do a better job separating in tight areas and catching the ball in traffic. But, has been extremely productive and at worst looks like a sub package NFL option inside.

9. Danny Coale: Virginia Tech (6-0, 200)
A try-hard guy with a feel of the game who could endear himself to a coaching staff. Is a sneaky athlete with good speed, can set up his routes and find soft spots underneath.

10. Travis Benjamin: Miami (5-10, 175)
A typical Miami type athlete who has all the tools needed to make plays at the next level. Athletically, has a little DeSean Jackson and Titus Young to his game and if he continues to mature into an inside vertical option.
Check out the NFP Draft page here...