11. ATH Kendell Beckwith: East Feliciana High School; Jackson, LA
The 6-3, 225-pounder played both quarterback and defensive end — yes, QB and DE — in 2011 and received all-state honors as an athlete. LSU and Alabama are the two favorites to land the prospect, who projects as a defensive end or linebacker at the next level. He also likes Stanford and Notre Dame, but he acknowledged that he wants to remain closer to home. He has five official visits planned, including trips to Florida State, Clemson and Tennessee, along with those to LSU and Alabama.
12. S Antonio Conner: South Panola High School; Batesville, MS
The 6-2, 200-pounder notched two interceptions and rushed for over 1,400 yards in 2011. There's been buzz that he may stay in-state and continue his high school's pipeline to Ole Miss. Alabama, Mississippi State, LSU and Georgia are also in consideration.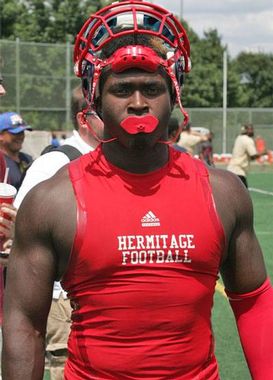 Could Oregon be moving up Derrick Green's list?
13. RB Derrick Green: Hermitage High School; Richmond, VA
The 5-11, 235-pounder recorded 20 touchdowns on the ground during his junior season. Despite his size, the bruiser has very good speed and explosiveness. Keep an eye on Auburn and Michigan, which appear to be the leaders. But Tennessee, Ole Miss and Oregon remain in the race, and the Ducks just became more intriguing with the recent decommitment of Thomas Tyner.
14. S Tahaan Goodman: Rancho Cucamonga High School; Rancho Cucamonga, CA
The 6-2, 184-pounder recorded 45 tackles in 2011. He grew up a USC fan, but scholarship limitations may prevent him from becoming a Trojan. He has an official visit scheduled to Baton Rouge for the game against Alabama, and he also has plans to take officials to USC and UCLA. Oregon, Washington, Florida, Florida State and South Florida also remain in the mix.
15. DT Justin Manning: Justin F. Kimball School; Dallas, TX
The 6-2, 275-pounder should fit in nicely as a one-gap defender who can get to the backfield quickly. He has taken three official visits to Oklahoma, TCU and Texas A&M, and he still plans to visit LSU. His top five is LSU, Oklahoma, TCU, Texas A&M and USC.
16. S Priest Willis: Marcos De Niza High School; Tempe, AZ
The 6-2, 199-pounder has very good size for the safety position but has the speed and range to play corner as well. He's a physical athlete who holds a lot of offers, but Notre Dame, LSU and Washington appear to be the favorites.
17. WR Jordan Cunningham: University School of Nova South; Fort Lauderdale, FL
The 6-1, 175-pounder has good athleticism and speed and is not afraid of making a tough catch. Cunningham has good awareness of surrounding defenders and has good body control. Oklahoma State, Notre Dame, Miami (FL), Florida State, Alabama and Stanford are in his final six.
18. S Vonn Bell: Ridgeland High School; Rossville, GA
The 6-0, 190-pounder is versatile enough to play at a high level at cornerback because he has good ball skills and good speed. But he's also a hard hitter who can play well at the safety position. He has a top three of Alabama, Ohio State and Tennessee.
19. OT Dorian Johnson: Belle Vernon High School; Belle Vernon, PA
The 6-6, 285-pound Under Armour All-American has cut his list to three schools: Pittsburgh, Ohio State and Virginia Tech.
20. WR James Quick: Trinity High School; Louisville, KY
The 6-foot, 180-pounder has good speed, very good quickness and catches everything thrown his way. He's also an accomplished route runner for a young player with good yards-after-catch ability. Ohio State could have the edge over Louisville, although Quick said he still plans to take an official visit to Oregon.
Email dave.miller@nationalfootballpost.com or follow me on Twitter at Miller_Dave