11. OL Jordan Diamond, 6-6, 290 pounds, Simeon High School; Chicago, IL
Diamond is considering Arkansas, Auburn, Michigan, Ohio State and Wisconsin. He isn't publicly leaning toward a specific school at this point, but he will announce his commitment on Feb. 3.
Where does he end up? I have a feeling that Brady Hoke will get a post-Signing Day gift with Diamond's commitment to Michigan.
12. CB Tracy Howard, 5-11, 175 pounds, Miramar High School; Miramar, FL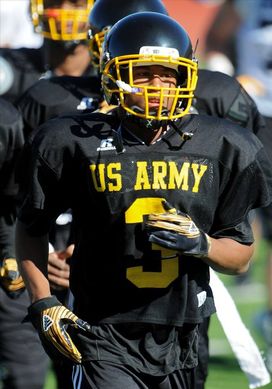 ICONTracy Howard will remain in the state of Florida, but which major program will land his services?
Despite not being targeted very much during his senior year, Howard still managed to account for 10 interceptions. His 4.4 40 speed is impressive, and he held his own against Dorial Green-Beckham in the U.S. Army All-American Bowl. Florida, Florida State and Miami remain in play after he decided to stay in state. He would be a great fit at any of those three Sunshine State schools.
Where does he end up? Howard will be won over by Al Golden and Miami during his visit this weekend, so I'm going with the Hurricanes.
13. WR Thomas Johnson, 6-0, 180 pounds, Skyline High School; Dallas, TX
Johnson is speedy, explosive and elusive. He's considering offers from Cal, Oregon and TCU, and he took an official visit to Texas A&M last weekend. He decommitted from Texas days after the Under Armour All-American Game, so he remains up in the air on his college choice.
Where does he end up? Johnson lands at Texas A&M to play in Kevin Sumlin's pass-happy offense.
14. CB Ronald Darby, 5-11, 176 pounds, Potomac High School; Oxon Hill, MD
Darby decommitted from Notre Dame a few weeks back and is a good friend of Florida State commit Marvin Bracy. The track and field star played six positions in high school and could be the next Greg Reid in Tallahassee. Auburn, Clemson, Maryland and the Fighting Irish remain in the mix.
Where does he end up? FSU because of its strong track program.
15. QB Devin Fuller, 6-1, 190 pounds, Northern Valley Regional; Old Tappan, NJ
Fuller is currently in Arizona for his official visit with Rich Rod and the Wildcats. He will announce his decision on Sunday, so the Wildcats will have the final word. He also has taken official visits to UCLA, Nebraska, Rutgers and TCU. There were some who believed that Rutgers could get him to stay in state, but the departure of Greg Schiano really hurts the program's chances of landing the signal-caller.
Where does he end up? This case has been difficult to call, but I think Schiano leaving Rutgers allows for Fuller to get reined in by Rich Rod at Arizona.
16. WR Nelson Agholor, 6-1, 180 pounds, Berkeley Prep School; Tampa, FL
Agholor will visit USC this weekend, and his finalists also include Florida, Florida State, Oklahoma and Notre Dame. He recorded over 1,900 yards during his senior season, and his athletic ability will make him valuable as a kick and punt returner as well. He has good size with great speed and quickness.
Where does he end up? He would be a great piece for any offense/special teams corps, but I think he stays in state as a Gator.
17. DT Leonard Williams, 6-5, 265 pounds, Mainland High School; Daytona Beach, FL
Williams is fresh off a visit to Florida after visiting USC this past weekend. The defensive tackle, who could also line up at end, is reportedly down to the Gators, Trojans, Auburn and Florida State.
Where does he end up? Tough to project. Could Chizik and Co. steal him from the Sunshine State?
18. OT Avery Young, 6-5, 292 pounds, Palm Beach Gardens High School; Palm Beach Gardens, FL
The raw tackle has narrowed his list to Alabama, Auburn, Georgia, Florida and Miami. His father is Willie Jones and his brother is Willie Jones Jr. — both former NFL players.
Where does he end up? The 'Canes recently had a great visit with him, so the thought is that Golden and Co. may have a very narrow edge.
19. ATH Ricardo Louis, 6-2, 200 pounds, Miami Beach Senior High School; Miami Beach, FL
Louis just decommitted from Florida State days after doing the same thing to Auburn. However, he had been an Auburn commit for almost a year. He clearly is torn, so one of the best athletes in the state of Florida has a tough decision to make. Louis is quick and hits top speed immediately, but he's raw offensively. He could land at defensive back or develop as a receiver.
Where does he end up? Chizik and the Tigers will ultimately be able to get him to leave the state of Florida.
20. DE Darius Hamilton, 6-3, 245 pounds, Don Bosco High School; Ramsey, NJ
Rutgers and Florida are reportedly the finalists for Hamilton's services. But the blue-chip end and the son of former New York Giants lineman Keith Hamilton may be leaning toward the Gators now that Schiano is no longer the head coach of the Scarlet Knights. Hamilton's an instinctive pass rusher who has a quick first step and will be ready to play early situationally.
Where does he end up? I think Rutgers will miss out on grabbing its headline prospect on National Signing Day. Florida is my pick.
Email dave.miller@nationalfootballpost.com or follow me on Twitter at Miller_Dave