14. DE Lorenzo Carter, Norcross High School (Norcross, GA)
The 6-5, 225-pounder has a great frame to add weight and very good instincts. This past season he led his school to the state finals for the first time in 55 years, recording 124 tackles (including 42 for loss) and forcing four fumbles and recording 18 sacks.
15. LB Hoza Scott, La Porte High School (La Porte, TX)
The 6-3, 225-pounder, who committed to Texas A&M this past December, is an outside linebacker who can make plays sideline-to-sideline and act as a disruptive pass rusher.
16. CB Adoree' Jackson, Junipero Serra High School (Gardena, CA)
The 5-10, 170-pounder, who already had been offered a scholarship by UCLA and Florida, was recently extended an offer by USC.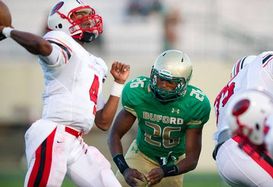 Dual-threat QB Deshaun Watson is committed to Clemson.
17. QB Deshaun Watson, Gainesville High School (Gainesville, GA)
The 6-3, 186-pound dual-threat, who is committed to Clemson, has a quick release and good arm strength.
18. CB Tony Brown, Ozen High School (Beaumont, TX)
The 6-foot, 179-pounder is a lockdown corner who is very good in run support as well.
19. RB Joseph Yearby, Miami Central High School (Miami, FL)
The 5-9, 191-pounder, who is committed to Florida State, is a shifty back with great explosiveness.
20. OT Damian Prince, Bishop McNamara High School (Forestville, MD)
The 6-7, 300-pounder has good athleticism and flexibility. He's a very good run blocker and pass protector.
21. RB Elijah Hood, Charlotte Catholic High School (Charlotte, NC)
The 6-foot, 209-pounder has rushed for 5,291 yards and 83 touchdowns the past two seasons, and he's on pace to set county career rushing marks in both categories next season.
22. DE Kentavious Street, J. H. Rose High School (Greenville, NC)
The 6-2, 256-pound weakside end has offers from major powers such as Ohio State and Florida State.
23. OT K.C. McDermott, Palm Beach Central High School (Wellington, FL)
The 6-6, 274-pounder is big and physical, and he excels best as a run blocker.
24. S Laurence Jones, Neville High School (Monroe, LA)
The 6-2, 208-pounder has the prototypical size and range for a safety.
25. LB Kain Daub, Sandalwood High School (Jacksonville, FL)
The 6-2, 243-pound inside linebacker excels as a run-stuffer both sideline-to-sideline and also downhill as well.
Others of note: ATH Michiah Quick (Fresno, CA); QB Justice Hansen (Edmond, OK); CB Edward Paris (Arlington, Tx); ATH Tyler Luatua (La Mirada, CA); and CB Jalen Tabor (Washington, D.C.)