14. DT Dee Liner: Muscle Shoals High School; Muscle Shoals, AL
The 6-3, 275-pounder, who recorded 79 tackles (14 for a loss) with four sacks and one interception as a senior, was a longtime Auburn commit but is now considered a heavy lean to Alabama. Georgia, however, remains in the mix.
15. RB Alvin Kamara: Norcross High School; Norcross, GA
The 5-10, 192-pounder, who rushed for over 1,500 yards and 20 touchdowns as a senior, will choose between Georgia and Alabama.
16. LB Yannick Ngakoue: Friendship Collegiate Academy; Washington, D.C.
The 6-2, 230-pounder, who recorded 60-plus tackles and 18 sacks last fall, will choose between Florida State, Maryland and South Carolina.
17. LB Isaac Savaiinaea: Punahou School; Honolulu, Hawaii
The 6-3, 231-pounder has narrowed his choice to between UCLA and Texas A&M, but it appears that the Bruins are in the best position.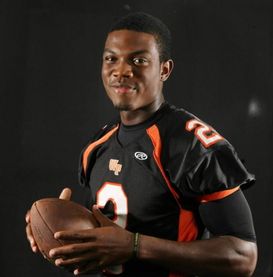 Asiantii Woulard appears to be down to UCLA and South Florida.
18. QB Asiantii Woulard: Winter Park High School; Winter Park, FL
The 6-3, 204-pound dual-threat appears to be down to UCLA and USF.
19. OT Austin Golson: Prattville High School; Prattville, AL
The 6-6, 284-pounder de-committed from Florida State, and Ole Miss is now considered the frontrunner. Alabama and Auburn are also in the mix.
20. DE Kylie Fitts: Redlands East Valley High School; Redlands, CA
The 6-4, 245-pounder is expected to choose between USC, UCLA and Notre Dame.
21. OG Tyrone Crowder: Richmond Senior High School; Rockingham, N.C.
The 6-1, 325-pounder is reportedly down to Clemson and Georgia.
22. OG Andrew Billings: Waco High School; Waco, TX
The 6-2, 308-pounder will decide between Baylor, TCU and Texas.
23. LB James Hearns: Lincoln High School; Tallahassee, FL
The 6-3, 235-pounder parted ways with Florida, so Auburn, Kentucky, Houston and Louisville remain in the mix.
24. LB Quinton Powell: Mainland High School; Daytona Beach, FL
The 6-2, 200-pounder could be headed to USC after Florida withdrew its scholarship offer. South Carolina, Oregon and Miami (FL) also are in the mix.
25. RB Cornelius Elder: The Ensworth School; Nashville, TN
The 5-10, 170-pounder is considering Ohio State, UCLA, Georgia Tech, Ole Miss and Vanderbilt. The possibility of him playing basketball at the next level has complicated his recruiting a bit.
NFP's Introduction to Scouting Class is now registering for our Winter sessions! Save $200 if you register before December 20th! REGISTER NOW!