National Signing Day has come and gone, Jadeveon Clowney has made his college known, and most recruits from the Class of 2011 are counting down their final days of high school. So what better time to look ahead to the Class of 2012? Today, we start with the quarterbacks.
Now, this list is a very preliminary one, as prospects will rise and fall based off of their performances in summer camps and, of course, their play during their senior seasons.
But, for now, let's take a look at the most intriguing players at the quarterback position.
As the days and weeks unfold, and as I continue to watch more clips and further research these recruits, I will continue to unveil the top prospects at each position both on offense and defense.
QB's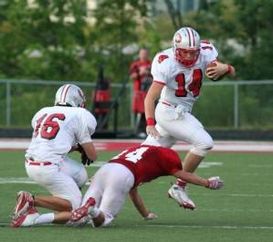 Zeke Pike has already accepted an invite to the 2012 U.S. Army All-American Bowl.
1. Zeke Pike: 6-5, 220-pounder from Edgewood, KY
Status: Undeclared
Considering: Kentucky, Louisville, Alabama, Florida and Tennessee.
Also recruited by: Georgia, Auburn, Cincinnati, Iowa, Indiana, Purdue, Oklahoma State, Texas A&M, Penn State, USC, Boston College, Clemson, Arkansas, North Carolina, Oklahoma State, Wisconsin and Ohio.
2010: Threw for 2,144 yards and 17 touchdowns against 12 interceptions. Added 947 yards and 17 more scores on the ground.
The Dixie Heights High School signal-caller has received offers from just about every major program in the nation, including Alabama, Auburn, Florida, USC and Wisconsin. The 6-5, 220-pound pure drop-back passer was very impressive on the spring and summer camp circuit last offseason, going head-to-head and sometimes outperforming many of the recruits from the Class of 2011. He will be near the top of every major recruiting site's quarterback list at the start of next season, and he has already accepted an invite to the 2012 U.S. Army All-American Bowl. He's a tough kid who doesn't mind lowering his shoulder when he escapes from the pocket. And he also took some snaps at linebacker in the past.
2. Gunner Kiel: 6-4, 220-pounder from Columbus, IN
Status: Undeclared
Considering: Notre Dame, Oklahoma, Michigan, Tennessee and Georgia.
Also recruited by: Michigan State, Alabama, Indiana, Purdue, Iowa, Wisconsin, Missouri, Cincinnati and Colorado.
2010: Threw for 2,645 yards and 36 touchdowns. Was an honorable mention Class 5A All-State pick and first-team all-conference selection.
2009: Threw for 2,300 yards and 25 touchdowns.
The Columbus East High School star, who reportedly made an unofficial visit to Oklahoma with his parents this past weekend, comes from a family of signal-callers. His uncle, Blair Kiel, played quarterback at Notre Dame, and older brothers Dusty and Drew line up under center at Indiana and Illinois State, respectively. The 6-4, 220-pounder, who already has offers from OU, Alabama, Georgia, Michigan, Notre Dame and Wisconsin, threw for 2,645 yards and 36 touchdowns last season while leading his team to a 7-0 mark in conference play. He is a pure drop-back passer who, like Pike, impressed a lot of schools with his play on the spring and summer camp circuit.
3. Connor Brewer: 6-2, 195-pounder from Scottsdale, AZ
Status: Committed to Texas
Also recruited by: Arizona, Arizona State, Nebraska, Alabama and Tennessee.
2010: Threw for 2,677 yards and 37 touchdowns against six interceptions, completing 148 of 222 passes in leading his team to a 14-0 mark.
Brewer ended the recruiting process early by committing to Texas earlier this month, becoming the first quarterback in the 2012 class from the West Coast to choose a school. He is obviously comfortable with Mack Brown's program, as he visited the Longhorns multiple times on unofficial visits and his older sister is a freshman swimmer at the school. The 6-2, 195-pounder led Chaparral High School to back-to-back state titles, and he threw for 2,677 yards and 37 touchdowns in a tremendous junior season. He not only can attack defenses with his arm, but he can take off and make plays with his feet, as well. He plays in a similar offense to that of Boise State's, and the Longhorns' new offensive coordinator, Bryan Harsin, just happened to once run the Broncos' offense. Brewer has a strong arm, and he is particularly effective throwing fades, go routes, and post routes deep downfield. He also has the frame to add more weight.
4. Bart Houston: 6-3, 186-pounder from Concord, CA
Status: Undeclared
Considering: UCLA, California, Stanford, Texas A&M and Purdue.
2010: Threw for 1,922 yards and 20 touchdowns as he led his team to a 14-0 mark.
2009: Completed 71 of 113 attempts (62.8 percent) for 1,257 yards, 10 touchdowns and two interceptions. Rushed for another score.
As a varsity starter as a sophomore in 2009, Houston led Concord De La Salle to an 11-0 record and the Spartans' 18th straight CIF-NCS title and the CIF State Open Division title. Last year, he led the California powerhouse to a 14-0 mark.
5. Greyson Lambert: 6-5, 195-pounder from Jesup, GA
Status: Undeclared
Considering: Georgia, Alabama, Clemson, NC State and Vanderbilt.
2010: Threw for 1,991 yards and 20 touchdowns. He also rushed for two scores.
Lambert has generated some heavy interest from Alabama and Georgia, and he will likely continue to gain notoriety throughout this next recruiting cycle. He started the last seven games of his sophomore season after beating out Wayne County's senior starter — who just happens to be walking on at Georgia in 2011. He has a good arm, perfect size to scan the field and real good field vision. But his arm is his biggest strength. He is a prototypical drop-back passer, but he needs to continue to work on his footwork and mobility.
6. Jameis Winston: 6-4, 200-pounder from Hueytown, AL
Status: Undeclared
Considering: Alabama, Auburn, Florida State, Florida and Miami (FL).
Also recruited by: Ohio State, Clemson, Nebraska, Ole Miss and Mississippi State.
2010: Completed 177 of 271 attempts (65.3 percent) for 2,334 yards, 17 touchdowns and four interceptions. Carried 128 times for 870 yards (6.8 yards per rush) and nine more scores.
2009: Completed 86 of 159 attempts (54.0 percent) for 1,510 yards, 12 touchdowns and six interceptions. Rushed for 417 yards and five touchdowns.
Winston, who is expected to be a top baseball prospect after his all-state selection on the diamond, led his team to an 11-2 mark in 2010. The dual-threat signal-caller from Hueytown High School should expect to receive plenty of visits from coaches across the country as the 2011 season nears. However, he may face a decision similar to Nebraska commit Bubba Starling, who will likely be a first-round pick in Major League Baseball's June draft. Still, that shouldn't scare off too many coaches because Winston is quite the talent on the football field.
7. Maty Mauk: 6-2, 185-pounder from Kenton, OH
Status: Undeclared
Considering: Notre Dame, Cincinnati, Missouri, Ball State and Northwestern.
2010: Completed 372 of 568 attempts (65.5 percent) for 5,670 yards, 69 touchdowns and 14 interceptions. Carried 164 times for 974 yards (5.9 average) and 16 more scores. Was named the Ohio Gatorade Player of the Year.
2009: Completed 351 of 576 attempts (60.9 percent) for 4,540 yards, 46 touchdowns and 17 interceptions. Rushed for 660 yards and 11 more scores.
2008: Completed 248 of 400 attempts (62.0 percent) for 3,309 yards, 36 touchdowns and 16 interceptions. Rushed for 347 yards and eight more scores.
Mauk, a pro-style quarterback, plays for his father and longtime Kenton High School head coach Mike Mauk. His older brother, Ben, led the Wildcats to back-to-back state championships before moving onto Wake Forest and Cincinnati. He has already put up absurd numbers for his career, and he will continue to do so. Maty has a shot next year to eclipse Ben's national record of 17,364 career yards, which was thought to be an untouchable mark when it was set. His career stats so far: 971 of 1,544 through the air for 13,519 yards and 151 touchdowns.
8. Cyler Miles: 6-4, 215-pounder from Denver, CO
Status: Undeclared
Considering: Colorado, California, Arizona, Texas A&M and Arizona State.
2010: Completed 70 percent of his passes with 20 touchdowns and only two interceptions.
The dual-threat signal-caller led his team to the Class 5A state championship to cap off an undefeated season. He finished 144 of 212 through the air for 2,114 yards and 20 touchdowns against just two interceptions. The 6-4, 215-pounder, who has track sprinter's speed, will try to deliver a fourth consecutive state title to the school during his senior season. His ability to play mistake-free is one of his biggest assets.
Keep an eye on:
Patrick Towles, Ft. Thomas, Kentucky
Bennie Coney, Plant City, Florida
Email dave.miller@nationalfootballpost.com or follow me on Twitter at Miller_Dave
Want to work in the NFL? Click here to sign up for the NFP's "Chalk Talk at the Combine" Seminar February 25 in Indianapolis.
NFP's Introduction to Scouting Class is now registering for our Winter sessions! Save $200 if you register before December 20th! REGISTER NOW!