The National Football Post continues to look ahead to the Class of 2012. Today, our first glance at the wide receivers.
As with the quarterbacks and running backs, this list is a very preliminary one, as prospects will rise and fall based off of their performances in summer camps and, of course, their play during their senior seasons.
But, for now, let's take a look at the most intriguing players at the wide receiver position.
As the days and weeks unfold, and as I continue to watch more clips and further research these recruits, I will continue to unveil the top prospects at each position both on offense and defense.
WR's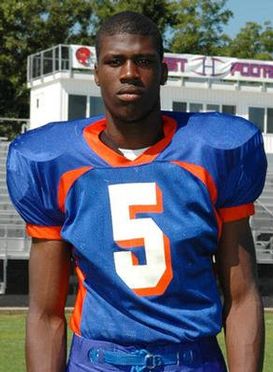 Dorial Green-Beckham was the Missouri Gatorade Player of the Year in 2010.
1. Dorial Green-Beckham: 6-5, 220-pounder from Springfield, MO
Status: Undeclared
Considering: Missouri, Oklahoma, Ohio State, Notre Dame and USC
Also recruited by: Florida, LSU, Alabama, Iowa, Arkansas, Florida State, Miami-FL, Michigan, Nebraska, Wisconsin and Illinois
2010: Caught 78 passes for 1,703 yards (21.8 average) and 15 touchdowns. Was named the Missouri Gatorade Player of the Year.
2009: Recorded 1,600 receiving yards and 23 touchdowns.
The Hillcrest High School stud had 78 catches for 1,706 yards and 15 touchdowns as a junior last season, and he's already Missouri's all-time career leader in yards with 4,154 and touchdowns with 51. He is one of the strongest receivers in the nation, yet he can also break away from defenders because of his top-end speed. He has good hands and underrated route-running ability. He also happens to be among the top basketball prospects in the country for his class. And he was the state champion in the 100-meter, triple jump and long jump as a sophomore. His ability to snatch the ball out of the air while leaping over defenders should make him an instant impact player at the college level. Bubble screens, deep posts and routes across the middle — you name it, he can do it.
2. Avery Johnson: 6-1, 185-pounder from Pompano Beach, FL
Status: LSU
Also Considered: Miami (FL), Alabama, Florida, Florida State and Georgia
Also recruited by: USC, Michigan, North Carolina, Central Florida and Memphis.
2009: Caught 55 passes for 705 yards (12.8 average) and seven touchdowns. Was named to the all-county team.
Johnson became LSU's first Class of 2012 commitment last September. The younger brother of former LSU cornerback Patrick Peterson, the Blanche Ely High School star has caught over 90 passes in the last two seasons. He has sub-4.5 speed, is strong and quick enough to get off vs. press-man and gets good separation out of his breaks. He also possesses the ability to make tough catches against defenders. The one knock on him is that he sometimes takes plays off. But, let's be honest, what receiver doesn't? Johnson became an Under Armour All-American earlier this year, getting an invitation to compete in the 2012 game, and he recently competed at the South Florida Express 7-on-7 open tryouts. His offseason goals include working on getting out of his routes quicker and improving his hands — and preparing for the rigorous practices of LSU head coach Les Miles. He also needs to continue to work on his concentration when catching the football.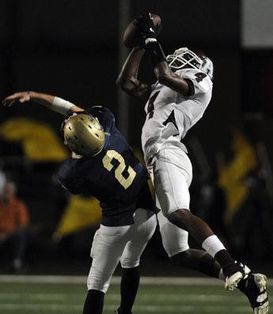 Cayleb Jones had 63 receptions for 860 yards and eight touchdowns last season in only seven games.
3. Cayleb Jones: 6-2, 189-pounder from Austin, TX
Status: Undeclared
Considering: Texas, Oklahoma, Notre Dame, Florida and Texas A&M
Also recruited by: Texas Tech, Oklahoma State, Baylor, Iowa State and Tulsa
2010: Hauled in 63 receptions for 860 yards and 8 touchdowns despite missing four games due to a right elbow injury. Was a second-team Class 5A all-state selection.
2009: Caught 91 passes for 1,140 yards (12.5 average) and nine touchdowns. Also rushed for two scores.
The son of former Dallas Cowboys linebacker Robert Jones, the Austin High product had 63 receptions for 860 yards and eight touchdowns last season in only seven games as he battled a right elbow injury. Jones is the best receiver in the state of Texas in this class and is primed to be a five-star recruit before the end of the spring evaluation period. He is athletic enough to run any route, has a tall and long frame, good leaping ability and is tough to bring down after the catch. Jones already has about 15 formal scholarship offers, but he continues to keep his options open. Texas, however, is considered the frontrunner for his services.
4. Stefon Diggs: 6-0, 180-pounder from Olney, MD
Status: Undeclared
Considering: Maryland, Virginia Tech, Miami (FL), Rutgers and Pittsburgh
Also recruited by: Virginia, Florida, California and Georgia Tech.
2010: Was a consensus all-state selection as a junior.
The Our Lady Of Good Counsel product was the overall MVP at the U.S. Army All-American Combine, and he continues to rack up offers. While he admits that there isn't a favorite as of now, he is being recruited by some programs as a wide receiver and others as a defensive back. He likes both positions and would be open to playing both wherever he signs. What is clear is that he is the best player in the state of Maryland for this class — 2012's version of Cyrus Kouandjio. He has 4.4 speed, gets the ball in a variety of ways at his school — running, receiving and returning — and is explosive out of his cuts.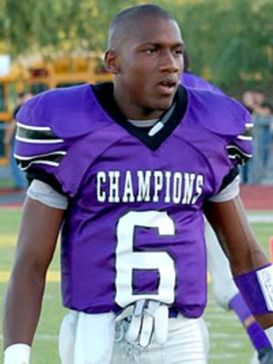 Davonte Neal was the Arizona Gatorade Player of the Year in 2010.
5. Davonte Neal: 5-10, 162-pounder from Scottsdale, AZ
Status: Undeclared
Considering: Arizona, Arizona State, UCLA, USC and LSU
Also recruited by: Oregon State, Boston College, Arkansas, Duke and BYU
2010: Caught 37 passes for 907 yards (24.5 average) and 11 touchdowns. Carried 59 times for 551 yards (9.3 average) and 12 touchdowns. Was named the Arizona Gatorade Player of the Year as well as the Class 4A-5A Player of the Year. Helped lead the Firebirds to a 14-0 record and a state title.
Neal is one of the most dynamic athletes on the West coast. The Chaparral High star was named Arizona's Gatorade Player of the Year last season and is not only one of the top receivers in the region, but he also may be one of the top cornerback prospects out West. His junior season was sensational, as he caught 37 passes for 907 yards and 11 touchdowns, rushed for 551 yards and 12 more scores and added 665 more yards on returns — including going the distance on four occasions. He's also a shutdown corner, recording five interceptions and returning two for scores. Auburn made quite the impression on Neal earlier this month, as offensive coordinator Gus Malzahn reportedly told Neal that he could come in and play offense right away. His teammate Connor Brewer is a quarterback recruit who has already committed to Texas.
6. Thomas Johnson: 6-0, 180-pounder from Dallas, TX
Status: Texas
Also Considered: Oklahoma, USC, Auburn and Texas A&M
Also recruited by: Notre Dame, Miami-FL, Oregon, UCLA, Arizona, Baylor, California, Iowa, Purdue, Kansas State and TCU
2010: Caught 20 passes for 360 yards and two touchdowns despite missing several games with a high ankle sprain.
The Skyline High School product, who played hurt most of the 2010 season but still managed 20 receptions for 360 yards, pledged to Texas late Monday night. He will join former Skyline product Mike Davis, who was the best receiver for Texas last season as a freshman. Johnson picked the Longhorns over verbal offers from about 20 schools. The 6-0, 180-pounder has 4.45 speed and is looking forward to playing for new offensive coordinator Bryan Harsin and receivers coach Darrell Wyatt. Johnson projects as a slot receiver at the next level and could also contribute in the return game because of his explosiveness and short-area quickness. He doesn't have the greatest hands, although he is still learning the receiver position after playing quarterback as a sophomore at Oakridge High School.
7. Nathan Cole: 6-0, 177-pounder from Memphis, TN
Status: Undeclared
Considering: Alabama, Tennessee, Mississippi, Kentucky and Vanderbilt
2010: Recorded 64 catches for 941 yards and 11 touchdowns.
The Mitchell High product looks like he is the consensus No. 1 player in the state of Tennessee for the Class of 2012. He holds offers from Tennessee, Alabama and Ole Miss, and he was an honorable mention U.S. Army All-American All-Combine performer. At receiver, Cole makes everything look easy — even the spectacular catches that he's able to make. He also plays defensive back and would like to play on both sides of the ball in college. But his first choice is receiver.
Other receivers to keep an eye on:
Chris Black: A 5-11, 165-pounder from Jacksonville, FL, who is considering Florida State, Georgia, Miami (FL), Alabama and Florida. The First Coast High product had 990 receiving yards and 13 touchdowns last season.
Darius Powe: A 6-2, 190-pounder from Lakewood, CA, who is considering UCLA, California, Washington, Colorado and Arizona. He caught 43 passes for 822 yards and six touchdowns last season.
Jordan Payton: A 6-2, 200-pounder from Westlake Village, CA, who gave his verbal commitment to USC. The Oaks Christian High product already has 33 touchdowns at the varsity level.
D'Vario Montgomery: A 6-2, 210-pounder from Winter Park, FL, who is considering Florida, Florida State, Georgia, LSU and South Carolina.
LaTroy Pittman: A 6-0, 195-pounder from Citra, FL, who has given his verbal to Florida. He made second-team U.S. Army All-American Combine.
Dwayne Stanford II: A 6-3, 187-pounder from Cincinnati, OH, who is considering Ohio State, Notre Dame, Alabama, Georgia and Florida State.
Email dave.miller@nationalfootballpost.com or follow me on Twitter at Miller_Dave
NFP's Introduction to Scouting Class is now registering for our Winter sessions! Save $200 if you register before December 20th! REGISTER NOW!