NFP's Introduction to Scouting Class is now registering for our next session! Early bird pricing in effect until February 15th! Save $100 and REGISTER NOW!
When training camps finally open come the end of July, there are always some interesting news items that surface at each location. Some of these items involve players boasting as to how good they are, others are just reactions to what has gone on in camp to date. This article contains my reactions to some of those aforementioned news items.
The Giants want Eli Manning to have a 70 percent completion percentage
Under new offensive coordinator Ben McAdoo, the Giants have been in the process of installing a new offense since off-season workouts began in April. McAdoo came from the Packers and the new offense will be very similar to what we have seen Aaron Rodgers run in Green Bay over the last few years.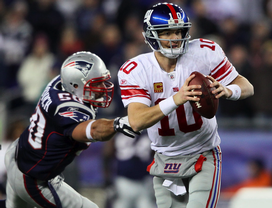 Manning desperately needs to find a way to cut down on the interceptions.
Rodgers, who is a master of this offense system and a very accurate passer, has been a starter since 2008. Over that time his career completion percentage is 65.8 percent. The best season he has had as far as completion percentage came in 2011 when Rodgers completed 68.3 percent of his passes.
Manning, on the other hand, has a career completion percentage of just 58.5 percent. His best season as far as accuracy came in 2010 when he completed 62.9 percent of his passes. If Manning can get to a 65 percent completion percentage, he will have had his best year as a pro. 70 percent seems out of the realm of possibility and what Manning really needs to improve upon is throwing fewer interceptions. Last year he tossed a career-high 27 picks and over the last four seasons he has thrown 83. If Manning can cut his number of interceptions to 15, the Giants offense will be far better in 2014.
As usual, the Jets are boasting
Less than a week into camp and outside linebacker Calvin Pace is already boasting that the Jets defense is the best in the NFL. In addition, second-year cornerback Dee Milliner claims to be the NFL's best corner. I think both players are dreaming.
Milliner may not even be the best corner on the Jets, let alone the NFL. He only started 12 games as a rookie and many in the league labeled his play as disappointing. When Milliner was on the field, he was the player other offenses would target. He gave a lot of cushion to opposing receivers and his ball reactions were average. If Milliner doesn't have an outstanding season, he will look foolish for having made that statement. Then again, maybe he likes putting the pressure on himself.
As for Pace's comment, the Jets have a very good defense, but the best in the league? I don't think so. In 2013 the Jets finished 11th in total yards surrendered. They gave up approximately 1,000 more yards than the Super Bowl champs in Seattle. Even division rival Buffalo gave up fewer yards.
The top five teams in total yards surrendered were all playoff teams and all gave up considerably less points per game. The last time the Jets were in the playoffs was 2010. Pace should try and help his team get to the post-season before he claims the Jets have the best defense in the NFL.
San Francisco RB Kendall Hunter tears his ACL and is out for the year
Going into the season, the 49ers looked on paper like they had as strong a group of running backs as any team in the league. They were led last year by Frank Gore and Kendall Hunter. Gore ran for over 1,100 yards and Hunter had 358 yards in spot duty.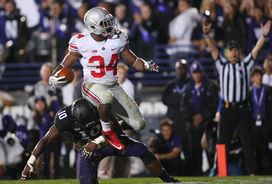 US PRESSWIRERookie Carlos Hyde may be handling a bigger workload this year than originally anticipated.
Last year, the 49ers drafted South Carolina running back Marcus Lattimore, who was coming off a serious knee injury. The thought was that he was a year away. This year, the team drafted Ohio State back Carlos Hyde, who many felt was the best running back in the draft. As of Wednesday, Lattimore had not been cleared to practice and there are many who feel he will not be close to what he once was.
To add to San Francisco's current backfield issues, utility back LaMichael James dislocated his elbow and is expected to miss some time. What was thought to be a very deep position group going into camp is now quite thin, as the two main runners left are just Gore and Hyde. Look for the 49ers to add some veteran depth in the near future.
The Bears long snappers struggle during Sunday's practice
For 16 seasons, Patrick Mannelly was the epitome of consistency as a long snapper for the Chicago Bears. In those 16 years, I don't remember him having even one bad snap.
Mannelly retired a month ago and now the Bears have two snappers in camp as they look to find his replacement. Chad Rempel, who spent ten years in the Canadian League as a snapper, and first-year man Brandon Hartson, who was in the Bears camp a year ago, are currently vying for the starting gig.
Sunday during the first practice in full pads, both players struggled with their snaps. Their struggles led special teams coach Joe DeCamillis to say after practice that Chicago's snapper may not be on the roster yet.
On Monday when I was at the Bears camp, both players did a good job. It's still early in camp and one of the two may wind up winning the job, but this situation bears (no pun intended) watching during pre-season.
Follow Greg on Twitter: @greggabe