Breaking down the game of Alabama RB Trent Richardson …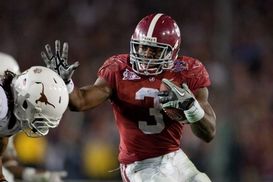 ICONRichardson is a load to bring down in the open field.
RB Trent Richardson: Alabama 5-11 224
A physically strapped together running back with a muscular lower half, very strong legs and chiseled upper body. Carries his weight well and is an absolute freak in the weight room. Possesses an aggressive running style and his combination of power and initial explosion is rare. The guy breaks about as many tackles as I've seen at the college level since Adrian Peterson. Showcases a "plus" initial burst when asked to press the hole, reaches top end speed quickly and runs with good forward lean. Exhibits natural bend in the knees when picking his way through traffic and showcases the foot quickness and fluidity to make sharp/sudden cuts at full speed and make defenders miss in tight areas. Isn't a dynamic make you miss athlete from a standstill position. However, he's patient when asked to set up blocks, exhibits impressive power/balance in his lower half allowing him to step through would be tackles and create a ton of yards through contact. Loves to create collisions and is the kind of guy who is going to shorten his shelf life in the NFL because of it. However, possesses the physical make-up to consistently run through arm tackles, run over defenders and keep the chains moving. Is also adept running from the gun. Sells the misdirection well, but likes to get his legs churning quickly up the field. Is also a much better perimeter runner than given credit for, accelerating around the edge with good bend and sharply putting his foot in the ground when side stepping a defender.
Has really improved his patience and overall feel between the tackles from a year ago as well. Does a much better job picking his way through traffic, setting up blocks and than accelerating through daylight, as opposed to simply trying out sprit and run over any defender in his path. Lacks elite top end speed and isn't a guy who can simply outpace angles at the second level. However, is still a big play threat because of his ability to make defenders miss and break tackles at the second level. Is much more agile/sudden than given credit for and will catch the football out of the backfield as well. Has the frame and toughness to hold his own in blitz pick-up and is a guy who can play all three downs in the NFL.
Impression: The best running back prospect I've seen since Adrian Peterson. His running style might limit his shell life a bit in the NFL. However, he's the kind of back you can ride like a rented mule from day one and should become one of the NFL's top runners early on.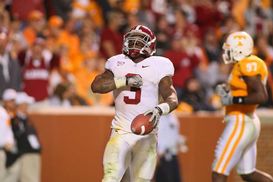 ICONRichardson will make a ton of plays in the NFL.
Overall, when comparing two elite prospects like Trent Richardson and Morris Claiborne, -who grade out very similar in my mind- I've been taught the way you determine the better prospect is through four questions…
1. Who will have the biggest impact early on? The answer: Richardson.
2. Who is the safer prospect? The answer: Richardson.
3. Who plays at the higher rated priority position? The answer: Claiborne.
4. Who has the most upside? The answer: Claiborne.
Therefore, with the outcome of these answers still making it very difficult to pick between the two. I'll opt simply for the safer pick. And in my mind that guy is Trent Richardson. And I'm taking nothing away from Morris Caliborne, who I feel is going to be a stud at the next level. However, Richardson is about as safe as they come and in my view can be a workhorse type back over the next 5-7 years and play quickly at an All-Pro level. For those reasons, I feel slightly more comfortable giving Richardson the edge on my draft board over Caliborne.
However, I don't see much downside to either player and ultimately when it comes draft time, team need will likely dictate as to which prospect ends up going first, since both likely rank as top-tier prospects on most NFL team draft boards as well.
Follow me on twitter: @WesBunting
Check out the NFP Draft Page here...