Radio Daze
You know what makes the stuck-in-a-cubicle workday run smoothly during the fall/winter months? Podcast after podcast after podcast! Here are my favorite football-specific podcasts/radio shows:
1. ESPN -- "Fantasy Focus" with Matthew Berry and Nate Ravitz
2. CBSSports.com -- "Fantasy Football" with Dave Richard and Jamey Eisneberg
3. KFAN in Minneapolis -- "Fantasy Football Weekly" with Paul Charchian
4. Yahoo! -- "Fantasy Blitz"
5. RotoWire.com -- "Fantasy Sports Podcast"
WR Locks For 110 Yards and/or 1 TD
1. Calvin Johnson @ New Orleans
2. Brandon Marshall vs. Oakland
3. Hakeem Nicks vs. Green Bay
4. Mike Wallace vs. Cincinnati
5. Mike Williams vs. Carolina
6. Jordy Nelson @ N.Y. Giants
7. Laurent Robinson @ Arizona
8. Reggie Wayne @ New England
9. Wes Welker vs. Indianapolis
10. Brandon Lloyd @ San Francisco
11. Malcom Floyd @ Jacksonville (super-sleeper pick)
Kicker Locks For 3-Plus Field Goals
1. Matt Prater @ Minnesota
2. Stephen Gostkowski vs. Indianapolis
3. Mason Crosby @ N.Y. Giants
4. David Akers vs. St. Louis
5. Sebastian Janikowski @ Miami
6. Matt Bryant @ Houston
Target Practice
Here are the 22 PPR-friendly tailbacks with at least 15 targets since Week 8 (at least 3 per game):
1. Ray Rice, Ravens -- 39 Targets
2. Roy Helu, Redskins -- 33 Targets
3. Mike Tolbert, Chargers -- 29 Targets
4. DeMarco Murray, Cowboys -- 27 Targets
5. Matt Forte, Bears -- 25
6. Arian Foster, Texans -- 24
7. LeSean McCoy, Eagles -- 24
8. Darren Sproles, Saints -- 24
9. Chris Johnson, Titans -- 23
10. Reggie Bush, Dolphins -- 22
11. Javon Ringer, Titans -- 22
12. Danny Ware, Giants -- 22
13. Jonathan Stewart, Panthers -- 20
14. Maurice Jones-Drew, Jaguars -- 19
15. Dexter McCluster, Chiefs -- 19
16. Steven Jackson, Rams -- 18
17. Kregg Lumpkin, Buccaneers -- 17
18. Pierre Thomas, Saints -- 17
19. Maurice Morris, Lions -- 16
20. Chris Ogbonnaya, Browns -- 16
21. Marcel Reece, Raiders -- 16
22. Ryan Mathews, Chargers -- 15
The Relentless Pursuit Of Perfection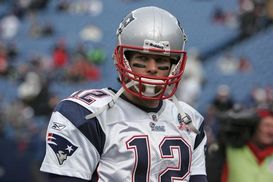 ICONThis week's ultimate fantasy lineup includes Patriots quarterback Tom Brady.
This is my idea of a perfect fantasy lineup for Week 13:
QB Tom Brady
RB Frank Gore
RB Matt Forte
WR Jordy Nelson
WR Wes Welker
RB/WR Arian Foster
TE Jimmy Graham
PK Matt Bryant (Falcons)
D/ST Chicago Bears
YouTube Memory Lane
Back by popular demand, here's some more YouTube cheer, courtesy of a few epic NFL clips from the 1970s and 80s:
1. 1972 -- Monday Night Football: One of the oldest clips of an actual NFL regular-season game on YouTube, with the eventual champion Dolphins crushing the Cardinals, 31-10. The event, on its own, is rather mundane ... and yet noteworthy for four reasons:
1) Miami faced only two teams with eventual winning records that season (Minnesota, N.Y. Giants) ... and 4-9-1 St. Louis would fall twice to that year's other Super Bowl entrant, Washington, by a combined score of 57-13.
2) The Fins posted double-digit point differentials in 11 of the 14 games that season, while only being threatened twice (Vikings, Bills).
3) On this night, the Dolphins QB was Earl Morrall, who had taken the reins after Bob Griese went down with a broken ankle in Week 5. Morrall, who was Don Shula's starting QB in Super Bowl III with Baltimore (before giving way to Johnny Unitas), led Miami to a perfect 14-0 regular-season mark in '72, before Griese returned for the AFC title game.
4) Speaking of which, the undefeated/untied Dolphins had to travel to Pittsburgh for the AFC Championship Game on Dec. 31 ... because The Orange Bowl, Miami's home stadium, was making preparations for the bowl game of the same name on Jan. 1; and the Fins needed a fake punt to prevent the Steelers from pulling off the upset. In today's media world, can you imagine the national outcry if an undefeated team (like the Packers) had to go to New Orleans for the NFC title game? It would be a major p.r. debacle for the NFL. And yet, in 1972, the NFL chose not to fight the likes of The Orange Bowl, the Orange Bowl parade, the Orange Bowl queen, and college powerhouses Notre Dame and Nebraska. Weird.
2. 1973 -- Here's a short, but invigorating clip of NBC's Sunday introduction to the NFL (AFC package).Wouldn't you love this theme music on your iPod? Wouldn't the mere sound of it make you run a little faster on the treadmill, or go a little more loco in P90X workouts? It should be noted that neither NBC nor CBS had Sunday pregame shows in 1973. There was also no fantasy football. In other words, men between the ages of 25-54 were a lot more accessible to their wives on fall Sundays back then, whether it involved mowing the lawn, clearing leaves out of the gutter or running to the store to purchase Joe Namath-endorsed pantyhose for women!
3. 1978 -- For ABC's Oscars-like celebration of the network's Silver Anniversary special, sportscaster Frank Gifford hosts a brief segment about football, demonstrating how far the technology for covering the college and pro ranks had progressed from 1953 to present day ('78). OK, so we've made vast improvements in the 33 years since this show aired ... but the genesis of everything we know and love about football-on-TV today was spawned from these early years of experimentation and innovation. Can you imagine the NFL if Roone Arledge hadn't brainstormed Monday Night Football? What would life be like if we never had Brent Musburger, Irv Cross, Bob Costas, Jimmy 'The Greek' Snyder, Phyllis George, Chris Berman, Bryant Gumbel, Pete Axthelm, James Brown, Howie Long, Jimmy Johnson, Frank Caliendo or Terry Bradshaw getting us ready for the action with illuminating pre-game shows? What if Matthew Berry never left Hollywood for the all-encompassing, highly addictive world of fantasy football? As Gifford put it best: Football and TV make for the perfect marriage.
4. 1987 -- Here's a classic 49ers-Bengals game from the tail end of the Bill Walsh era, just one season before the two clubs met in Super Bowl XXIII. Why are we showing the entire second half of this clip? Well, you might have some time to kill at the office when reading today's Philanthropist; it also provides the necessary backstory to one of the most epic clock-management meltdowns in NFL history, with Cincinnati coach Sam Wyche inexplicably allowing San Francisco one last pass in Bengals territory ... when a simple punt on fourth down -- or clock-draining safety -- would have won the game. (Without giving the ending away too much, the Bengals implemented single coverage on Jerry Rice for the mini-Hail Mary.) As an aside, Joe Theismann sounds pretty good as a newbie game analyst, huh? And why isn't the original Tim Ryan still calling NFL games? His silky-smooth delivery never went out of style. One last thing: This was the last weekend before the players went on strike in September '87 ... paving the way for replacement players (like current Saints coach Sean Payton) to darken the NFL's door for three loooooooooooooong weeks.
An award-winning fantasy writer with Sports Illustrated (2008-2010) before joining the National Football Post, Jay Clemons' Fantasy Philanthropist Blog can be found here every Monday and Thursday during the regular season. Clemons can be reached, day or night, via Twitter.
NFP's Introduction to Scouting Class is now registering for our Winter sessions! Save $200 if you register before December 20th! REGISTER NOW!