NFP's Introduction to Scouting Class is now registering for our next session! Early bird pricing in effect until February 15th! Save $100 and REGISTER NOW!
From my perspective, this Bears' offense under Mike Martz is broken. No other way to say it after seeing this unit struggle to execute, put together drives and score points in consecutive losses vs. two pressure defenses: New Orleans and Green Bay.
But how do you fix it? Because with the style of defense the Bears play under Lovie Smith, they will have opportunities. Here are five adjustments I would make this week in practice before the Panthers come to town on Sunday.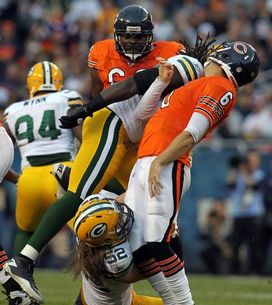 ICONTime to make some adjustments to the offensive game plan in Chicago.
1. Change the run game: Martz wants to use his O-Line to pull on the Stretch G (front-side guard pull strong), the Counter OF (front-side guard pull weak), etc. Why not get back to basics, run the Lead Open, Lead Strong or the quick inside trap out of the one-back look? Matt Forte can hit the hole, get up field and produce. Win up front, put a body on the linebackers and play some physical football. Quick, downhill plays.
2. Give Cutler some options: Going to take a dedication to the run game, but when you can test a defense up front, it gives the QB some opportunities to throw the vertical route tree off of play action, use the boot (or swap boot) and get outside of the pocket in the sprint game. What I am talking about here is creating opportunities to pick up explosive gains in the passing game. Isaac Bruce, Az Hakim and Torry Holt aren't going to play for the Bears this weekend. Time to set up the WRs on this roster to make some plays.
3. Align Hester inside of the numbers: This has been talked about since Martz arrived in Chicago, but why aren't we seeing more of it? Think about this: Hester vs. a No.3 CB from the slot. With his lateral quickness, a two-way go (work both inside and outside release) and open field ability, there is no question I would have him working inside. Run the option route, the seam and the 3-step game. That's where he belongs in this system.
4. Forget the gadget plays: Aligning in the Wildcat, the reverses, added window dressing on route concepts, etc. I understand that offensive coordinators can't help it when they draw up these exotic plays on the chalkboard, but this offense isn't good enough to waste field position or to set up adverse down and distance situations. Run the offense that you have practiced since early August.
5. Set up third and manageable situations: When your offense is (consistently) in third and 8-plus, the playbook shrinks. There are three to four routes you can run to move the sticks—and the defense knows it. This offense needs to have the ability to run the 3-step route tree, throw the flat, use the running game or take a shot vs. an 8-man front. No question Cutler has to throw the ball better, but it helps when you have the entire game plan to work with on thrid downs.
How would you change this Bears' offense? Let me know…
Follow me on Twitter: MattBowen41