The NFL Pro Bowl isn't a perfect science. I get that. We all should. Most of these players are voted in before the season even starts, and there are fans that treat this like a popularity contest. Even when I was playing in this league, there were always a couple of names that caused us to roll our eyes in the locker room.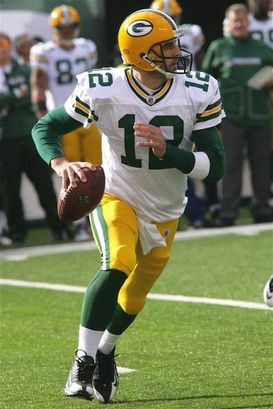 ICONBoth Aaron Rodgers and Champ Bailey were snubbed by Pro Bowl voters.
That is why I didn't put much stock in the final AFC and NFC Pro Bowl rosters that were announced this evening. Well, minus two names that didn't show up on the list: Champ Bailey and Aaron Rodgers.
Let's start with Rodgers. No question that Philadelphia's Michael Vick and Atlanta's Matt Ryan deserve to be in Hawaii come February. But to pick Drew Brees over Rodgers? In 2009, yes. However, not this season. I understand that Brees has thrown for big numbers this year, but he hs also been inconsistent at times with the ball--and that has led to 21 interceptions. From my perspective, it doesn't take a pro scout to see that Rodgers has had the bigger impact this season, or that he has played a better brand of football at the quarterback position. Both great players and valuable to their respective clubs, but Rodgers has had the consistent year that is Pro Bowl worthy. He is the Green Bay offense--and an MVP candidate in my opinion.
With Bailey, isn't it obvious? Turn on the tape and watch him play. No disrespect to the Patriots' Devin McCourty—a cornerback who has made some big plays (6 INTs) this season. But I'm not going to buy the idea that a rookie can go to the Pro Bowl over one of most dominant players at the position. A player we put in the discussion with the Jets' Darrelle Revis and Nnamdi Asomugha. Yes, Champ played on a team that didn't win in 2010 or play many primetime games, and that always hurts at the ballot box. But go back to the game when the Broncos' CB matched up with Kansas City WR Dwayne Bowe (who is going to the Pro Bowl). No doubt Champ can still play after he shut him down.
Bottom line in this discussion: don't make it about stats and numbers. This should be a vote decided by the impact the players have on Sunday when we sit down to watch the games. I'm sure there are even more opinions that will come out throughout the night and into tomorrow when these rosters are broken down even more. But I am sticking with Champ Bailey and Aaron Rodgers. These two guys can play, and from what I saw this season, both should be making plans for a nice little trip to the islands soon. What's your take? Let me know…
Follow me on Twitter: MattBowen41
NFP's Introduction to Scouting Class is now registering for our Winter sessions! Save $200 if you register before December 20th! REGISTER NOW!