NFP's Introduction to Scouting Class is now registering for our next session! Early bird pricing in effect until February 15th! Save $100 and REGISTER NOW!
"Words are words. It's my actions that are going to have to show."
--Jacksonville Jaguars wide receiver Justin Blackmon, speaking to the media in June of 2012 regarding his second DUI arrest in less than two years.
Remember this statement? Remember when Justin Blackmon swore off drinking while apologizing to his team and the fans in the wake of a DUI arrest last June that saw the Oklahoma State product flood a breathalyzer with a .24 BAC? Do you remember that this was Blackmon's second DUI arrest in less than two years? Do you remember how the talented wide receiver told us he was going to change?
Well, the only thing that has changed is the date. Just over ten months after his second DUI arrest, Blackmon was suspended by the NFL for the first four games of the 2013 season for a violation of the league's substance abuse policy. The 23-year-old issued yet another apology, claiming he made a mistake, that he's sorry and that he looks forward to putting this incident behind him.
More words. But for a short while there it appeared as if Blackmon might have turned the corner. The rookie wideout kept his name off of police scanners during a 2012 campaign that featured 64 receptions for 865 yards and five touchdowns despite playing with less-than-stellar quarterbacking. We put the two DUI arrests out of our minds. Justin Blackmon was on his way to becoming the playmaker the Jaguars so desperately needed.
None of that matters anymore. Now everybody is going to forget the successful rookie season and instead focus on the wide receiver's latest indiscretion. Blackmon is once again making headlines for all the wrong reasons and as a result, his career is in jeopardy.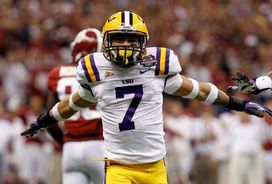 There's a lot for Tyrann Mathieu to learn from Justin Blackmon's mistakes.
But don't feign the least bit of surprise if Blackmon receives another reprieve from the Jacksonville brass. The Jaguars are in rebuilding mode and need the firepower that Blackmon brings to their lackluster offense. While the wide receiver's rookie contract is structured in such a way as to protect the Jaguars from a situation like this, it's more likely that the organization will keep Blackmon around and give him one more chance.
That most likely won't be the case for Arizona Cardinals safety Tyrann Mathieu, who should be paying very close attention to the situation that has unfolded in northern Florida.
Mathieu knows a thing or two about indiscretions and the words that follow. A Heisman finalist in 2011, the 20-year-old defensive back was booted from the LSU roster because he couldn't clean up his act. Like Blackmon, talent was never the issue for Mathieu. But also like Blackmon, the problem was everything that was happening off the field.
Mathieu spent the last eight months speaking words because that's all he was allowed to do. He needed to convince the NFL that he was a changed man, ready for a second chance, humbled by his past. The Arizona Cardinals bit last Friday, giving Mathieu the opportunity to play professional football.
Like Blackmon last June, Mathieu now has the chance to let his actions do the talking. That's because the time for words is over. Mathieu should be paying close attention to what's happening in Jacksonville because he won't be treated with the same white gloves. Justin Blackmon was the fifth overall selection in the 2012 draft. Teams are hesitant to quickly throw in the towel on such lofty picks. Mathieu was selected in the third round (No. 69 overall) and brings more baggage to Arizona than Blackmon took to Jacksonville. He's easier and cheaper to dump in the wake of a mistake.
Though clearly not his intent, Justin Blackmon is speaking to Tyrann Mathieu. The 16-game veteran is telling the rookie that the words are only as good as the actions that follow. Like Blackmon, Mathieu has spoken the words. But if Tyrann Mathieu wants to make it in the National Football League, he'll have to succeed where Blackmon has so far failed. Because for guys like Justin Blackmon and Tyrann Mathieu, words are only words.
It's the actions that do the talking.
Hit me up on Twitter: @JoeFortenbaugh