If you want a shot to win up to a $1,000 (and to take on the NFP's Matt Bowen), then enter the Week 4 NFP/FanDuel Fantasy Challenge. It is only $2 dollars to enter, and with 555 seats available this week, you can select up to three squads and increase your shot at bringing home some cash.
The tournament starts with the Sunday kickoffs, so click on the link, study the matchups and load up your team with talent.
Want to know who Bowen is rolling with this week?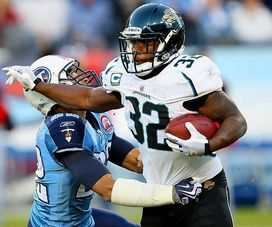 Bowen is rolling with MJD this week in the NFP/FanDuel Fantasy challenge.
Let's take a look at his roster:
QB: Matt Schaub, Texans
RB: Maurice Jones-Drew, Jaguars
RB Adrian Peterson, Vikings
WR: Andre Johnson, Texans
WR: Demaryius Thomas, Broncos
WR: Jordy Nelson, Packers
TE: Tony Gonzalez, Falcons
Defense: Texans
K: Garrett Hartley, Saints
Click here to sign up for the Week 4 NFP/FanDuel Fantasy challenge. Again, its only $2 dollars to get a shot at the $1,000 prize pool.
Follow the NFP on Twitter: @FootballPost
NFP's Introduction to Scouting Class is now registering for our Winter sessions! Save $200 if you register before December 20th! REGISTER NOW!