If you think you know the NFL—and want to win some cash—then sign up for the NFP/FanDuel Week 7 Fantasy Challenge. It cost you only two bucks to play. That's it. And you will be entered into the $1,000 prize pool. Plus, you can select up to three teams in this week's challenge.
It's easy. Scout the matchups, load up your rosters and compete with players such as the NFP's Matt Bowen for a shot at some real money.
Here's a look at Bowen's Week 7 roster...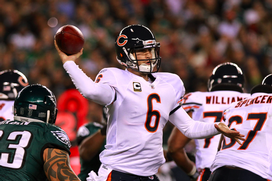 Bowen is rolling with Jay Cutler this week.
QB: Jay Cutler, Bears
RB: Adrian Peterson, Vikings
RB: Matt Forte, Bears
WR: Reggie Wayne, Colts
WR: Dez Bryant, Cowboys
WR: Victor Cruz, Giants
TE: Kyle Rudolph, Vikings
K: Greg Zuerlein, Rams
Defense: Cardinals
Click here to sign up for the Week 7 challenge and start winning some money
Follow the NFP on Twitter: @FootballPost
NFP's Introduction to Scouting Class is now registering for our Winter sessions! Save $200 if you register before December 20th! REGISTER NOW!