NFP's Introduction to Scouting Class is now registering for our next session! Early bird pricing in effect until February 15th! Save $100 and REGISTER NOW!
Who wants to compete with the NFP's Matt Bowen to take a shot at the $1,000 prize pool playing some fantasy football from the National Football Post and FanDuel?
Sign up for the NFP/Fan Duel Week 9 Fantasy Challenge and you could head home with some real cash. It's easy and you can select up to three teams in this week's contest. Plus, it only cost you $2 dollar to enter. That's it.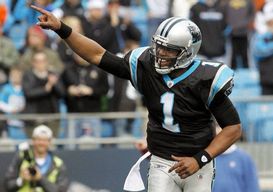 Bowen likes the matchup of Newton vs. the Redskins' defense.
Let's take a look at Bowen's lineup this week…
QB: Cam Newton, Panthers
RB: Marshawn Lynch, Seahawks
RB: Alfred Morris, Redskins
WR: Brandon Marshall, Bears
WR: Vincent Jackson, Bucs
WR: Randall Cobb, Packers
TE: Jason Witten, Cowboys
K: Robbie Gould, Bears
Defense: Seahawks
Go scout the matchups, load up your roster and get ready for the Week 9 NFL schedule.
Click here to sign up for the NFP/Fan Duel Week 9 Fantasy Challenge
Follow the NFP on Twitter: @FootballPost