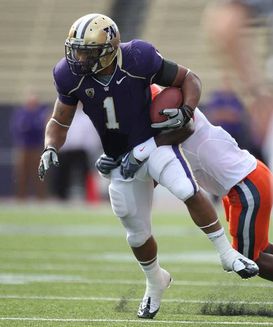 ICONPolk runs hard, but does let defenders get into his frame.
RB Chris Polk: Washington (5-11, 222)
A strong, well put together back with natural girth through his lower half and a well defined upper body. Has experience running both from the gun and I-formation sets and showcases good patience when asked to decipher information. Looks natural diagnosing the action around him and never seems to be in a rush. Allows his blocks to set before accelerating through the hole. However, possesses only an average first step. Showcases more of a second gear once he gets his legs churning in the open field, but it takes him a couple steps to reach top end speed.
Doesn't do a great job running behind his pads inside and despite his aggressive, hard/physical-running style can be tripped up easily at times. Isn't overly fluid when trying to change directions at top end speed. Showcases some subtle foot quickness when picking his way through the line and when trying to side step a defender. But gets narrow with his lower half when trying to make a defender miss at full speed and goes to the ground too easily.
Now, he does run hard and will lower his pad level into contact, churn his legs through the play and create additional yards. However, isn't the type of overly physical back many make him out to be because he often exposes too much of his frame and can be wrapped up easily on contact. Isn't real shifty at the line and despite doing a nice job reading his run keys, is more of a weaver when picking his way through traffic and not a real sharp/sudden change of direction back. Doesn't play overly fast, seems to build speed as he goes and might time better than he plays, but in tight areas looks like a 4.55 guy.
Will catch the football well out of the backfield though. Looks natural snatching throws off his frame and has experience as a wide out in high school. Is also a natural blocker in blitz pickup. Is able to quickly to recognize the blitz, slide his feet and anchor on contact. Would like to see him do a better job sticking on contact though, but works hard to stay engaged and will be able to play on third downs early in the NFL.
Impression: Is a big kid with a good feel inside, runs hard and will break some tackles because of his aggressive natrure. However, pad level, initial burst and lack of great change of direction skills make me think he's a bit limited as an NFL starter.
Follow me on twitter: @WesBunting
Check out the NFP Draft Page here…</a>