Revelations, Book III
12. There's not much to glean from Bears-Raiders. Seriously. If Johnny Knox (4 catches, 145 yards, 1 TD vs. Oakland) had busted loose like this back in Week 2 or 3, perhaps he would have been hailed as Jay Cutler's long-awaited savior at wide receiver -- or a waiver-wire gem in the class of Jordy Nelson or Antonio Brown. But enough time has elapsed where fantasy gurus/owners can reasonably identify a sporadic asset. The same likely holds true for Raiders RB Marcel Reece (92 total yards -- all receiving) and Bears QB Caleb Hanie (304 total yards, 2 TDs, 3 INTs) : At this crucial stage, neither are starters in 12- or 14-team leagues -- even for the risk-taking GM who's starving for upside. Of course, there's little risk in relying on Michael Bush (93 total yards, 1 TD), Matt Forte (84 total yards), kicker Sebastian Janikowski (6 field goals) and QB Carson Palmer to carry the freight during the final weeks. All four are starting considerations in 12- and 14-teamers during the fantasy playoffs ... unless Darren McFadden fully recovers from a nasty foot injury. Even so, Bush could net 100 yards and a score against Kansas City in Week 16.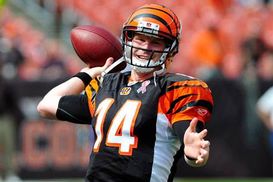 Andy Dalton and the Bengals continue to put up impressive numbers.
13. Don't be afraid to go all-in on the Bengals during the fantasy playoffs. We can wax poetically about Cincy's potential for December greatness only so many times, and yet it bears repeating: With easy-cheesy games against St. Louis (Week 14) and Arizona (Week 15) on the horizon, it's highly likely that Dalton (293 total yards, 1 TD vs. Cleveland), Benson (130 total yards, 1 TD) and rookie WR A.J. Green (3 catches, 110 yards) will individually or collectively vault teams to fantasy titles this year. There's even a decent chance that TE Jermaine Gresham (5 catches, 68 yards, 1 TD) and WR Jerome Simpson would flourish as emergency starters during crunch time. But for the sake of this column, it's all about Dalton, Benson and Green (whose 51-yard catch/run set up the Bengals' game-winning field goal) and how GMs should reasonably move heaven and earth to acquire 'em before trade deadlines expire (if applicable) -- especially for clubs that are playoff shoo-ins. Bottom line: They're worth the wait for Weeks 15 and 16!
14. There are more questions than answers surrounding the Eagles right now -- duh! Given his prodigious stats against the Pats (440 total yards, 1 TD) and great uncertainty of Michael Vick (ribs) being ready to play in just three days, backup QB Vince Young has likely earned another starting assignment for Philly (Thursday at Seattle). But it is anybody's guess as to how the 4-7 Eagles will fare on a short week and three time zones away -- amid rumors of offense-defense turmoil among the coaches and private dysfunction from embattled wideout DeSean Jackson (4 catches, 73 yards vs. New England). Can Jason Avant (8 catches, 110 yards, 1 TD; team-high 14 targets) be a reliable factor down the stretch -- even with Jackson and Jeremy Maclin in the lineup? Is Riley Cooper (3 catches, 71 yards) worth a gamble in 14-team PPR leagues? Does LeSean McCoy (61 total yards, 1 TD) require Vick's presence to maintain his standing as the No. 1 running back in fantasy? The McCoy question is the only one that warrants an immediate answer before the Week 13 trade deadline ... even if we don't have it right this second. (For McCoy's sake, fingers crossed on Vick's return.)
15. Percy Harvin could be a certifiable stud in the Week 16 Fantasy Bowl ... assuming he gets there in one piece. Sitting dead-last in the NFC North and playing without Adrian Peterson (ankle) for perhaps another 2-3 weeks, the Vikings essentially have no choice but to ride the versatile exploits of Harvin (106 total yards, 1 TD) throughout rookie QB Christian Ponder's hard-luck orientation into the NFL. Of course, this experience wouldn't be so painful if Ponder (195 total yards, 1 TD) and Harvin -- who returned a kick 104 yards and didn't score -- had a more progressive supporting cast than WR Michael Jenkins (2 catches, 25 yards), WR Devin Aromashodu (1 catch, 18 yards) and TE Visanthe Shiancoe (3 catches, 24 yards) and RB Toby Gerhart (63 total yards, 1 TD). When healthy and not being overused, Harvin is a game-changing talent ... but one who'll surely endorse a speedy Peterson comeback.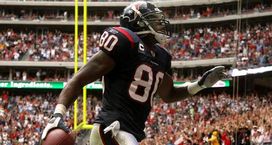 How will Andre Johnson fare now that Matt Leinart is out for the season?
16. Let's not overreact to Matt Leinart's season-ending collarbone injury ... or Houston's nine first downs ... or Andre Johnson's pedestrian outing against the Jags. That seems like a bunch of things not to worry about, huh? But the team's circumstances really haven't changed much in the last week: The 8-3 Texans will probably win the AFC South and garner one of the two byes in the AFC playoffs. They probably weren't going to make the Super Bowl without Matt Schaub or Mario Williams anyway, so who cares if Leinart (57 total yards, 1 TD vs. Jacksonville), T.J. Yates, Kellen Clemens, Sage Rosenfels or even Brett Favre finished the season at quarterback? From a real-world perspective, the franchise will eventually rejoice in its first-ever playoff berth and the belief that a championship season could have been proffered with Schaub and Williams in the mix. On the fantasy flip side, the situation is rosier: Andre Johnson (2 catches, 22 yards) will hopefully return to his all-world form by Week 15; and tailbacks Arian Foster (89 total yards, 1 TD) and Ben Tate (26 total yards) should collect 34-38 touches per game in the interim -- aiding Houston's on-the-fly transition at QB. It goes without saying, though: Neither Yates nor Clemens are starting options for Week 13.
17. Fantasy GMs should steer clear of any Browns player not named Greg Little during the stretch run. Show of hands here: Does anyone honestly believe that Cleveland will jump through hoops to re-sign RB Peyton Hillis in the offseason? And yet, Hillis collected 21 crucial touches (and 61 total yards) against the Bengals ... as if he hadn't been sparring with the club for much of the season or Chris Ogbonnaya (20 total yards on just 4 touches) wasn't anxiously waiting his turn on the sidelines. Perhaps we'll get clarity on the running game next week if Montario Hardesty returns to the fold; but for win-now fantasy owners obsessed with making the playoffs, there's no value in blindly guessing who will take the reins from Sunday to Sunday -- especially with the Ravens and Steelers on the docket. Thankfully, the passing game has more accountability: QB Colt McCoy (189 total yards, 2 TDs) will seek out rookie Greg Little (5 catches, 57 yards, 1 TD; team-high 13 targets) as much as possible ... on the hope that a late-season flurry can be the springboard to a highly successful partnership in 2012. For PPR leagues, Little (73 targets in his last 8 games) could be a top-20 receiver next August.
An award-winning fantasy writer with Sports Illustrated (2008-2010) before joining the National Football Post, Jay Clemons' Fantasy Philanthropist Blog can be found here every Monday and Thursday during the regular season. Clemons can be reached, day or night, via Twitter.