Revelations, Book III
12. So much for Cam Newton hitting the proverbial 'rookie wall' in the season's final weeks. There really isn't much more to say about Newton (258 total yards, 4 TDs vs. Tampa Bay) and his Year 1 impact with the Panthers. Never again will I gauge a college prospect's pro potential on a single TV appearance with Jon Gruden; and never again will I presuppose that all rookie quarterbacks are useless in the fantasy realm. Newton is an all-world talent ... and easily one of two 2012 mainstays for my favorite keeper league -- meaning that either Chris Johnson or Jamaal Charles (injured reserve) will go back into the draft pool before next August. As for RB Jonathan Stewart (99 total yards, 1 TD), he has certainly adjusted to Newton's penchant for finding the end zone in goal-to-go situations; he's also carved a niche in PPR leagues, to the point where he'll probably be a Round 5 pick in those drafts next year. The same can be speculated about WR Steve Smith (2 catches, 32 yards; team-high 6 targets) ... who gets a free pass from Sunday's middling outing. Smith should be a productive force in Carolina's Week 14 rematch with Atlanta -- to the tune of 6 catches/92 yards/1 TD.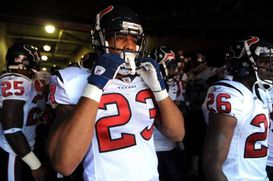 The Philanthropist is expecting big things from Arian Foster down the stretch.
13. Arian Foster will carry owners to a fantasy title in Week 16 -- with or without Andre Johnson in the Texans' lineup. If Johnson (4 catches, 97 yards; team-high 9 targets) hadn't suffered a hamstring injury in the third quarter (the left leg this time), it's entirely possible that he and Foster (152 total yards, 1 TD) would have combined for 45 touches against the Falcons -- which speaks to the simplistic brilliance of the Texans coaches. They fully recognize that Foster and Johnson, when healthy, represent the NFL's best RB-WR combo; they're also unwilling to sell Foster or RB Ben Tate (41 total yards) as prominent decoys on an offense that's down its third starting QB (T.J. Yates -- 198 total yards, 1 TD in his first pro start). That obviously means fewer opportunities for TE Owen Daniels (3 catches, 35 yards) and WR Kevin Walter (1 catch, 12 yards); but then again, the Texans aren't finessing this trek to the franchise's first-ever playoff berth. They're riding their studs down the stretch ... which is good advice for fantasy owners in the next few weeks, as well. When healthy, Foster and Johnson are championship linchpins.
14. Dez Bryant picked a fine time to notch his first double-digit targets day of the season. Looking at the Cowboys' box score, it's stunning to see how every bankable playmaker -- aside from Bryant (8 catches, 86 yards, 1 TD; team-high 14 targets vs. Arizona) -- had mediocre numbers against the Cards, which sadly reinforces how fantasy football is more a game of chance than skill in early December. Seriously, can you imagine the heartache of fantasy owners everywhere if DeMarco Murray (38 rushing yards), Felix Jones (43 total yards), Jason Witten (5 catches, 47 yards) or Laurent Robinson (4 catches, 72 yards) should post similarly pedestrian stats in next week's playoffs? It would be a shock to the system ... not unlike how we're surprised that Robinson (7 TDs from Weeks 8-12) didn't find the end zone Sunday ... or how we'll be baffled if QB Tony Romo (299 yards passing, 1 TD) doesn't roll for 320 yards and two TDs against the Giants in Week 14. With Miles Austin (hamstring) apparently returning to the lineup, Romo will have his full complement of stars in the season's biggest game.
15. Let's not overreact to Andy Dalton's clunker against the Steelers. In case you haven't read the last eight or nine Revelations, Dalton (135 yards passing, 1 TD vs. Pittsburgh) has been blessed with ideal fantasy opponents for Weeks 15 (@ St. Louis) and 16 (vs. Arizona); and anything he accomplishes up to that point -- good or bad -- is essentially irrelevant to this conversation. Yes, the kid has thrown for 300 yards or multiple touchdowns in six games (excellent progress for a rookie), but for standard 12-team leagues, he's probably been nothing more than a bye-week replacement or injury fill-in after 13 weeks. But that could change after Cincy's home clash with Houston in Week 14; and as a result, fantasy owners should be empowered to ride fellow rookie A.J. Green (6 catches, 87 yards, 1 TD; team-high 11 targets) through this can't-miss stretch of statistical goodness -- which may include the Texans game and expected one-on-one matchup with ex-Cincy cornerback Johnathan Joseph (a primary reason behind Houston's defensive turnaround). For Weeks 15-16, Dalton is a good bet for 550 combined yards and five TDs. Need a more definitive play for Week 14? Look no further than RB Cedric Benson (52 yards on Sunday), who's averaging 90 total yards and 0.5 TDs in his last four home games.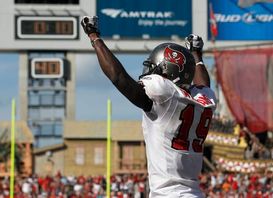 ICONGet Mike Williams the rock as much as possible.
16. The Bucs need to finish the season with two objectives in mind: Make the creamsicle uniforms a permanent option ... and keep feeding Mike Williams. As long as the club sticks with white bottoms only -- and keeps the putrid Tampa Bay-orange pants in mothballs -- I would fully endorse a full-time return to the creamsicle uniforms (dark for home/white for away) ... the duds synonymous with the club's historically dubious 0-26 start as a franchise (1976-77) and more amazing worst-to-first turnaround that culminated with a home-standing berth in the 1979 NFC Championship Game (the Rams won, 9-0). I would also endorse the repeated targeting of Williams (5 catches, 93 yards; team-high 9 targets vs. Carolina) during the Bucs' hellacious slide. Bottom line: With opposing defenses devoting their resources to stopping RB LeGarrette Blount (19 total yards), and daring either Josh Freeman (DNP on Sunday) or Josh Johnson (254 total yards, 1 TD) to beat 'em through the air, it's imperative that Williams (18 catches, 260 yards, 3 TDs in his last three games) and Kellen Winslow (5 catches, 41 yards) attract double-digit targets against Jacksonville, Dallas and Carolina (again) -- the next three opponents. In Williams' case, we're guaranteeing at least one 100-yard/1-TD outing in the next two weeks.
17. There are no starter-worthy Bears when Matt Forte's out of the lineup. OK, so Forte only suffered a sprained MCL -- and not a complete tear -- from Derrick Johnson's big hit on Sunday; but from a fantasy perspective, he should still be eliminated from the discussion of prominent backs for the playoffs. And that's too bad, considering Chicago's viable quest for an NFC playoff berth ... and painful void of playmakers at running back or receiver. Yes, Marion Barber (44 total yards vs. Kansas City) will remain a weekly threat for a goal-line touchdown, and WR Johnny Knox (5 catches, 53 yards; team-high 8 targets) has an obvious rapport with Caleb Hanie (133 yards passing, zero TDs, 3 INTs). But no rational fantasy owner in a 12-team league could stake their playoff fortunes to Barber, Hanie, Knox or Earl Bennett (1 catch, 5 yards). As for backup RB Kahlil Bell (34 yards) ... he's nothing more than a shot in the dark for GMs in deeper leagues. Strange but true: Forte (1,487 total yards, 3 TDs in 2011) will probably garner more respect from the Bears' front office -- in terms of getting a long-term extension -- on the sidelines than roughing it on the field.
An award-winning fantasy writer with Sports Illustrated (2008-2010) before joining the National Football Post, Jay Clemons' Fantasy Philanthropist Blog can be found here every Monday and Thursday during the regular season. Clemons can be reached, day or night, via Twitter.
NFP's Introduction to Scouting Class is now registering for our Winter sessions! Save $200 if you register before December 20th! REGISTER NOW!