Revelations, Book II
10. Ray Rice needs to average 124 total yards in his final three games to reach 2,000. Obviously, the 10-3 Ravens' primary focus should be winning the AFC North and claiming home-field advantage for the AFC playoffs; but those objectives -- and my bolded intro -- are far from mutually exclusive. Yes, QB Joe Flacco (227 yards passing, 2 TDs vs. Indy) sometimes looks superb at home -- against a winless club -- but the bedrock to Baltimore's eventual success lies with Rice (149 total yards, 1 TD) and his frequency of touches during the blustery month of December. After all, we're talking about a top-5 fantasy asset from Day 1 and perhaps the season's most consistent performer (after Aaron Rodgers, of course). Bottom line: Rice is a stellar starter for Weeks 15 (@ SD) and 16 (vs. CLE) ... and a 70/30 shot at cracking 2,000 yards again (2009).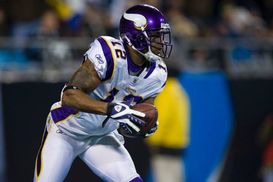 ICONPercy Harvin has been coming up huge in the clutch.
11. Percy Harvin has been a PPR gift from the gods this year. If Adrian Peterson never gets sidelined with an ankle injury, perhaps Harvin owners would be singing a different tune today; but as the Vikings' unimpeachable go-to option right now, Harvin (109 total yards, 1 TDs vs. Detroit) is stealthily making his case for a contract extension ... and a plum slot in next year's preseason rankings. What's not to love about his 10 catches, 15 targets or 27 PPR points from Sunday -- on a day when Christian Ponder (128 total yards, 2 TDs, 3 INTs) and Joe Webb (193 total yards, 2 TDs) shared the quarterbacking duties? When healthy and focused, the lightning-fast, cat-quick Harvin is potentially the most dangerous weapon on the field ... and Minnesota fans should expect laser-like concentration next week against New Orleans. Also known as the Vikings' intrinsic Super Bowl for 2011.
12. It's fair to ask when Calvin Johnson will break out of his prolonged mini-slump. In a weird way, Johnson (just 25 catches, 371 yards, 1 TD in his last five games) represents everything that's good and bad about the fantasy playoffs: In lieu of his scintillating start to the season (11 TDs in the first eight weeks), owners reluctantly have no choice but to ride Calvin in Weeks 15 (@OAK) and 16 (vs. SD), even though NFL defensive coordinators are universally implementing double and triple coverages on nearly every play. But at the same time, there are reasons why Calvin is viewed as one of the league's most dangerous playmakers and why his owners should expect a major breakout against the Raiders and/or Chargers -- especially now that Matthew Stafford (231 total yards, 2 TDs vs. Minnesota) (broken finger) can fire deep, accurate lasers under pressure. Yes, the duo's next day of reckoning is coming soon.
13. Don't fall asleep on Matt Ryan and Julio Jones in Round 2 of the playoffs. It's natural for fantasy owners to believe that Ryan (320 yards passing, 4 TDs vs. Carolina) and Jones (3 catches, 104 yards, 2 TDs) lack a superstar-like consistency during the playoffs -- with Roddy White (7 catches, 84 yards, 1 TD; 11 targets), Tony Gonzalzez (7 catches, 82 yards; 11 targets) and RB Michael Turner (76 carries) usually commanding the lion's share of attention. But as a tandem, Ryan and Jones are slowly perfecting the end-zone fade pass, a connection that will hopefully bear fruit Thursday against the Jaguars. The beauty of it all: Even with Jones' dominant day against the Panthers -- including a victory-defining 75-yard touchdown -- he'll never see double coverage. Not with the above names wreaking havoc ... and not with backup RB Jacquizz Rodgers (43 total yards, 1 TD) formalizing his case to be a PPR dynamo in 2013.
14. Get out your fake checkbook: Ryan Grant will be this week's most coveted (and expensive) free agent. Perhaps the concept of a 16-0 regular season and another Super Bowl ring has motivated Grant (98 total yards, 2 TDs vs. Oakland) to keep John Kuhn and the injured James Starks at arm's length for the next seven weeks. Or maybe Aaron Rodgers (281 yards passing, 2 TDs) and the Packers coaches have incredible timing when calling draw plays. Either way, Grant looked fresh and explosive against the Raiders, prompting many fantasy GMs to openly wonder where he's been hiding all year: Green Bay? Milwaukee? Oshkosh? Appleton? Mukwonago? And now, those who are desperately seeking a flex starter for Week 15 must ask: How much FAAB money will it take to land Grant off waivers? My short answer: All of it. Why nickel-and-dime your way to a stealth acquisition ... especially with the woeful Chiefs next on the docket?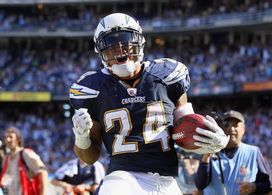 Mathews could become one of the fantasy world's top running backs...if he could only find the end zone.
15. Let's accentuate the positives with Ryan Mathews' end-zone-free approach to fantasy goodness. On Twitter last week, a follower griped about how Mathews (148 total yards vs. Buffalo) never scores touchdowns and was essentially a wasted Round 4 pick in his 12-team league, eliciting this response: Yes, Mathews only has four TDs on the season (the same as Matt Forte) ... but how could anyone be dissatisfied with a stud runner who routinely breaks 100 total yards, regardless of opponent? To characterize Mathews (8 games of 100-plus yards in 2011) as a flop is patently absurd. He simply needs time to find his scoring niche, while maintaining company with some of the best finishers in pro football -- Antonio Gates (7 catches, 68 yards, 2 TDs on Sunday), Vincent Jackson (5 catches, 55 yards; 9 targets) and RB Mike Tolbert (one TD). Verdict: For Mathews' disenchanted keeper-league owners, I'll gladly take him off your hands for the next few years.
16. It's difficult to assess Jake Locker's stock for the 2012 preseason. If Matt Hasselbeck is the opening-day starter next September, this whole stanza is essentially moot, since anyone could acquire Locker at Round 12 or later. But if the Titans should designate Locker (318 total yards, 2 TDs vs. New Orleans) as QB1 during the May/June training camps, it's quite possible he could have a Cam Newton-esque impact with Tennessee's offense. As erratic as Locker appeared on Sunday's final play, it should not deter prospective owners from exploring his unlimited athletic gifts. With Kenny Britt, Nate Washington (6 catches, 130 yards, 2 TDs) and Damian Williams (2 catches, 62 yards; team-high 10 targets) at receiver and Chris Johnson at running back (11 PPR points), the 2012 Titans might be one of those sneaky-good teams that average 420 yards/26 points per game.
17. LeSean McCoy knows how the fantasy world works. So much for NFL players being ignorant to the wishes and whims of fantasy owners. McCoy (71 total yards, 2 TDs vs. Miami) clearly understands that a marginal fantasy day can easily be enhanced (and forgiven) with a short-yardage touchdown or two ... or in his case, four in the last two weeks. Bottom line: McCoy (1,482 total yards, 17 TDs) is an automatic start for Weeks 15 (vs. NYJ) and 16 (@ DAL) and should be treated with Brandon Jacobs-esque respect around the goal line.
18. How's this for a bold grudge? I will never draft or trade for Ahmad Bradshaw again. In the season's biggest game, where a loss surely would have crippled the Giants' playoff chances, how does Bradshaw (drafted in six of my 11 leagues) earn a first-half suspension for violating team rules (reportedly missing curfew)? And then once taking the field, could Bradshaw (19 total yards) have looked any meeker against the Dallas defense? If this lost weekend had occurred in September or October -- like the time receiver Mike Sims-Walker apparently found love in Seattle and sat out the entire Jaguars-Seahawks game -- perhaps we could laugh this one off, without incident. But New Yorkers and fantasy fans were counting on Bradshaw to bring his A-game to a memorable shootout that just happened to destroy my title chances in a homeboys league (big payout). Then again, Maurice Jones-Drew and his fourth TD are largely to blame for that particular heartache.
An award-winning fantasy writer with Sports Illustrated (2008-2010) before joining the National Football Post, Jay Clemons' Fantasy Philanthropist Blog can be found here every Monday and Thursday during the regular season. Clemons can be reached, day or night, via Twitter.