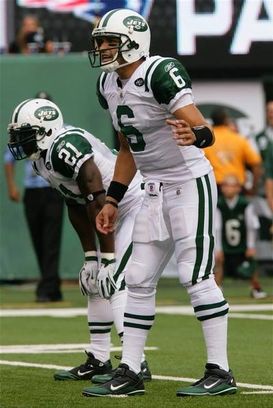 ICONSanchez and the Jets failed to execute for the second week in a row in the loss to the Giants.
6. Jets' fail to step up: That's two weeks in a row for Rex Ryan's club. You can talk about Victor Cruz's 99-yard TD that was a product of missed tackles or the overall poor play from QB Mark Sanchez in the loss to the Giants. It doesn't matter, because all Rex's team had to do was win games and they couldn't produce. And with Sanchez, this goes beyond the Xs and Os of the game plan or play calling, He isn't making the throws in crucial game situations and lacks real consistency in the pocket. Plenty to dissect here for a team that needs more than a little help to get an invitation to the playoffs.
7. Raiders' play call to start OT: First play of OT and the Raiders take a shot down the field vs. the Chiefs. I love the call and the execution. This is a one-man route to WR Darrius Heyward-Bey on the deep 7 (corner) and it is set up with play action. Oakland uses the Lead Strong play fake along with "ghost motion" (WR motion on the reverse action). It takes time (and max protection) to allow the 7 cut to develop. But when you get a great throw from QB Carson Palmer it flips the field. Next step: bring on kicker Sebastian Janikowksi to win it. And now the Raiders are still in the hunt for the AFC West championship with one game to go.
8. Bengals playing for a Wild Card spot: Win and you are in. Easy way to look at it from the perspective of the Bengals with the Ravens coming to town this week. No question the Baltimore defense will be a tough matchup for Andy Dalton, Cedric Benson, A.J. Green, etc. However, this is a Ravens team that is without WR Anquan Boldin and struggles to play good football on the road (3-4 on the season). A great opportunity for Marvin Lewis and his rookie QB to get in the post-season tournament with a win.
9. Adrian Peterson's ACL injury: Hate to see any player go down with a knee in a throwaway game at the end of the year. And with A.P., we have to start thinking about 2012. Will he be ready for camp and what type of player do we see early in the season? Lot of questions that won't be answered for a while and with a knee injury the rehab process in an absolute grind in the offseason. I will never count a player out, because they are accustomed to dealing with the adversity of injuries. However, with any player you have to see how the knee responds and if that explosive power can bounce back quickly. Tough injury.
10. Time for Raheem Morris to go in Tampa: The players need to take some responsibility here. That has to be discussed. Because after seeing the tackling in the loss to Cam Newton and the Panthers it is obvious that some guys have packed it in. A lack of technique is the first sign that players have checked out mentally. However, we all know it starts at the top. Tthe Bucs have dropped nine straight games after a 4-2 start. There's no need to make excuses here. There has to be a change for a team that I see as this year's biggest disappointment.
Check back to the NFP on Monday afternoon for my Week 16 game balls and a breakdown of what to watch in the Falcons-Saints matchup.
Follow me on Twitter: @MattBowen41
NFP's Introduction to Scouting Class is now registering for our Winter sessions! Save $200 if you register before December 20th! REGISTER NOW!