NFP's Introduction to Scouting Class is now registering for our next session! Early bird pricing in effect until February 15th! Save $100 and REGISTER NOW!
Only a few weeks ago, with the first anniversary of the Jovan Belcher tragedy looming, the Kansas City Chiefs, at 9-0 for the first time in franchise history, were arguably the preeminent feel-good story of the 2013 season for a lot of reasons. But following a third straight defeat on Sunday, the exact one-year mark of the Belcher suicide in an Arrowhead Stadium parking lot, the sweet saga of a season in which the Kansas City players had bounced back admirably has begun to regress.
There are a lot of other "re"-words to describe the Chiefs in 2013. Start with resourceful. Toss in resilient, too. Given the comeback years for quarterback Alex Smith and coach Andy Reid, redemptive might be appropriate too.
The Chiefs aren't quite reeling yet – with a 9-3 record they still seem like a lock for their first postseason berth since 2010 and best record since 2003 – but the three-game losing streak has brought a dose of sobriety. Playing the powerful Denver Broncos, who provided two of the losses, will do that. But two of the losses were at home, one of them to an improved but still mediocre San Diego franchise, and the reality is that with four games remaining, the Chiefs have to regain their mojo.
"We know the formula; we just have to get back to it," cornerback Dunta Robinson said. "Remember what made us successful and follow that again."
The Chiefs essentially have one month to do it. If they are successful, they can earn the franchise's first postseason victory since 1993, a generation ago and basically "forever" in the NFL. Fail and there is a chance Kansas City, which has lost its last six playoff appearances, will be a postseason one-and-done. Chiefs players, who have overcome a lot, including a Belcher tragedy which still resonates with a few guys who were on the team in 2012, vowed on Sunday they will rediscover the magic.
Here's hoping they're right.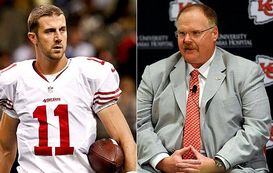 Can the Chiefs rebound in the wake of their current three-game losing streak?
Three of the team's final four games are away from Arrowhead, but the cumulative record of the franchises the Chiefs play on the road is 12-24. The only opponent with a winning mark, Indianapolis, has to travel to Kansas City.
What earned Kansas City its 9-0 start, in large part, was a basic formula: Play good, but not necessarily scintillating offense without turning the ball over. Get the ball in the hands of the club's few playmakers, principally tailback Jamaal Charles. Create a lot of turnovers and convert them into scores. Maintain intense defensive pressure, particularly on the quarterback. Lately, however, the formula has failed. It's as if some mad scientist snuck into Reid's lab and removed a critical ingredient.
Said Smith after the Sunday loss: "We still understand the way to win."
Perhaps so. But in the first nine contests, the Chiefs registered 23 takeaways, turned the ball over only eight times, and had a lopsided plus-15 advantage in the crucial turnover differential category. They scored seven non-offensive touchdowns, all but one of them on defense, and four of them on interception runbacks. Kansas City had 78 points following takeaways. Led by the upfield pass rush of pincer linebackers Tamba Hali and Justin Houston, Kansas City sacked the opposition quarterback a league-best 36 times.
Over the three-game skid: Only three takeaways, four turnovers, and a minus-one differential. One non-offensive score, that coming Sunday when Knile Davis ran through stop signs from teammates and raced 108 yards with a kickoff return. Just 14 points from takeaways. A slight reduction in total yards from scrimmage for go-to guy Charles. And maybe most telling, only one sack.
In fact, the Chiefs have posted only two sacks in the past five outings, after netting three or more the first seven games. Minus the pressure on the pocket, the defense has not been as dominant.
It was probably unfair of the legion of skeptics who, during the Chiefs' nine-game winning stretch suggested that Kansas City had yet to face a quality opponent or that Reid's team wasn't nearly as good as its record. Likewise, it's true that the club, given the way it played, operated on a perilously thin margin. Over the past three weeks, that razor-thin margin of error has been lost. Now it's up to Kansas City, which seems to possess great character and leadership, to grab it back.
Which leads to one more "re"-word, it seems.
"We're going to rebound," vowed Robinson. "We have the right kind of people. This thing isn't going to collapse."