NFP's Introduction to Scouting Class is now registering for our next session! Early bird pricing in effect until February 15th! Save $100 and REGISTER NOW!
Once negotiations for Joe Flacco's new contract resume, they should intensify pretty quickly because the period to designate franchise players begins on February 18 and runs through March 4. If the Baltimore Ravens and Joe Linta, Flacco's agent, reach an impasse, the Ravens must decide whether to use a non-exclusive or an exclusive franchise tag on Flacco.
With the non-exclusive franchise tag, the Ravens must offer Flacco a one-year contract based on the average of the quarterback non-exclusive franchise numbers over the last five years and their percentage of the salary cap. According to NFL.com's Ian Rapoport, the non-exclusive franchise number has been tentatively set at $14.642 million. This tag allows Flacco to negotiate with other NFL teams but if he signs an offer sheet with another club, the Ravens will have five days to match the offer. If the Ravens do not match, they will receive two first-round picks as compensation from the signing team.
Under the exclusive franchise tag, Flacco will receive a one-year offer from the Ravens that is the average of the top-five 2013 quarterback salaries once the restricted free agent signing period has ended (approximately April 21). For these purposes, salary means a player's salary cap number, excluding workout bonuses and likely to be earned incentives. Flacco will not be able to negotiate with other teams.
The exclusive franchise number is currently expected to be $20.463 million but could decrease if any of the quarterbacks with the highest salaries (Tom Brady-$21.55 million, Matthew Stafford-$20.82 million, Eli Manning-$20.35 million, Peyton Manning-$20 million, and Ben Roethlisberger-$19.595 million) rework their contracts to lower their cap numbers before Flacco receives this designation. The final number should stay above $19 million since Drew Brees ($17.15 million) and Philip Rivers ($17.11 million) are next line to be included in the computations. With this tag, Flacco will initially count towards the cap at the non-exclusive franchise number. Once the exclusive number has been finalized, his cap number will increase to that figure.
Baltimore's salary cap situation may dictate which franchise tag is applied to Flacco. The Ravens have $111,136,802 committed towards the 2013 cap, which has been reportedly set at $121.1 million, with 49 players under contract. This number doesn't entirely capture Baltimore's cap issues because the top-51 cap numbers count against the cap during the offseason and the Ravens have five restricted free agents, including tight end Dennis Pitta and defensive tackle Arthur Jones, that should receive restricted free agent tenders. After accounting for these tenders and Ray Lewis' retirement creating $4.35 million of cap space, the Ravens will need to clear approximately $10 million of cap room by the start of the league year (March 12) to accommodate Flacco's tender.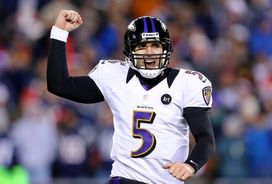 Will the Ravens slap the exclusive franchise tag on quarterback Joe Flacco this offseason?
If the Ravens give Flacco the non-exclusive tender, they will be fortunate that the current Collective Bargaining Agreement prohibits poison pills. A poison pill is a mechanism in a contract offer that makes it virtually impossible for the team retaining a player's rights to match the offer on him.
Poison pills were outlawed because of the Steve Hutchinson and Nate Burleson ordeals in 2006. The Minnesota Vikings signed Hutchison, who was the Seattle Seahawks' transition player, to a seven-year, $49 million offer sheet with a provision that guaranteed his entire contract if he wasn't the highest paid offensive lineman on the team at any point during his contract. Seattle didn't match the offer because left tackle Walter Jones had a higher salary. The Seahawks retaliated by signing Minnesota restricted free agent wide receiver Nate Burleson to a back-loaded seven-year, $49 million offer sheet that became fully guaranteed if he played at least five games in the state of Minnesota in any season of the contract or his average salary was greater than that of the highest paid running back on the team.
Because there are limits to the creativity with offer sheets, the primary method of structuring an offer sheet that the Ravens would have extreme difficulty matching requires an astronomical 2013 cap number. Since Flacco would already count $14.642 million against Baltimore's cap, it would take a first year cap number in excess of $20 million for this to be accomplished, which limits the number of teams that could realistically pose a threat to the Ravens.
The most logical candidate would be the Cleveland Browns since they are in dire need of a quarterback and should have at least $40 million of cap room at the start of the free agent signing period on March 12. It would be the ultimate revenge for the Browns to take away Baltimore's most important player since the Ravens left Cleveland after the 1995 season. The Jacksonville Jaguars are in decent shape to chase Flacco because they should be around $20 million under the cap. The Philadelphia Eagles and Kansas City Chiefs can get in position to make a run at him with a couple of roster moves. Other teams with quarterback needs, such as the Arizona Cardinals, New York Jets and Oakland Raiders, are too cap-strapped to entertain trying to sign Flacco.
Some of the teams that could pursue Flacco may be hesitant because of his stated preference to remain in Baltimore. Those teams may not want to be used by Linta to leverage a better deal from the Ravens. Additionally, a franchise player hasn't switched teams for two first-round picks since defensive tackle Sean Gilbert signed an offer sheet with the Carolina Panthers in 1998. Since then, franchise players have been changing teams through sign and trade deals for lesser draft choice compensation.
The exclusive franchise tag would eliminate the possibility of the Ravens losing Flacco but would give Linta additional leverage in the negotiations. Regardless of where the number is set, Linta could use the average of franchising Flacco twice as a guide for his contract average on a long term deal and justification for more than the $60.5 million in guarantees that Drew Brees received. For example, if the exclusive tag remained at its current level and the Ravens applied a second franchise tag to Flacco, his franchise number in 2014 would be $24.556 million, a 20% increase over his 2013 franchise number. That could give Linta ammunition to push for a deal averaging in the neighborhood of $22.5 million per year.
It is debatable how much of a risk of losing Flacco the Ravens would face with the non-exclusive tender. Since this tender could have disastrous consequences that could set the Ravens back for years, the most prudent approach is to earmark the additional $4.5 million to $6 million of cap room that will be necessary in April and put the exclusive tag on Flacco.
Follow me on Twitter: @corryjoel
Joel Corry is a former sports agent who helped found Premier Sports & Entertainment, a sports management firm that represents professional athletes and coaches. Prior to his tenure at Premier, Joel worked for Management Plus Enterprises, which represented Shaquille O'Neal, Hakeem Olajuwon and Ronnie Lott. You can email Joel at jccorry@gmail.com