Who's moving where?
Risers and fallers after week two of the college football season.

As I evaluate film each week and talk to NFL scouts that are traveling across the country there are always a handful of players whose NFL Draft stock is either rising or falling. It could be as simple as a player having a great game against a top opponent or more concerning when a player's level of play has gone down compared to last season. The NFL Draft is still nearly eight months away, but here I take a look at some players whose stock is already moving. The measureables listed are either verified, which means taken by an NFL scout, or estimated.
Rising Players

Arthur Brown Linebacker Kansas State Senior
6005 (Verified) 223 (Verified) 4.65 (Verified) Potential 3rd/4th Round Pick
Often referred to as Bryce Brown's older brother when Bryce was the number one high school recruit in the country, Arthur has improved each season to become one of the best all-around linebackers in the country. His experience and instincts show in his consistent ability to read and react to the play in a flash. Once he gets started towards the ball, he has the elite playing speed to chase plays down in backside pursuit. Helping Brown make up for his lack of ideal bulk/weight are his outstanding coverage skills. Smooth and fluid playing off the ball and out in space, Brown can cover running backs and tight ends easily in man coverage and shined this week against Miami closing and making tackles from zone coverage alignment.
Jarvis Jones Defensive End / Outside Linebacker Georgia Junior
6030 (Estimated) 241 (Estimated) 4.55 (Estimated) Potential Top Ten Pick
A junior that is expected to come out early for the 2013 NFL Draft, Jones had a dominant performance against Missouri this week proving why he is considered a potential top ten pick. Displaying rare first step explosiveness, a natural ability to defeat pass blocks and an excellent closing burst to the quarterback, Jones reminded us of current 49ers outside linebacker Aldon Smith. While many top pass rushers are one dimensional and only make an impact chasing quarterbacks, Jones ability to consistently get backfield penetration to blow up running plays behind the line of scrimmage and to chase them down across the field in pursuit elevates his status.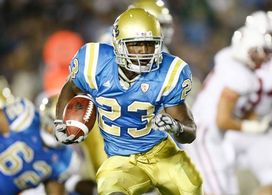 ICONUCLA's J. Franklin makes a cut and looks down field.
Johnathan Franklin Running Back UCLA Senior
5100 (Estimated) 210 (Estimated) 4.55 (Estimated) Potential 3rd Round Pick
Prior to 2012, Franklin was one of the few bright lights on a disappointing UCLA offense, but as the Bruins' offense has improved Franklin has become a dominant offensive force. After a strong game against Rice in the season opener, he followed that up with an outstanding game where he totaled over 260 total yards. An instinctive runner who finds open holes/creases easily, Franklin's ability to make the sharp cut and drive through it with quickness and strength is impressive. Making tacklers miss is definitely important, but Franklin's ability to run through tacklers to consistently gain yards after contact is what has scouts believing he could be a productive starting tailback at the next level.
Falling Players

Margus Hunt Defensive End SMU Senior
6081 (Verified) 273 (Verified) 4.78 (Verified) Potential 6th / 7th Round Pick
After flashing big play potential as a defensive end and blocking a number of kicks, Hunt came into the 2012 season with expectations that his play would continue to improve and could push him all the way into the first round of the 2013 NFL Draft. Unfortunately, Hunt has not played up to expectations so far. He does not explode off the ball to threaten the corner and has not shown the hand-use to consistently defeat pass blocks to pressure the quarterback. Hunt's play makes me question his instincts and football awareness, which is why right now he is a far better athlete than football player. Because of his combination of rare size, natural strength and athleticism, Hunt will get the chance to impress at either the Senior Bowl or the East West Shrine Game, but will need to really improve if he is going to be anything but a last round flier in the Draft.
James Vandenberg Quarterback Iowa Senior
6026 (Verified) 217 (Verified) 4.95 (Estimated) Potential 6th / 7th Round Pick
A strong junior season had Vandenberg on the radar as a potential "sleeper" for the 2013 NFL Draft according to a number of NFL scouts. However, so far through two games Vandenberg has not played as well as he did a season ago and has scouts wondering if he will end up being drafted. Viewed as an under-rated athlete with a strong arm and knack for making big plays, he has struggled with accuracy and consistency so far this season. This really showed up in his inability to keep drives alive against Iowa State. If he is going to challenge to be a mid-round pick, then he will need to be quicker with his footwork, more decisive with the ball and improve his accuracy throughout the rest of the 2012 season.
Follow Russ on Twitter @RUSSLANDE