NFP's Introduction to Scouting Class is now registering for our next session! Early bird pricing in effect until February 15th! Save $100 and REGISTER NOW!
When we talk about the Tampa 2 scheme in the NFL, the conversation usually shifts to Chicago, Indy and Minnesota. A core defense that is installed on the first day of training camp. Teach landmarks, techniques, run-pass keys and let your guys play football.
However, don't assume that Cover 2 is a scheme that we only see from those three clubs. Because even the pressure defenses (Jets, Packers, Saints, Steelers, etc.) will use the 2-deep look on Sundays in certain situations.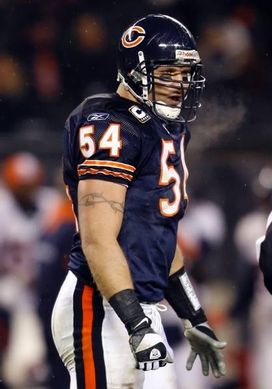 ICONCover 2 is a core call for Urlacher and the Bears, but it is a part of every defensive playbook in the NFL.
And with the expanding playbooks of NFL offenses, I expect to see more Cover 2 in the 2011 season.
Empty sets, spread looks, three (and four) wide receiver sets, plus the ability of today's TE (think Heap, Gates, Finley, etc.) to stretch the field. That puts stress on defenses to win matchups in the passing game.
Go back to Super Bowl XLV and the Packers play calling. They took advantage of the lack of ideal depth in the Steelers secondary. And that was a major issue on that night from a defensive perspective.
I don't want to call Cover 2 a "safe defense," because that isn't the angle I am going for here. But it doesn't put you in a position where you don't have to adjust to every alignment and pre-snap motion from the offense. See a slot, bunch, stack or empty set? That doesn't matter—because you play what is called in the huddle.
Plus, defense still check to Cover 2 (usually two hands to the helmet or an "Omaha" call from the Mike Backer) when the offense aligns in empty coming out of the huddle. That is pretty standard practice across the league.
Now, I know first-hand that Cover 2 can be beaten and have broken plays down here at the NFP specifically designed to put stress down the middle of the field or on the two deep safeties. Run the Flat-7, 999 (four verticals) and test the technique of the defense.
I get that, but I can also draw up offensive plays to beat man-coverage, zone blitzes and anything else we can put on a chalkboard. That's football.
The point here is that offenses in this league are not going to slow down. They will get more creative, more complex and push the envelope in terms of play calling and personnel.
No question you have to blitz (which we do see from core Cover 2 teams) and play Cover 1, but if you don't have three corners that can consistently win outside of the numbers and in the slot (plus a safety that can walk down over a good TE), it is going to be a long afternoon in the NFL.
Instead, play some more Cover 2, take away the deep ball with the your Mike backer running the inside vertical seam and force offenses to work down the field. Rush four, drop seven and attack downhill to the football. That's why it sells and the exact reason it is around to stay.
And if I am coaching, it is near the top of my call sheet on Sundays. Because it is a defense I can trust and play vs. anything the offense wants to throw at my team.
Follow me on Twitter: MattBowen41