NFP's Introduction to Scouting Class is now registering for our next session! Early bird pricing in effect until February 15th! Save $100 and REGISTER NOW!
If we've learned anything in the game of conference realignment the last few years it's that anything is possible.
However, it's also true that there is not always a fire where there is smoke.
In the case of Florida State, which is the latest big-name program to have its name tossed around as a potential free agent following the announcement of the ACC's new extension with ESPN/ABC that will pay each school approximately $17 million per year through 2026-27, athletic director Randy Spetman told the Orlando Sentinel on Friday that the Seminoles are "committed" to staying in the ACC. The following day, FSU president Dr. Eric Barron maintained that the school's commitment to the ACC remains strong. Head football coach Jimbo Fisher, however, holds a different opinion.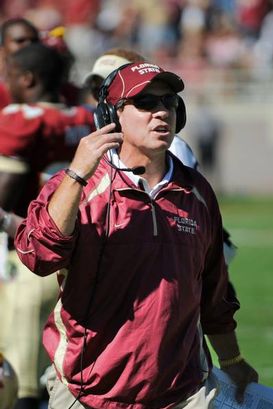 ICONCould Jimbo Fisher and the 'Noles be on the move out of the ACC?
At an event over the weekend, Fisher said that FSU should explore the possibility of leaving for the Big 12 — despite there being no official talks between the two parties — if a move is in the best interests of the university. Andy Haggard, the chairman of Florida State's board of trustees, agreed with Fisher.
On Saturday, Haggard told Warchant.com (an FSU website) that the Seminoles should see what the Big 12 has to offer and that he will be speaking with Barron and Spetman about the best way to explore options outside of the ACC. Of course, Haggard tried to backtrack on his statements the following morning.
"All I tried to say was I think Florida State needs to keep an open mind," Haggard said Sunday. "If the Big 12 or the SEC or any other conference wants to talk, we have an obligation to listen. If the Big 12 calls, should we hang up the phone? No.
"I'm not saying take it. I'm saying listen to it. Listen to what they have to say."
And there will no doubt be plenty of listening if money can be made on both sides of the equation. The question is whether a move to the Big 12 would be in the school's best interest and whether the feeling is mutual from Big 12 officials. And whether Texas, which would make more money than FSU, would want the 'Noles in its league.
If FSU can make more money in the Big 12, which it likely could, the 'Noles absolutely will look hard at a move. Spetman announced a $2.4 million budget shortfall in the athletic department last week, so there is a desire to find new sources of revenue. And there's little question that boosters believe the 'Noles can make better money in the Big 12 even after shelling out a buyout from the ACC around roughly $20 million.
With the new ACC television deal, FSU could make as high as $17 million annually in TV revenue, which would be around $3 million less than a Big 12 team in its current deal. That figure still won't top what an SEC team will make when that league reaches a new deal, so the 'Noles would prefer to land there, but the Big 12 is still more valuable than the ACC. And the Big 12 is not a basketball league like the ACC, which is adding Pittsburgh and Syracuse soon. And some FSU boosters and fans never have warmed to the idea that their football team is stuck in a basketball league.
Although the new ACC TV deal will offer an increase of nearly $4 million per school from the old contract, Haggard is stunned that the league surrendered all third-tier television rights for football to ESPN/ABC but kept them for men's basketball, which will help a basketball power such as Duke while doing very little for a school with a bigger football tradition like Florida State.
However, Dan Wetzel of Yahoo! Sports wonders if Haggard's assertions of relinquishing third-tier rights is even accurate, as the ACC said Haggard was incorrect and third-tier basketball rights are not maintained by schools. Furthermore, non-marquee ACC games involving FSU may not even be as profitable anyway, especially because the 'Noles haven't exactly been a dominant team in their league. Still, sources told Wetzel that ACC schools won't receive the additional $4 million per year in the TV deal until 2021. And that's reason enough for FSU to field a potential offer from the Big 12. However, don't underestimate the power of ESPN in making sure it does everything it can to keep FSU in a still-viable ACC.
Meanwhile, the Big 12 may be interested in the 'Noles because the league only has 10 teams, so no football championship game can be staged at this time. If the conference adds two programs such as FSU and Louisville — and the Cardinals are a prime candidate to be FSU's partner — then imagine how much more money could be brought into the league with a title game? The Big 12 has already expanded its geography to include West Virginia. Why not further expand and get into Florida, a prime recruiting area?
We saw how accelerated the process was for Texas A&M and Missouri in leaving the Big 12 for the SEC. No matter what officials at FSU are saying on the record, once trustees get involved a lot of things can happen.
And happen quickly.
Email dave.miller@nationalfootballpost.com or follow me on Twitter at Miller_Dave