Greg Jones of the Examiner.com weighs in with some news and notes from down in Carolina as the Panthers prep for their preseason matchup tonight in Cincy vs. the Bengals.
1. Can rookie quarterback Cam Newton put last game's mediocre performance behind him and win the starting job?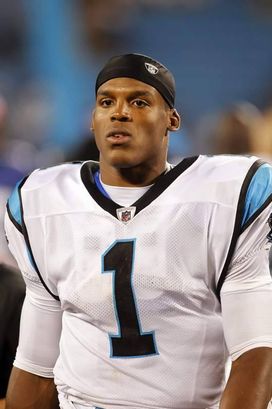 Rookie Cam Newton can win the Panthers starting QB job tonight in Cincy.
In four quarters of play, Newton has completed 15 of 33 passes for 200 yards. He has put those numbers up under a lot of pressure. And he hasn't had Steve Smith, either. Thus, Newton has been impressive in training camp and had a strong debut against the New York Giants. At this point in his career, he has been shockingly good, considering he has not had the benefit of minicamps and Organized Training Activities due to the owners' lockout. Moreover, Newton has shown a command of the offense and huddle. He has gained the respect of the veterans such as Ryan Kalil. The Pro Bowl center has spoken highly of Newton's dedication and skill level. Kalil has even shunned negative theories about Newton coming out of a spread offense. But can Newton seal the deal tonight?
2. How well will linebacker Thomas Davis perform in his second game back after missing 21 months off due to two ACL tears in a seven-month span?
He admitted after the Dolphins game that he was gassed. And he struggled in one-on-one situations against Reggie Bush. But the Bengals don't have anyone of Bush's ability coming out the backfield. It was unfortunate for the 6-foot, 240-pound linebacker had to run with one of the better receiving running backs in the NFL in his first game back. Davis may still have the athletic ability of two seasons ago; however, it is exceptionally difficult for a player in the NFL to miss close to two years of live football and not struggle coming back. What is vital for tonight's game and going forward is to see progression. Will his right knee give him any more problems? Davis is a playmaker, so it is just a matter of time before his impact is felt.
3. Yes, it is early. Yes, Carolina has played only two preseason games. But will the defensive ends show something tonight?
Charles Johnson can ease through the next two preseason games because he has proven himself. Johnson was a Pro Bowl snub last year, and he was overlooked nationally because the Panthers had a 2-14 record. But Eric Norwood, who had an excellent training camp, has only two tackles in two games and does not have any quarterback hurries. In addition, Rivera said Greg Hardy will start when he is healthy. The second-year pro has been recovering from a motorcycle accident. Hardy is a game-time decision, but it should be a huge boost for the defensive line when he returns. Everette Brown started the Giants game. He has a lot of ability, but it hasn't translated onto the field consistently. He hasn't done anything worth noticing, aside from receiving a penalty for a late hit in the Dolphins game and a quarterback hurry in the Giants game. Brown and Norwood are good players. They just need to play up to their abilities and be consistent.
4. Will the cornerbacks progress after last week's massive setback?
To be fair, the Giants do not have a receiver on the level of Brandon Marshall, who would be a top-10 receiver if he did not have so many off-the-field issues. Marshall had five catches for 46 yards, and the Panthers did not have an answer for him. The Panthers were playing without their best cornerback, Chris Gamble. Carolina didn't get much of pass rush, either. But R.J. Stanford, who started in place of Gamble, struggled. Robert McClain and Captain Munnerlyn weren't much better. It was encouraging to have Munnerlyn back, but he is better suited to be the No. 2 cornerback and let Gamble matchup with the oppositions' best receiver. The group will get an upgrade when rookie Brandon Hogan returns, but he could miss the entire season because he tore his ACL in December. Rivera admitted after Tuesday's practice that there is a question mark at the position, but the first-year coach believes the Panthers can work through their issues at cornerback.
Follow Greg on Twitter: @gjjones_sports