What do you do with a quarterback who is built like a linebacker, is a two-time Pro Bowler, led your team to the playoffs and just turned 25-years-old? You say "Thank you" and jump for joy that the player still has two years remaining on his rookie contract, which was signed in the first year of the new CBA rookie wage scale era. Cam Newton's five-year, $36.7 million deal isn't chump change, but it isn't the $78,000,000, six-year contract with $50 million guaranteed haul that the first overall selection (Sam Bradford) received in 2010, either.
Newton has seen Colin Kaepernick and Andy Dalton get new contracts this summer and both players were selected in the second round of the same 2011 NFL Draft where Cam was selected first overall. Kaepernick signed for $19 million per year, which could escalate to $21,000,000 (making him the second-highest paid quarterback in the league based on new money average), and Andy Dalton's deal averages $16 million per new year, with the ability to increase to $19 million per year with escalators that are easier to achieve than Kaepernick's contract incentives.
Although people clamor about the 2011 first round class getting new deals because the new rookie wage scale that was instituted in 2011 drastically changed the salary spectrum. A quick look at the numbers shows that the 2011 rookie wage scale didn't materially change things for players outside the top ten draft selections. Furthermore, the history of first round draft picks shows it has never been the norm for many players to be signed with two years remaining on their rookie contract. Newton can take solace in the fact that when the time does come next year, he will be in the driver's seat. With a salary of $14.6 million in 2015, he can wait patiently, smile and say thanks, but no thanks, if he feels the deal does not meet his liking.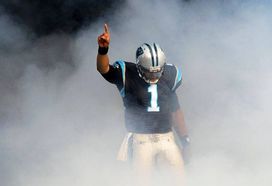 Newton is headed for a monster deal, but will he top the Aaron Rodgers contract?
If the Panthers are to do a deal early, part of the reason would be to get a better value over the long term as opposed to waiting. One of the reasons to do this is to get ahead of the curve of players at the same position with deals coming up that may reset the marketplace. However, when taking a look at the quarterback landscape, who is that player in Cam Newton's case? Aaron Rodgers and Matt Ryan both did deals last summer. Drew Brees and Peyton Manning have contracts that go through 2017. The trio of 2004 first-rounder's (Eli Manning, Philip Rivers, and Ben Roethlisberger) all have two more years on their deals, so the earliest any of those deals get done is next offseason. In addition, two of those quarterbacks have two Super Bowl trophies apiece. In fact, the only players the Panthers should significantly be concerned about are Andrew Luck and Russell Wilson, who can't do a deal until next year at the earliest. Therefore time, at the moment, is on the Panthers' side.
For simplicity, I often say there are three tiers of starting quarterbacks: Franchise, rookies and "hold the fort" (Think Ryan Fitzpatrick all the way up to Alex Smith). Franchise quarterbacks are players that the team has determined to make a commitment, these are identified as second contract players that are at the top of the pay scale, currently about $15 million per year or more. Currently there are 14 signal-callers in this category, including players such as Peyton Manning and Drew Brees, as well as the above average Andy Dalton.
Then you have the rookies. For these purposes, rookies include all quarterbacks still playing under a rookie contract. This group includes Cam Newton, Andrew Luck, Russell Wilson, Ryan Tannehill, Blake Bortles, etc. (currently there are 14 starting quarterbacks in this group). While some of these players are obviously franchise quarterbacks (Luck and Newton), for purposes of looking at the position we do not discriminate, and they are in this category until they sign a second contract.
This brings us to the third category, the Ryan Fitzpatrick, Alex Smith, Matt Schaub and Carson Palmer category. I realize that some of these quarterbacks are substantially better than others (i.e. Alex Smith and Carson Palmer). However, they have all bounced around and are not committed to by their organization. Some of these quarterbacks may even move into the franchise QB contract category (i.e Alex Smith potentially).*
So what does all this mean for Cam Newton? Newton is going to be moving into the franchise quarterback pay category soon enough, but the question is how high within the category will he go? Cam is going to look to get to the top of the market, however, I do not see him getting a contract that passes Aaron Rodgers (I believe that contract will go to Andrew Luck in two years). I do believe that Newton will get right around $20 million per year and unlike the structures of Dalton and Kaepernick, Newton's guarantee will be substantial. The Panthers have given a $30 million dollar signing bonus to defensive end Charles Johnson, so how can they say no to $40+ million in signing bonus and guarantees to the player they made the first overall pick in 2011? This deal, just like all quarterback deals, will get done and Panthers fans can rest assured that Newton will be on the prowl in Carolina for years to come.
It just may take a year or so to get there.
*We assumed Bortles was the starting quarterback in Jacksonville and Manziel was the starting quarterback in Cleveland because both will take over at some point this year or next. We gave deference to Schaub in Oakland because he is more established, even though Derek Carr was drafted in the second round.
Follow Ari on Twitter: @arinissim
Ari Nissim worked with the New York Jets from 2006 through 2013, six as Director of Football Administration; In addition he interned at the NFL League office and worked at Athletic Resource Management Sports Agency, and currently teaches in the NYU Sports Management Program.