NFP's Introduction to Scouting Class is now registering for our next session! Early bird pricing in effect until February 15th! Save $100 and REGISTER NOW!
2013 was Chip Kelly's first year as a head coach in the NFL. The former Oregon HC led the Philadelphia Eagles to a 10-6 record including a 4-2 mark in the division. That was a huge turnaround from 2012 when the Eagles won only four games and Andy Reid was fired. Did Kelly make that much of a difference or was the NFC just downright bad? Looking back, I believe it was a combination of the two.
The Cowboys finished 8-8 and both the Giants and Redskins posted losing records, so by no means did the Eagles have to "work" to win the division. Still, the offense was one of the most improved units in the league and was capable of scoring points very quickly. They could be even better in 2014.
Quarterback
The surprise for the Eagles was the play the team generated out of quarterback Nick Foles. In his second year, the former third rounder from Arizona completed 64 percent of his passes and threw 27 touchdowns with only two interceptions. While he is not the athletic type of quarterback Kelly during his years at Oregon, Foles does have quick feet and is an outstanding decision maker. He has also become a strong leader.
With another off-season to learn and practice the offense, Foles should be even better in 2014. While it will be difficult to have another year with only two interceptions, Foles' understanding of the offense should lead to more big plays.
It remains to be seen who will reside behind Foles on the Philly depth chart. The Eagles signed former Jet Mark Sanchez during the off-season and last year's fourth round pick, Matt Barkley, also enters his second year under Kelly. My money is on Barkley, who flashed strong ability in 2013.
Running Backs and Receivers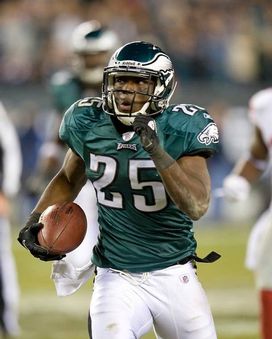 ICONMcCoy was the only player in the NFL to eclipse 2,000 yards from scrimmage last season.
At 25 years of age, LeSean McCoy is in the prime of his career. He is one of the best backs in the league and few can match his instincts and elusiveness. In addition, McCoy is also an outstanding receiver out of the backfield.
The Eagles signed Darren Sproles away from the Saints and while he may not be the back he was three years ago, combined with McCoy, Sproles can be extremely dangerous. Kelly will find a variety of ways to utilize Sproles while still limiting his touches to keep him fresh.
The Eagles cut Desean Jackson earlier in the off-season. He was their top receiver and seemed like a perfect fit for this offense. Kelly didn't see it that way, and Jackson is now a Redskin.
Who will replace Jackson, who caught 82 passes last year? That remains to be seen, but right now it looks like the starters will be Riley Cooper and former first-round pick Jeremy Maclin. During the draft, Philadelphia selected Vanderbilt's Jordan Matthews and Oregon's Josh Huff. Matthews was the leading receiver in the SEC last year and Huff, who played for Kelly at Oregon, was the top receiver at the Senior Bowl. Both should make significant contributions as rookies.
At the tight end position the Eagles have two talented yet complementary players. Brent Celek is your old fashioned "Y" tight end who can block, but is also more than capable as a receiver. Second year man Zach Ertz has speed and athleticism and can be used in a variety of ways to create a mismatch.
Offensive Line
Philadelphia has one of the stronger offensive lines in the league. In Coach Jeff Stoutland, the Eagles also have one of the premier offensive line coaches in the NFL.
The tackles are Jason Peters and Lane Johnson, a duo that gives the Eagles both size and athleticism at the position. They have a more than capable backup in Allen Barbre.
At the guard position, Todd Herremans and Evan Mathis also are both big and athletic. The center position is manned by veteran Jason Kelce, who has Pro Bowl in his future.
The Defense
Generating offense was not the problem for the Eagles in 2013, but getting stops certainly was. While the offense put a lot of points on the board, the defense gave up too many. Part of that problem was the fact that the defensive staff was the least experienced in the NFL. Last year, only one defensive coach had NFL experience and that was coordinator Bill Davis.
The staff has had a year to adjust to the NFL and the Eagles have also added some key players to shore up weaknesses.
Defensive Line
In today's NFL, every team wants to have six or seven quality defensive linemen (depending upon the scheme) to play in a rotation. When you have a strong rotation, you always have fresh players in the game and it is much easier to attack. The Eagles are just about there.
Right now, the starting line boasts Fletcher Cox and Cedric Thornton at the ends, with 2013 third-round pick Bennie Logan at the nose. Both Cox and Thornton are very good players who can play in a 3-4 or a 4-3. They both have size, athleticism and versatility. I'm not so sure that Logan is the ideal nose, as I see him better off in a 4-3 one-gap scheme. Still, when Philly goes to the sub packages, Logan is a good inside pass rusher.
The player who may surprise the most during his rookie year at nose tackle is Wade Keliikipi, an undrafted free agent from Oregon. Keliikipi played for defensive line coach Jerry Azzinaro in college and knows and understands the scheme.
The players to rotate in at the end position are Vinny Curry and rookie Taylor Hart. Hart is also a former Oregon player and is a tough blue collar type. Curry may not be an ideal fit for this scheme.
Linebackers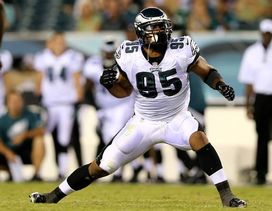 Kendricks notched four sacks and three interceptions in 15 games last year.
In DeMeco Ryans and Mychal Kendricks, the Eagles have two good inside linebackers. Ryans excelled in a 3-4 in Houston early in his career and still has a lot of game left in him. Kendricks is just beginning to realize his potential. He is very fast and athletic.
Connor Barwin is a fixture at one of the outside linebacker positions. He is an excellent pass rusher and can hold his own in coverage. The starter right now at the other outside position is Trent Cole. While Cole has pass rush ability, he can struggle at times in coverage. I look for first-round pick Marcus Smith to be the starter there before mid-season and upgrade the overall talent at the position.
It remains to be seen how strong the depth is at the linebacker position.
Defensive Backs
The Eagles struggled with their secondary in 2013. They added former New Orleans Saint Malcom Jenkins in free agency. The other safety position will be manned by either Nate Allen or second year man Earl Wolff.
Two free agent signees from 2013 man the corner positions in Bradley Fletcher and Cary Williams. They are backed up by third year man Brandon Boykin and Nolan Carroll. Fourth-round pick Jaylon Watkins from Florida may also figure into the primary backup mix.
It's imperative that the defensive backfield show vast improvement if the Eagles are to be much improved on defense in 2014.
Follow Greg on Twitter: @greggabe