NFP's Introduction to Scouting Class is now registering for our next session! Early bird pricing in effect until February 15th! Save $100 and REGISTER NOW!
Everyone, and I mean just about everyone (Vets, owners, NFLPA) on both sides of the table agreed something had to be done about the escalating rookie contracts, especially for the top ten picks. Those numbers are down dramatically, about 50% from under the last CBA. So now unproven rookies are soft-capped at what they can earn in guaranteed cash, total dollars and their terms are fixed.
The veteran players who negotiated the deal had little sympathy for this group of players and it was probably one of the first components of the new deal that was mutually agreed upon by both sides. But the rookies were affected by other parts of the CBA as well.
Another demand that the veteran players asked for and received was less organized team activities (OTA's), less off-season workouts, less full pad practices, less on-field coach supervised practices and less full pad two-a-day practices during camp. Scoring this was a huge and much needed win for the vets. However, in hindsight, it may have been hurtful to the development of rookies and young players. Check out some of the new rules in the new CBA vs. the old ones:
Offseason Workout Program:
Now limited to 9 total weeks (down from 14 in the previous agreement). OTA's cannot exceed 10 total days (also down from 14 total days in the previous agreement). The offseason workout program is to be conducted in three phases with the first phase consisting of two weeks limited to strength and conditioning only.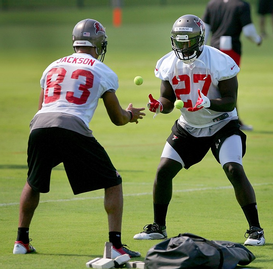 ICONPlayers could use more on field instructional time.
Minicamps:
Only one mandatory minicamp may be held plus an additional voluntary one if the team hired a new head coach in the offseason. The previous CBA allowed for 2 additional voluntary minicamps if the team hired a new head coach. Two-a-day practices in minicamps must now consist of: 3 ½ hours of total on field time where one practice is not to exceed 2 ½ hours and the second practice is limited to walkthroughs and the left over time allotment.
Training Camp:
No contact during the first three days. Thereafter, limited to 1 padded practice a day not to exceed 3 hours. Players must get a three hour break after practice and the second practice up to the 4 hour total on field time limit is limited to walkthrough instruction (no helmets).
Regular Season:
14 total padded practices (11 of which must occur during first 11 weeks). Padded practices limited to 3 hours. And only 1 padded practice per week in the postseason.
These new rules mean less impact and mileage on the body and less contact, which should help to reduce concussions and other ailments. Vets, players with 6 years or more of experience, don't need as many reps as younger players. However, young players, especially rookies, need as many reps and on field activities as they can get. Coaches will tell you that nothing gets a player ready to play more than repetitions of plays. There is no substitution for just doing it. I would think QB's, offensive lineman, TE's and receivers will especially fall behind compared to their predecessors. Young safeties will also struggle.
I had one first year player tell me this year that he had to pester his position coach for extra work. However, under the new rules the coach couldn't even go out to the field and walk him through some (non contact) techniques or schemes. A third year player I have told me that under the new rules he saw reps diminish for some second and most third string players. Ironically, the rosters were expanded to 90 players this year but there are now less reps available for more players. Go figure?
Maybe what should have happened, and what should potentially be tweaked, is that players with one accrued season or less should be able to have more non contact on field activities in the off-season and during camp. These players want this and need this. I had one OL coach tell me that he is really worried about his second group of guys. He's spending more time on the board and in the film room with them but worries it won't take the place of practice reps.
The pressure now will be on the head coaches to properly balance practice reps between vets and younger players. This will be especially challenging for first year head coaches. The NFL game moves so fast and the only true way to learn is to experience it on the field. Don't be surprised if you see less rookies on the field than in the past and a premium put on more cerebral players come draft time.
Follow me on Twitter: @Jackbechta