NFP's Introduction to Scouting Class is now registering for our next session! Early bird pricing in effect until February 15th! Save $100 and REGISTER NOW!
One of the top quarterbacks to come out of the University of Iowa is now under contract and ready to begin his professional career.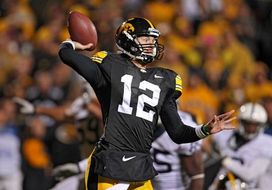 ICONStanzi completed 64.1% of his passes in 2010.
The Kansas City Chiefs reached an agreement with fifth-round pick Ricky Stanzi on a four-year contract worth $2.2 million on Thursday, according to a source familiar with the negotiations.
The 23-year-old quarterback from Mentor, Ohio, set a school record for passing efficiency last season with a rating of 157.63. In four years at Iowa, Stanzi went 26-9 as a starting quarterback and threw 56 touchdown passes in 39 career appearances.
He's currently listed as the No. 2 quarterback on the Kansas City depth chart behind Matt Cassel and in front of Tyler Palko.
Hit me up on Twitter: @JoeFortenbaugh