NFP's Introduction to Scouting Class is now registering for our next session! Early bird pricing in effect until February 15th! Save $100 and REGISTER NOW!
When training camps opened around the league, I broke down how to grade rookies during practice. That is the initial part of the evaluation process for both coaches and GMs in this league. But starting tonight, it takes a step forward with the beginning on the preseason schedule—and that is where jobs are won in the NFL.
Today, I want to focus on rookie QBs, because there are plenty of names (Newton, Gabbert, Locker, Dalton, Ponder, Mallett, Kaepernick, Stanzi, etc.) that will see their first game action at the NFL level. And that game tape isn't going to lie. Here is what you should be looking for this weekend…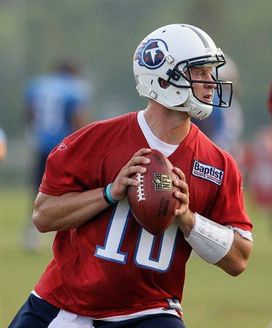 Rookie QB Jake Locker will get his first look at live NFL competition this weekend.
Manage the game plan: This isn't going to be anything close to the call sheet that offenses will carry on opening day, but that is more of a reason to handle the volume that has already been installed. And that includes basic audibles at the line of scrimmage. These are same plays that have been run in practice and it is on the QB to carry that over to the game day.
The 3-step route tree: These rookies aren't going to see CBs playing off at 8-yards and giving away soft cushions like they did in college. They will have to throw the slant, the hitch and the fade vs. press-coverage, plus work vs. defenses that will disguise their pre-snap looks. Can't throw tthe slant behind the receiver in Cover 1--or it is going the other way. Yes, QBs have to throw the entire NFL route tree, but that starts with the 3-step game.
Pocket presence: I know Cam Newton can run—and so do the Panthers. But this is the NFL. I would rather see the rookie throw the deep 15-yard dig route on 3rd and 10 or hit the 7 route (corner) between the safety and the sinking CB in Cover 2. Show me you can step into your throws when the D-Line gets some push up the field and don't come off of your target when you feel pressure. Remember, that red practice jersey doesn't fly when you put a game uniform on.
Route progressions: Throw the check down? No problem with that if the QB has gone through his entire read. What you don't want to see is the rookie throwing the check down because his No.1 target is covered. These young QBs must show the coaching staff that they can come off of their first read and distribute the football. And there are routes they must complete that are a part of every NFL playbook: Flat-7, Spot and Dagger.
Reading coverages: Like I said above, this won't be regular season football in terms of Xs and Os, but that doesn't discount the importance of reading the secondary. Don't throw the flat route vs. a rolled up CB in Cover 2 and you must understand that zone droppers can step right into underneath throwing lanes.
Don't expect to see Tom Brady out there when the rookies take the field this weekend. There will be mistakes, but this is still pro football--and it is on the QB to produce for the offense. Let's see how these young signal callers perform starting tonight.
Follow me on Twitter: MattBowen41