First, a note about my presence — or lack of presence — here at the National Football Post in recent months..
As many of you know, I joined ESPN in February of 2011 to provide insight and perspective on their broadcast platforms. This year, my role with ESPN was expanded to include regular columns for espn.com. With this increasing digital role at ESPN, my NFP partners and I agreed that I will no longer be contributing regular columns here.
I am not leaving completely, however. As co-founder and continuing stakeholder in NFP, I will occasionally add columns such as the one below.
NFP's continuing mission is to provide experienced and differentiated perspective into football. I hope I have served our readers well with my insights. Continued thanks to all of you for your loyalty and support….
On to the column…
With Thursday's issuance of the Freeh Report (Report) addressing Penn State's reaction to the atrocious acts of former coach Jerry Sandusky, my blood boiled once again, as it did when the tragedy was first reported in November. My initial bewilderment as to the breadth and length of its existence was unfortunately cemented by "active concealment" of past and future crimes that, sadly, could have been prevented by those with the wherewithal to do so.
Here is a sampling of some of the conclusions from the Report:
"From 1998–2011, Penn State's 'Tone at the Top' for transparency, compliance, police reporting and child protection was completely wrong."
"There was callous and shocking disregard for child victims."
"At the very least, Mr. Paterno could have alerted the staff to prevent Sandusky from bringing another child into the Lasch Building."
"The rapes of these boys occurred in the Lasch Building."
And, perhaps, the most damning sentence of all:
"Nothing was done and Sandusky was allowed to continue with impunity."
The report outlines a culture that we suspected but wished were not the case; a culture with Joe Paterno lording over sycophant administrators, a culture with the university serving at the behest of the football program rather than vice versa.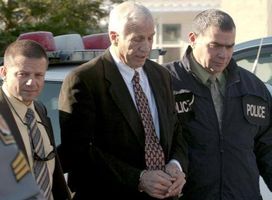 Sandusky was brazen in his predatory behavior.
Brazen
The fact that a predator such as Sandusky was allowed to bring young boys into the football facility after his crimes were known is not only beyond belief but heart-wrenching for the victims, especially ones brought into the lion's den after his evil was already known.
Sandusky acted in ways that seemed to call out his evil as if to say, "Yes, I'm doing this. What are you going to do about it?"
As it turned out, Sandusky engaged in his deviant and criminal ways for one increasingly clear reason: because he could.
Ushering in a new era
Transgressions at places such as USC and Ohio State for agent contact and free tattoos now seem quite benign.
It is Penn State, with its pristine uniforms and previously clean reputation that had a predator acting with diplomatic immunity. At best, Penn State allowed Sandusky's chilling behavior to exist without appropriate and necessary intervention. At worst, it enabled it. Future years of civil litigation against the university will determine where along the spectrum its actions lie.
Power and privilege
Having been around the business of football for 25 years I understand the sway that money brings. The $72 million in gross revenue brought in by Penn State football bestowed great power and privilege to Paterno and the program.
And Paterno, to be fair, used his power to bring some good to Penn State, especially his donations towards academic departments of the university. However, based on the Report, he abused that power to allow horrific acts to take place on his watch.
One can only imagine the conversation that took place between Paterno and Sandusky about the latter's actions, if such a conversation ever took place. Did Paterno and Sandusky feel they were so far above the reach of university governance that this was a "private matter" that didn't need to be addressed further?
The enduring theme of the Report is this: While innocent children were being victimized, adults in charge were either afraid or unwilling to do the right thing.
No one stepped up
At some point in every person's life, in his or her own way, he or she is faced with a situation where there is an opportunity to "step up" and make a difference. With Sandusky a known predator lurking in their midst, Paterno and the administrators could have made a monumental difference in the lives of innocent children needing their intervention and future victims to come. Simply, they failed.
Maybe the silver lining in this terrible tragedy is that although it took a pedophile to do it, the age of entitlement for Penn State football has ended. At the least — we hope — Penn State football will serve at the behest of the University's greater good, rather than vice versa. That won't help the victims, but it may change a culture that failed them.
Follow me on Twitter at adbrandt