Scouting Report:

Prince Shembo – Outside Linebacker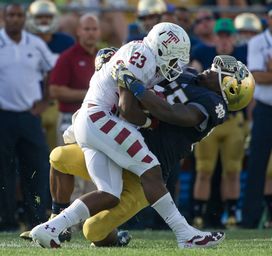 US PRESSWIREPrince Shembo gives ND consistent pressure coming off the edge.
Shembo is a 2-year starter at "Cat" linebacker. In that position he is half linebacker/half defensive end. He probably plays with his hand on the ground 50% of the defensive snaps. Shembo is a bit on the short side at just over 6-1 but he has good bulk (about 255), long arms and is very strong. He is a very good athlete with change of direction, balance, speed and body control. I feel he is one of the most underrated players on the Notre Dame defense. He has a nonstop motor and is very competitive. He has top instincts and is always around the ball. He shows strength at the point, can shed blocks and is a sure tackler. While not used in coverage a lot, he shows he can get depth with his drops, can transition and has good receiver awareness. When rushing the passer, Shembo knows how to get low and use leverage. He is very flexible and can use his hands to get off blocks. He gets consistent pressure coming off the edge.
Overall, I see Shembo as a 3-4 OLB at the next level. His speed and measurables will play into where he gets drafted, but this guy is a football player and will be a sure starter in the NFL early in his career.
Scouting Report:

Boseko Lokombo – Outside Linebacker
Lokombo is a fifth year senior and a two year starter at strong side outside linebacker. He will also line up in the middle on some downs. While only a two year starter, he has gotten significant playing time in each of the last four years. Lokombo is a bit small for an OLB. He is listed at being 6'3 – 229. While he is supposed to be weight room strong, he doesn't carry that weight room strength over to the playing field. His best trait is his athleticism. He is a smooth athlete with body control and speed. He is listed at being a 4.7 guy but plays faster.
On tape he looks to have average instincts. He is not a quick reactor and doesn't anticipate well. He sees and reacts rather than instinctively get to the ball. While he plays with good effort he is not what I would call a physical player. He does not show strength and power at the point and can be slow to get off blocks. While he is around the ball a lot he doesn't make a lot of plays. His tackling ability is average. He does wrap up but you seldom see him "go thru" the ball carrier.
Lokombo does have good coverage skills. He gets walked off at times and lined up over the slot. He shows he can play some man coverage and shows awareness in zone. He gets depth with his drops and can transition. As a pass rusher, he is average at best. He doesn't come hard and lacks moves to slip blocks and the hand use to shed.
Overall, I feel Lokombo is better suited to play in a 4-3 scheme. He doesn't have the size and power to play in a 3-4 at the NFL level. While I don't see him as an every down player at this time, I do see him being used as a nickel linebacker because of his cover skills. He is going to have to get stronger, develop his hand use, and become more aggressive if he wants to be an every down type player. I would only draft him late, but there will be teams that will fall in love with his athleticism and draft him higher.
Follow me on twitter @greggabe
Scouting Report:

In the 2011 college football season, Aaron Lynch was one of the most dominant freshman defensive linemen in college football. After his first year, many thought that, by this year, he would challenge Jadeveon Clowney of South Carolina for the honor of being the first defensive lineman picked in the 2014 Draft. As a freshman at Notre Dame, Lynch's size was about 6'6 – 262. He played as a five-technique defensive end in Notre Dame's 3-4 scheme. He flashed dominating ability and played with a physicality not seen in many 18 year-old freshman. He showed natural pass rush ability to go along with very good overall athleticism. Being tall with long arms, it was thought that by this season he would be a 285-290 pound defensive end and totally dominate games.
After his freshman season, things changed. He was not happy at Notre Dame and there were personal issues that kept his mind more focused on Florida than South Bend. He ended up transferring to South Florida after the spring semester of his freshman year. At first, it was thought that he was doing the right thing by transferring, because he was taking care of the personal issues that he faced. While that is partially true, it is also true that he alienated many of his teammates at Notre Dame, was not a "team guy", and was very selfish. People at Notre Dame will tell you that he was a "me first" type of person and had a very high opinion of himself.
After the transfer, Lynch had to sit out the 2012 season in accordance with NCAA rules. He worked on the scout team, and the USF people were excited about the talent Lynch brought to the table. Fast forward to today, and the player we saw in 2011 was not the player we saw in 2013.
South Florida plays a 4-3, and Lynch lined up as a defensive end. The 6'6 – 260 pound freshman was now a 6'6 – 244 pound redshirt sophomore. His play on the field was nowhere near what we saw two years ago. In 2011, Lynch was a consistently high effort player. This year, I saw very mediocre effort. Lynch doesn't play with the strength and power I saw two years ago. His athleticism was there, the power and effort was not. While Lynch shows he can get off the ball, he also shows a tendency to play tall and can be slow to shed. There are too many plays where he is a non-factor. As a pass rusher, if he doesn't beat his opponent with his first move, he basically stops. Snap-to-whistle effort is not there. While he can put together a counter move, you don't see it very often. As a freshman, Lynch showed a fairly good bull rush. That part of his game is just about gone. His lack of pursuit effort really bothers me. He seldom chases the ball.
Overall, Lynch is a shell of the player he was two years ago. I think the main reason for that is his selfish attitude and lack of good football character. This is a highly talented player who has the tools to play in the NFL, but does he have the right mind set? Lynch could get drafted, especially if you go back and look at his 2011 tape. Still, he is a big question mark who could turn into a wasted pick. I have no doubt that he will look very good at workouts for scouts. That isn't the concern. The concern is from the neck up.
Follow me on Twitter @greggabe
Scouting Report:

Michael Sam – Defensive Line
Sam is another fifth year senior. He started nine games in 2012 and is a starter this year. He plays in a rotation but still plays about 60% of the defensive snaps.
Sam was not on a lot of clubs scouting lists early in the season, but you can't help but notice him on tape. He is an undersized defensive end (6'2 – 255), but he is athletic, quick, and has play speed. On top of that, he is very competitive and plays hard every snap.
Sam plays both from a three-point and two-point stance. He is very quick off the ball, and he uses that quickness to be disruptive. While he lacks the size and power to consistently hold the point versus big tackles, he uses his quickness to shoot gaps. His change of direction and lateral movement are good, and that keeps him active at the line of scrimmage. He is quick to find the ball and makes plays. He is a good pass rusher at the college level and can stay low to get under his opponents. He has quick hands and shows the ability to put counter moves together. He is an average bull rusher. He is a top pursuit player because of his motor, play speed, and always taking good angles to the ball.
Sam's best chance to play in the NFL is as a 3-4 outside linebacker. He has very good outside linebacker size to go along with the required play speed and athleticism. He is going to have to prove that he can drop into coverage and transition. If he does that well, then I see him as a late-round pick.
Follow me on twitter @greggabe