Arthur Lynch – Tight End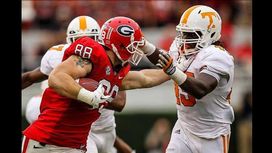 US PRESSWIREArthur Lynch caught 24 passes for 431 yards and 3 touchdowns last year.
Lynch is listed as a "tight end," but he rarely lines up in tight as a "Y." He is used more flexed out, on the wing and even at fullback. It was a hard game to evaluate Lynch because he played in a rotation and was not an every down player. There were times when he wasn't even in for a series.
Lynch has been productive. Last year he caught 24 passes for 431 yards and 3 touchdowns. In this game he was thrown to once and caught it for an 18-yard gain. The pass was a short curl route but Lynch was able to get about 9 more yards after the catch with a strong run. He also had a very nice lead block when playing on the wing that helped the runner get extra yards. On the punt team he plays as the personal protector.
He looks to be a good athlete and in limited play time showed 4.75 play speed. He has good size for a "move" tight end at about 6-5 and 255. Overall, I need to see more tape on this player before I can be accurate with a grade.